The Duke University School of Medicine recognizes faculty, staff, and students who champion equity, diversity, and inclusion in their units and communities.  
Champion of Inclusion Staff Award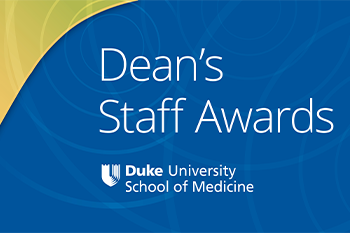 One of the annual Dean's Staff Awards, the Champion of Inclusion Staff Award recognizes a staff member who demonstrates exemplary leadership towards inclusive excellence, and exhibits a high level of respect for and service to others. This staff members carries the ideals of equity, diversity, and inclusion into practice. 
Michelle Winn Inclusive Excellence Awards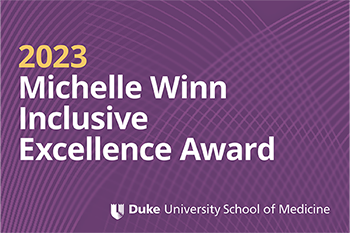 The Duke University School of Medicine's Office of Equity, Diversity & Inclusion established this Award in 2016 to recognize individuals who have made significant contributions to diversity, equity, and inclusion within the School of Medicine community. 
This Michelle P. Winn Inclusive Excellence Award is presented annually to individuals in our School who exemplify excellence, innovation, and leadership in helping to create a more equitable, diverse, and inclusive environment. 
2023 Recipients
Student Award 
Rebecca Gibson - Molecular Genetics & Microbiology
Staff Award  
Steven Shipes - Department of Radiology  
Faculty Award 
Tomi Akinyemiju, PhD - Population Health Sciences and Duke Global Health Institute 
Team Award 
Duke Clinical Research Institute (DCRI) Government Trials & Networks (GTN) Anti-Racism Working Group - Crystal Cannon, Felecia Cathcart, Princess Abbott-Grimes, Renee Pridgen, Susan Knox, Tedryl Bumpass, Todd Robbins, Toya Hobbs, Yashika Johnson 
More about the 2023 award recipients   |   Previous Winn Award Recipients
---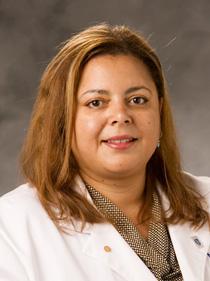 About Michelle P. Winn, MD 
Michelle Winn, MD, associate professor of Nephrology in the Department of Medicine, (photo, left) passed away in July 2014. She came to Duke in 1992 as an intern and undertook residencies in psychiatry and medicine before focusing her career on nephrology and joining the faculty.  
She was a wonderful clinician, a generous mentor, and an esteemed physician-scientist who was respected and beloved by her colleagues and deeply committed to diversity and inclusion and to the careers of younger physicians and scientists who orbited around her.  
How to Nominate Someone 
Any member of the School of Medicine may submit a nomination for the award, and we invite and encourage you to do so.  
The nominations review committee will use selection criteria to determine awardees from each of these categories: student, staff, faculty, trainee, and postdoc.  
Nomination letters should include specific examples of the individual's exemplary achievements and contributions towards inclusive excellence by means of service, leadership, research, or education.