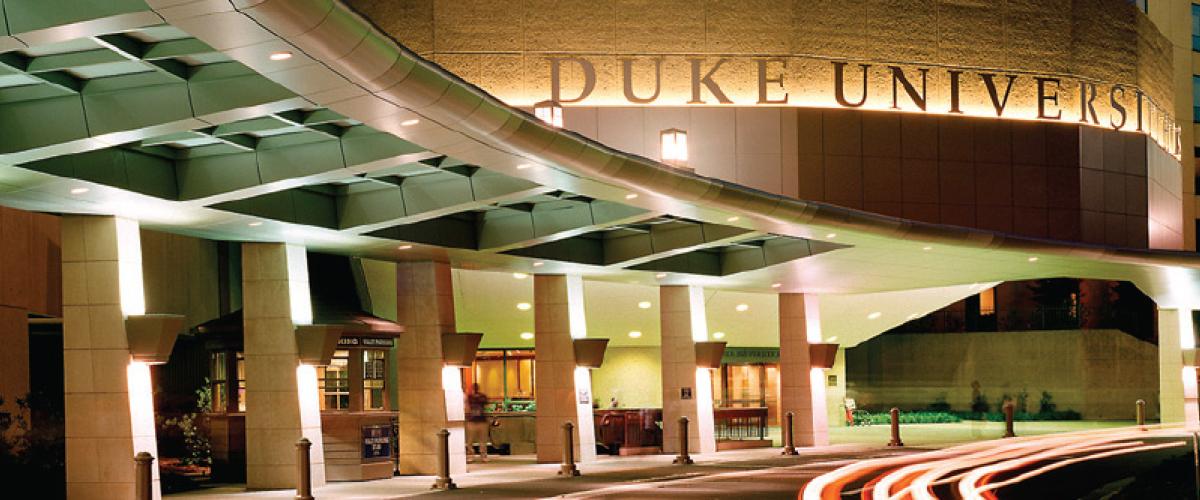 The Duke Health Informatics Short Course, led by Dr. W. Ed Hammond, is designed to provide an intense and comprehensive overview of the field of health informatics to health care organizations that have a need for their employees to develop a greater understanding of health informatics.
To meet this need, informaticians around the world are making advances that enable us to better use information to improve human health. The Duke Center for Health Informatics' innovative curriculum focuses on the future of health informatics and provides practical knowledge that investigators, research teams, informaticians, and administrators can use.
Interested in learning more? Download the DCHI_Short Course brochure or email us to learn how we can work with you to create a tailored course with engaging lectures and interactive exercises — all customized through topics you select to best suit your organization's needs.
Who Should Attend?
People from all backgrounds who want to learn more about the field of Health Informatics.
Individuals in health care, technology, or research, and have general knowledge of informatics but would like to deepen their expertise.
Individuals interested in applying informatics solutions to real-world problems.
Anyone interested in the 'what's next' in health care's technology revolution.
What Will We Learn?
Overview of Health Informatics methods and topics.
Principles behind EHR design, deployment, and evaluation.
Applications of clinical data warehouse analytics.
Secondary data use — registries, clinical research, quality improvement, population, and public health.
Leading methods for bridging research and patient care.
How Will We Learn?
Engaging lectures and interactive exercises to reinforce learning.
Discussion of real-life examples drawn from your organization's challenges.
Customized curriculum through topics you select to best suit your organization's needs.
Taught by Duke faculty and subject-matter experts from Duke's world-class health system and research institutes.
Why Duke University?
Rich history in Health Informatics, guided by the 50+ years of achievement in applied health and research informatics that Duke's distinguished faculty offers.
Strength in computer-based medical records, integrated advanced information management systems, medical instrumentation, and patient monitoring.
Tight integration with the Duke Health System operations and Duke's interdisciplinary curriculum and training environment.
Course Offerings
What is Informatics? Definition of the discipline.
A broad overview of the history of health care, research, and genomics informatics, defining the industry, and reviewing the current trends.
The Political Scene: Who are the stakeholders and what are the goals?
A primer on current legislation and key organizations that influence informatics on the national and international scene.
Clinical Information Systems II; EHR, RHIOs and HIEs; NHIN
A description of the various networks and methods that link information systems across organizations, states, regions, and the nation. Examples are included of current networks and the gaps that need to be addressed to fully implement these systems.
Meaningful Use and Electronic Health Records
Overview of the Meaningful Use program, its purpose, and the stages to meet the goal of improving outcomes. This class includes a look at the principles behind the design, development, implementation, and evaluation of Electronic Health Records (EHRs) as defined within the Meaningful Use program.
Imaging and Visualization Informatics
Uses of imaging and visual simulation in healthcare settings, education, and research informatics. Includes demos of various virtual reality tools used in multiple settings to promote learning and communication.
Usability and Human Factors
Understanding how user interfaces are designed for effective human interaction and a look at various approaches to evaluation and testing designs for multiple types of users.
Evaluation Techniques
Description of the various types of evaluation techniques used to assess system design, implementation, and usability. Learn what types of techniques to use and when.
Secondary Data Use/Data Mining
Definition of primary and secondary data use, examples of secondary data uses, and an overview of data quality in health care.
Geospatial Analysis
An overview of the use of community and medical information in geospatial mapping to identify population healthcare needs used to design interventions and support programs that foster health.
Public Health Informatics
Tools and methods used to improve surveillance and reporting for public health.
Creating the Business Case for HIT
Insights on lowering the cost of medicine using Health Information Technology (HIT) can impact outcomes. Includes a review of a case study and cost simulations.
Clinical Decision Support
A broad overview of Clinical Decision Support (CDS), the standards to support CDS, and a view of current research on CDS projects and their potential impact on the community.
Health Standards for Networking and Interoperability
A description of the various data standards available, their application in HIT, and how they influence interoperability.
Data Elements and Data Governance
Definition of data elements, their purpose, and the methodology used to develop common data elements. Also an overview of the national data standards development projects in progress.
Data Structures
Controlled Terminologies and Ontologies: Explores the various terminologies currently used in health care and research, and the definition of ontologies and their benefits in creating HIT more efficiently. Includes a review of SNOMED, LOINC, ICD, MedDRA, RxNorm, and others.
Clinical Data Warehousing and Data Mining
Applications of clinical data warehouse analytics and approaches for secondary data use for registries, clinical research, comparative effectiveness research (CER), health quality improvement, and population and public health.
Genomics Informatics
Understand the basic principles for advancing genomic and personalized medicine using informatics. Approaches for how EHRs consume and display genomic information for decisions, taking into account privacy issues.
CPOE/ePrescribing
The benefits of computerized physician order entry (CPOE) and the challenges in implementation and evaluating the impact on clinical outcomes.
The Roles and Workflow for HIT
A description of the changing workforce with the expansion of HIT, and the skills needed to develop, implement, and use information systems.
Privacy and HIPAA: What does this mean in HIT?
Define the Health Insurance Portability and Accountability Act (HIPAA) and discuss how it is applied in the clinical setting with new technology.
Translational Medicine
A review of current challenges in realizing the goal of using HIT to foster translational medicine from the basic sciences to the community.
Clinical Research Informatics
A description of this emerging field, the standards available, the gaps in informatics support and examples of how informatics advances are used in clinical research.
Natural Language Processing
A high-level discussion of algorithms used to process human language, or linguistic information, to solve practical problems.