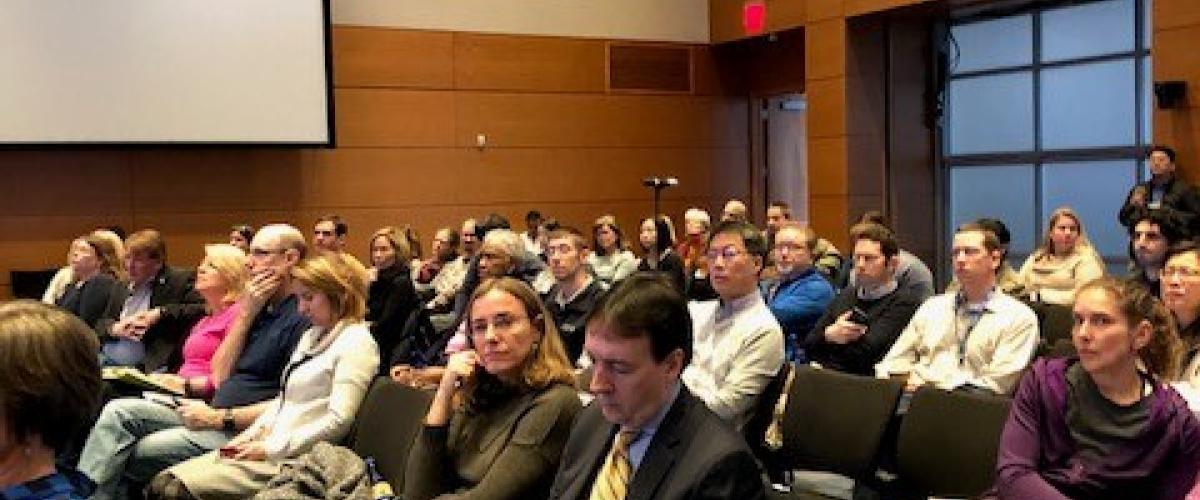 The Informatics Research Seminar Series is sponsored by Duke University in collaboration with the University of North Carolina-Chapel Hill (UNC-CH), North Carolina Central University (NCCU, Durham, NC,), University of North Carolina-Charlotte (UNC-C), East Carolina University (ECU, Greenville, NC), and Wake Forest University (WFU, Winston-Salem, NC). This series explores key areas in Health Informatics and includes research results, overview of programs of research, basic, applied, and evaluative projects, as well as research from varied epistemological stances.
Fall Seminars begin Aug 30th!
The seminars are held Wednesday's at 4 PM EST. Please check back in early August for the upcoming semesters scheduled speakers and topics.
Upcoming Seminars & Events
Spring 2023 Schedule: Informatics Research Seminars
| WK | Sponsoring University | Date | Speaker | Topic |
| --- | --- | --- | --- | --- |
| 1 | Duke | Jan 11 | Jessica Tenenbaum, PhD | The Situation Room: NC DHHS's Data Driven Pandemic Response |
| 2 | UNC-CH | Jan 18 | Tony Giberti, MBA | Measurably Improving Plan Performance in Commercial Populations with Claims Data |
| 3 | UNC-C | Jan 25 | Donald Jacobs, PhD | Hypothesis Formation in Exploratory Discovery: Applications from Bacterial Resistance to Brain-Computer Interfaces |
| 4 | NCCU | Feb 1 | Lucretia Hoffman, MPH, MBA | Statewide Emergency Management Procedures |
| 5 | ECU | Feb 8 | Prerna Dua, PhD | Reflecting on the Impact COVID-19 on Health Informatics and Information Management Education |
| 6 | WFU | Feb 15 | Meredith C. B. Adams, MD, MS | Mapping the Landscape For Pain and Opioid Health Data |
| 7 | Duke | Feb 22 | Eric Perakslis, PhD | Privacy and the Internet in Contemporary Clinical Trials |
| 8 | UNC-CH | Mar 1 | Sam Edgemon, MS | The Collaborative Effort to Create an Integrated National Biological Surveillance System to Help Decision Makers at All Levels Make Informed Decisions |
| 9 | UNC-C | Mar 22 | Vishnu Prabhu, PhD | Integrating Extended Reality, Biosignals, and Artificial Intelligence for Improving Patient Outcomes |
| 10 | NCCU | Mar 29 | Timothy Mulrooney, PhD | Geospatial Data Analysis Applications in Support of Health Informatics |
| 11 | ECU | Apr 5 | Benjamin Schooley, MBA, PhD | Applying Informatics to Build Products that Matter - a Lesson in Starting Small and Going Big |
| 12 | WFU | Apr 12 | Brian J. Wells, MD, PhD | External Validation of an EHR Prediction Model for Prediabetes in US Adults Using NHANES Data |
| 13 | Duke | Apr 19 | Genie McPeek Hinz, PhD | 21st Century Cures Act: An Overview of Regulations, Implementation and Interoperability |
Fall 2022 Schedule: Informatics Research Seminars
WK
Sponsoring University
Date
Speaker
Topic
1
Duke
Aug 31
João Ricardo Nickenig Vissoci, Ph.D
Leveraging Secondary Sources and Data Science to Address Equity In Care In Low Resourced Settings: Study Case In the Amazon Forest
2
UNC-CH
Sep 7
Ashley Griffin, PhD
Conversational Agents for Chronic Disease Self-Management
3
NCCU
Sep 14
K. Sean Kimbro, PhD
Ancestry and the Biology of Health Disparities: Ancestral-Driven Drug Discovery
4
UNC-C
Sep 21
Wenwu Tang, PhD
A Web-based Spatial Decision Support System of Wastewater Surveillance for COVID-19 Monitoring: A Case Study of a University Campus
5
ECU
Sep 28
Dmitry Tumin, PhD
Social Determinants of Health In Clinical Databases: Opportunities, Pitfalls, and Next Steps
6
WFU
Oct 5
Khalid Niazi, PhD
7
Duke
Oct 12
James Tcheng, MD
Building a Clinically Integrated Supply Chain Using the Unique Device Identifier as the Source of Truth
8
NCCU
Oct 19
Deborah Swain, PhD
Learning about Mobilizing Computable Biomedical Knowledge (MCBK)
9
Duke
Oct 26
Ed Hammond, PhD
Defining the Perfect Health System
10
UNC-C
Nov 2
Sunil Erevelles, PhD
The Genomics Blockchain
11
ECU
Nov 9

Jhojana Infante Linares

, MS
What is Data Analytics? Types, Uses, and Examples
12
Duke
Nov 16
Allison Stolte, MS & PhD candidate
Using Electronic Health Records to Understand the Population of Local Children Captured In a Large Health System In Durham County, NC