Pathways to Health Careers Camp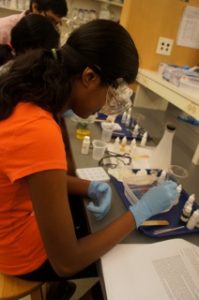 Science LabThe Pathways to Health Careers one-week summer day camp is open to 25 rising 8th or 9th graders from Durham and surrounding counties. The camp schedule runs from 8:00 am – 3:00 pm.
Students are introduced to the exciting world of health careers through hands-on activities, field trips, tours, and testimonials from practicing health care providers!
During the week, students will interact with healthcare providers at Duke as well as explore health professions training programs at area universities or colleges.
2020 Camp Dates: June 15 -19
Application period is now open! Applications should be submitted electronically here.  Each applicant must submit a teacher/counselor recommendation form , and currents immunization record to be considered for the camp. Complete application online and send the current immunization record via email to Monica Taylor.
Please contact Monica Taylor if you have any questions about the summer camp.
Camp Details & Application Requirements:
Camp will be held from 8:00 am – 3:00 pm each day of the camp (depending on travel for the day)
Students are expected to participate in the entire week of camp.  If you cannot attend the entire 5 days, please do not submit an application.
A parent or guardian must drop-off and pick-up students at the designated times above.
Camp is open to students, who live in Durham County or a neighboring county. Out-of-state applications are not accepted.
A completed application form should be received in the Duke AHEC Program office before June 10, 2020. Application
All applicants must have one (1) teacher or counselor recommendations.  Please ask the teacher or counselor to provide a recommendation via the above Camp Referral link.
Upon acceptance, pay $175 registration fee.  A limited number of scholarships will be considered.
Community Summer Programs
Below are other health careers or STEM-related summer programs in and around Durham County that may be of interest to you: