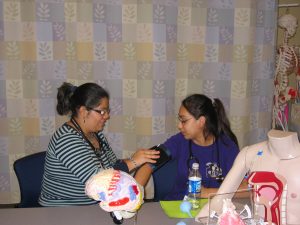 Duke AHEC Awareness Programs range from half day to full day programs. The goal is to give the students and parents an introduction to various health career professions and resources available for future learning. Awareness programs are usually free or low-cost; but require preregistration to secure a space. Awareness programs may vary from year-to-year, depending on identified needs through discussions with Duke health care providers as well as with local community organizations.
For Elementary Students:
The Great Hospital Adventure; a health careers and healthy behaviors presentation for young children, ages four to nine. This multi-media presentation includes a live puppet show, video or DVD, script, and an interactive question and answer session. The program activities emphasize non-traditional roles and multi-cultural images.
The puppets and DVD are available for loan! The Duke AHEC staff will provide a brief orientation of the materials, so you can provide the presentation to preschool, elementary school classroom, or church group. For more information on borrowing the puppets, DVD, and script, email Monica Taylor.
For Middle School Students:
STEM Symposium introduces students to various STEM careers through presentations, exhibitors from various companies from the RTP and surrounding areas; as well as high school and college programs available in the area. The Duke AHEC Program partners with the Durham Alumnae Chapter of Delta Sigma Theta Sorority, Inc and the Durham Chapter of The Links, Inc to offer this program.
Local Health Careers or STEM Awareness Programs
For High School Students: