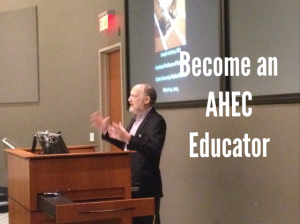 Do you have area of expertise that can enhance the clinical practice of other providers in your field? Do you have a unique training that can be disseminated to other health care providers across NC? If yes, you should consider becoming an AHEC Speaker!
The Duke AHEC Program, a part of the NC AHEC system, collaborates with the nine NC AHEC centers across North Carolina by connecting Duke Faculty and staff with the AHEC's identified continuing education needs of health care providers within their region. Based on the needs, each AHEC will develop continuing education activities, ranging from Grand Rounds, one-day workshops, conferences, or webinars, to health care providers in their region. For more information, visit the NC AHEC website to view a map of the nine AHEC regional centers.
One of the 2015 – 2018 NC AHEC strategic imperatives is to improve the health care workforce education. Your involvement with the NC AHEC program will help us achieve this imperative!
What's In It for YOU?
Opportunity to share your knowledge and skills with colleagues in other areas of the state.
Opportunity to meet new providers in your profession.
Honoraria and travel expenses covered by the Duke AHEC Program
IMG_6651Complete this form and a Duke AHEC staff person can contact you to discuss!
AHECs Promoting Interprofessional Education
The NC AHEC is committed to creating transformative continuing education for NC health providers by exploring strategies to facilitate the growth of interprofessional education in continuing education programming across North Carolina. Learn more about NC AHEC Continuing Interprofessional Education initiatives.