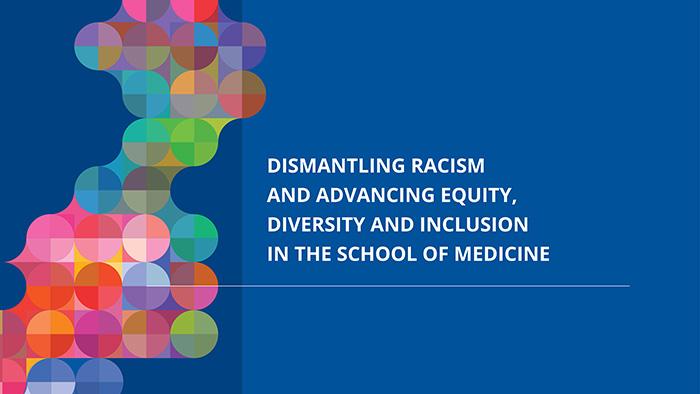 Since launching its Moments to Movement initiative in June 2020, Duke University School of Medicine has begun work to better understand the root causes and harms of racism and to develop strategies to reduce racial inequity.
In June 2021, the school presented a strategic plan called "Dismantling Racism and Advancing Equity, Diversity and Inclusion in the School of Medicine."
The anti-racism strategic plan is the culmination of the work of hundreds of individuals from across the school who participated in committees representing each of the school's four main constituencies: health professions students, graduate students and postdocs, faculty, and staff.
Over the next five years, school leaders will implement a broad range of strategies identified in the plan. It outlines five overarching goals that will drive the school's mission to be an inclusive, equitable, and anti-racist medical school. Several priorities support these goals, which focus on ways to enhance culture, diversity, education, research, and leadership capacity and accountability throughout the school.
Plan Priorities

Cultivate an Inclusive, Equitable and Anti-Racist Environment

Nurture, Reward and Attract Outstanding Talent

Advance Education and Training to Support an Anti-Racist Workforce

Develop Anti-Racist, Equity-Centered and Community Engaged Research Practices

Ensure Sustainability by Strengthening Leadership Capacity and Organizational Accountability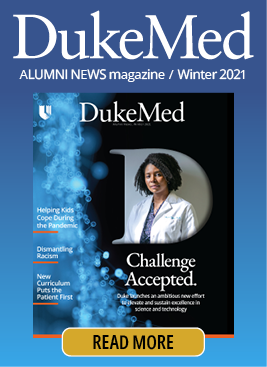 "This process was deep, broad, and it was incredibly intensive," says Dean Mary E. Klotman. "The strategic plan is a living document that will evolve, but it gives us a guide for action. It's going to take each of us to consider the actions we can take as individuals, in our departments, to support the school's goals."
Among the strategic plan's many action items is the creation of a new leadership role: vice dean for diversity, equity, and inclusion. In November, Kevin Thomas, MD, HS'99-'07, associate professor of medicine, was named to fill this critical role. He will be responsible for overseeing the implementation of the strategic plan and ongoing development of additional diversity and inclusion efforts at the school. Thomas will partner with Duke University and Duke University Health System diversity and inclusion leaders to ensure strategies across campus are aligned and will serve as a key advisor to the dean of the School of Medicine.
Keeping in line with key elements of the strategic plan, several educational opportunities have been made available to faculty, staff, and students, such as the racial equity workshop series called Teaching & Leading Equity Now. In addition, an employee resource group, the ME² (Motivate, Mentor, Educate & Empower) Black Employee Resource Group recently launched. The group's members aim to empower Black staff members in the School of Medicine, who often experience being overlooked and unheard, and to offer them resources for support and professional development.
School leaders will continually update the School of Medicine community on additional progress made toward the plan's goals.
Story originally published in DukeMed Alumni News, Winter 2021