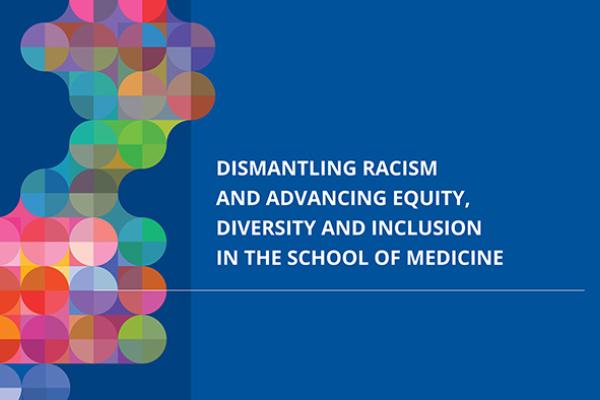 In June 2021, Duke University School of Medicine launched its anti-racism strategic plan, called "Dismantling Racism and Advancing Equity, Diversity and Inclusion in the School of Medicine." It reflected the work of four committees — representing faculty, staff, postdoctoral fellows and graduate students, and health professions students — who were determined to create a roadmap for all of us as we strive to create a more just and equitable environment here at the school. In finalizing the strategic plan, we committed to several priority initiatives. 
Much of this work was originally inspired by calls for justice and an end to systemic racism following George Floyd's murder in 2020. In the time since the plan was developed and released, many more tragedies have occurred — too many to count. Just this month, we all have been grappling with the news of violent acts across our country: recent mass shootings in California, including at Monterey Park and Half Moon Bay, and the release of video a few days ago of the reprehensible acts of violence and ultimate death of Tyre Nichols. These tragedies leave us with a multitude of emotions, from disbelief to outrage to sadness. In times such as this, we remain committed to our efforts to dismantle racism and disrupt systems that disadvantage minoritized groups.   
As we close January 2023 and move into Black History Month, I would like to share some of the progress we have made in our priority initiatives to date.  
The Dean created a new leadership role: vice dean for equity, diversity, and inclusion (EDI) and rebranded the Office of Diversity and Inclusion to now the Office of Equity, Diversity and Inclusion (EDI). 
We revamped the leadership structure for School of Medicine Unit EDI leaders, creating a faculty and staff EDI leadership infrastructure within many departments, centers, institutes, and other units. I have been engaged in conversations with chairs in both the clinical and basic sciences as well as center and institute directors to further help refine these roles.  
These Unit EDI leaders are participating in EDI educational and strategic development programming to ensure they have the necessary resources to guide the work in their respective units. Most recently, they are participating in the Racial Equity Learning Arc, which focuses on promoting strong racial equity and anti-bias practices. Prior educational opportunities have included the Teaching & Leading Equity Now (TEN) series.  
To fulfill our promise to enhance transparency and highlight progress, an annual report, dashboard, and data navigator tools are being developed to allow our community to see our progress and opportunities for growth in equity, diversity, and inclusion. These reports and tools will show our progress in key areas, metrics on our diversity and culture, and provide support to leaders in EDI in developing strategies for lasting change.   
In an institutional effort to integrate equity, diversity, and inclusion in all aspects of Appointments, Promotion, and Tenure (APT) we have partnered with the Office for Faculty to create a framework on how to evaluate scholarship in the domain of equity, diversity, and inclusion for promotion and have updated the annual review process to emphasize the value of EDI work for all faculty.   
We have a continued focus on developing and enhancing programs aimed at increasing diversity in the biomedical sciences, including the BioCoRE Program. To further help increase diversity in this area, we recently received an NIH grant to develop a one-year postbaccalaureate program for students interested in pursuing a PhD or MD/PhD in the biomedical sciences and basic sciences. Planning is underway for a Next Generation Leadership Symposium in the spring. The Next Generation Leadership Initiative aims to increase diversity at the faculty level.  
The Employee Resource Group, ME² (Motivate, Mentor, Educate & Empower), was created to foster a community focused on networking, professional development, and leadership opportunities for Black staff. 
The Onyekwere E. Akwari, MD, Endowed Professorship was established, which honors the legacy of the late Dr. Akwari and recognizes the excellence of a faculty member in the Department of Surgery who shares his commitment to equitable and compassionate care.  
While I am encouraged by our progress, there is much more to do. The work doesn't stop. We, along with leaders within your own departments and units, will continue to share progress with you throughout the year. Stay apprised for updates in our Equity Matters e-newsletter and other channels, including our website, which in the coming months will be reorganized and updated with learning opportunities, news, events, guidance on reporting concerns, and more.  
As we move into the midpoint of the academic year, we look forward to the work ahead. Our Office of Equity, Diversity and Inclusion will be focused on five priority areas, including:  
Inclusive Culture 
Leadership Capacity and Organizational Accountability 
Longitudinal Learning 
Equitable Retention and Recruitment Practices 
Assessment and Research 
Thank you for your support and investment in this critical work to advance equity, diversity, and inclusion at Duke University School of Medicine.  
Kevin Thomas, MD, Vice Dean of Equity, Diversity and Inclusion 
---