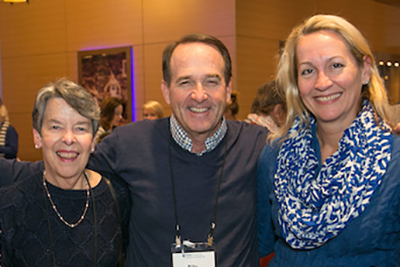 The Medical Alumni Council (MAC) is the volunteer leadership group for the Medical Alumni Association. Its purpose is to advise and participate in developing/fostering positive relationships with medical alumni and future medical alumni and to assist with fundraising. The Council meets twice a year, in the spring and in the fall during Medical Alumni Weekend.
Current Roster
Officers

 

President
Janice A. Gault, BS'87, MD'91

President-Elect
Thomas G. Rainey, MD'74, President-Elect

Vice President
Rowena Dolor Cuffe, T'87, MD'91, HS'91-'95

Historian
James Urbaniak, MD'62, HS'62-'69

Immediate Past President
Oren Cohen, MD'87

Davison Club President
William Andrews, AB'76, M'80, HS'82-'86

Members

 

Terms Expire 2021
Jonca Bull-Humphries, MD'78
Jon Langford, AB'84, HS'89-'94
Chuck Lucore, MD'83
Ann Miller, AB'79, MD'85
Robert Shaw, T'72, MD'76
Edward Treadwell, MD'76

Terms Expire 2022
Jeb Hallett, MD'73
Betsy Harden, MD'78, HS'81-'84
Genie Kleinerman, MD'75, HS'74-'75
Blake Long, AB'82, MD'86, HS'92-'95, MBA'15
Demetry Papadopoulos, MD'76
Claire Spain-Remy, MD'85
Col. Dean Taylor, MD'85, HS'87-'91
Shaheen Wirk, BS'98, MD'03, MBA'03

Terms Expire 2023
Sharon Castellino, MD'92, HS'94-'97
Mitch Cohen, AB'70, MD'74
Joe LeBauer, MD'60, HS'60-'61, HS'64-'65
Claude T. Moorman, MD, AB'83, HS'87-'93
Caroline Philpott, AB'83, MD'87
Ashok Reddy, BS'88, MD'92
Jane Trinh, MD'02, HS'02-'06
YiDing Yu, MD'12

Special Representatives

 

Faculty Liaisons
Saumil Chudgar, MD'05, HS'08
Robert P. Drucker, MD'79, HS'83-'87

Half Century Society
Ed T. Preston, Jr., AB'57, MD'60, HS'60-'62

Rep. to Duke Alumni Assoc. Board
Nicholas J. Leonardy, AB'81, MD'85

Rep. to Duke Medicine Board of Visitors
Kathy Upchurch, MD'76

House Staff Representatives
Rohit Tejwani, MD'17, HS-Current
Alison Vasan, MD'16, HS-Current

Student Representatives
Cason Robbins, MS IV
Jackie Dillon, MS III

Davison Council President
Luke Wachsmuth, MS IV
Join the Council
Interested in joining the council or know someone who is? Let us know!