Image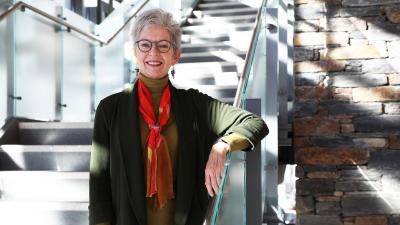 Bringing a New Vision for Occupational Therapy Education to Duke
When the job announcement first popped up in Barb Hooper's email inbox, she didn't bother to open it. She was an associate professor at Colorado State, and as director of the Center for Occupational Therapy Education her focus was on the educational component of occupational therapy. The email announcement was for a position to develop a new occupational therapy program at Duke, and Hooper presumed she wouldn't be quite what they were looking for. 
"I didn't open it because I just assumed the position would be geared toward a career scientist," Hooper said. "But someone else I knew opened it and said, 'Barb, this is written for you.' It turned out the search committee had crafted the position for an education scholar with my exact background. So I jumped in." 
It turns out she was precisely what Duke was looking for. She got the job, and now, almost three years later, the Occupational Therapy Doctorate (OTD) program Duke, developed under her leadership, is up and running. Duke welcomed the program's inaugural cohort of 40 students in August 2021.  
"Barb was selected following a competitive international search," said Benjamin Alman, MD, the James R. Urbaniak, MD, Distinguished Professor of Orthopedic Surgery and chair of the Department of Orthopaedic Surgery. "She stood out for many reasons. Her forward-thinking view of occupational therapy, her strong background in education, and her leadership skills convinced us that she was the right person to lead Duke OTD. Barb has shown time and again that her collaborative leadership and dedication to Duke OTD is helping build one of the strongest OTD programs in the world." 
Nimble Practitioners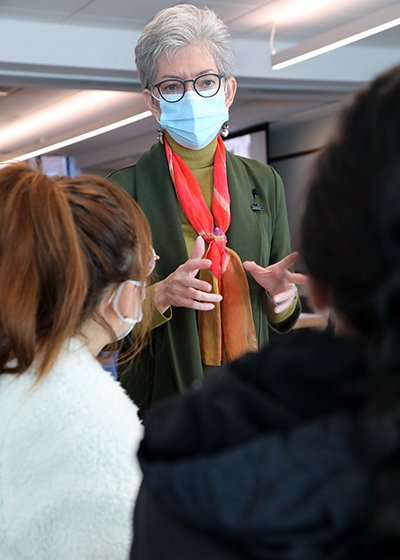 Duke's new OTD program reflects Hooper's vision for occupational therapy education. The program is built on the conviction that the ability to engage in activities that are important to people is a human right and essential to good health. Occupational therapy improves the ability of individuals to access and participate in all the activities that add meaning to their lives, including jobs, family activities, childcare, preparing meals, education, faith and religion, recreation, and more. 
"Occupational therapy is, in my view, underutilized in health and social care," Hooper said. "This is partly because the focus of occupational therapy is often misunderstood and partly because the role of the concrete particulars of everyday life in health and well-being are often overlooked in health care. My vision was to develop an occupational therapy program whose graduates possess an unabated commitment to the premise that participation in meaningful everyday activities, what we call occupations, is a key ingredient for health and wellbeing. From that foundational commitment, I envisioned Duke OTD graduates advancing the health of individuals, communities, and populations by addressing what people want and need to do each day." 
The program reflects contemporary and international ideas of occupational therapy, but developing the curriculum was very much a collaborative endeavor: "I knew this effort needed more brains than mine," she said. She assembled a team of occupational therapy practitioners, entrepreneurs, educators, and scholars from Duke and across the country. The group analyzed data, evaluated educational models and theories, and studied Duke's institutional values, including innovation, leadership, collaboration, and diversity.  
The curriculum they developed is designed to graduate a diverse cohort of ethical leaders and service providers who collaboratively enable people's access to and participation in health-supporting occupations.  
"I envision our graduates as nimble practitioners, moving easily among medical and social models of health care as well as traditional and emerging areas of practice," Hooper said. "I hope Duke OTD graduates will be groundbreakers in community-based practice and primary care. I want our students to be motivated by an ethic of occupational justice, the right of everyone to access meaningful, life-supporting activities." 
That expansive view of what constitutes occupational therapy is what drew Anita Ayala, one of the inaugural cohort of OTD students, to Duke. 
"After zooming on an info session, I thought to myself, 'Wow, this OT program is one of a kind,'" Ayala said. "I quickly saw that Duke OTD wasn't looking for your average OT student. They wanted a student who understood the importance of justice and how that relates to access and opportunity. I wanted an education that went beyond the standard medical model. Duke OTD looks at sociopolitical, geographical, social, and physical environments and how they relate to an individual's daily life." 
The Key Role of Diversity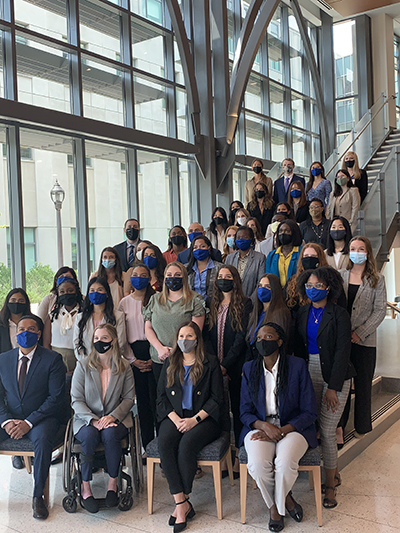 Sixty percent of the initial cohort of students in the Duke OTD program are from under-represented minority communities. That is by design: a commitment to diversity is a key part of the program — and not only demographic diversity but also a diversity of life experiences, academic disciplines, intellectual interests, and more. 
"Occupational therapy especially needs practitioners from as many walks of life as possible," Hooper said. "We specialize in working with people who need to develop or restore meaningful everyday activities to their lives. Those activities are rooted in their sociocultural contexts and life experiences."  
The focus on diversity and inclusion is built into program beginning with a holistic admissions process that encourages applicants from a wide range of backgrounds. Among other things, the Duke OTD program breaks with the traditional practice of requiring incoming students to have taken a specific set of pre-requisite courses: anatomy, statistics, and so on. That requirement limits the pool of applicants or requires some potential students to spend additional time and money to take pre-requisites they may be missing. 
Instead, Duke's program requires students to demonstrate experience in "pre-requisite knowledge domains."   
"Our admissions approach was a natural progression from the idea that occupational therapy needs to change if it is going to serve a diverse society," Hooper said. "We knew that having a cohort of students from as many disciplines as possible is especially important for OT because OT is a blend of social sciences, humanities, justice work, and medical sciences. We chose a variety of knowledge domains that students need to have some understanding of coming into an OTD curriculum. We felt this approach focused more on what students had learned than on what courses they had completed."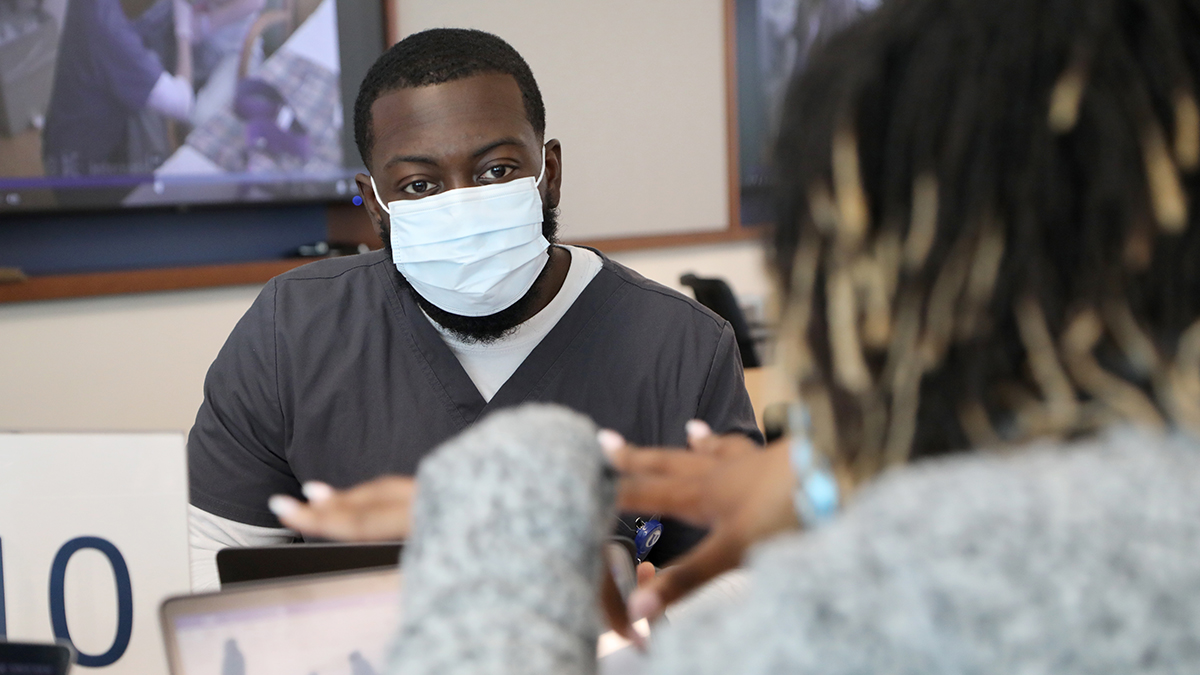 Building Bridges

 
Thanks to its holistic admissions approach, Duke OTD students come from academic backgrounds including psychology, education, fashion design, human development, exercise, and recreation, and more.  
That wide-ranging scope, and the program's emphasis on serving the similarly expansive needs of a complex world, are compelling draws for prospective students.
"For me, the powerful vision that was, is, and continues to be emphasized for the incoming generations to come is what called me to apply," said first-year Duke OTD student Emmanuel Acheampong. "Dr. Hooper and the entire faculty are doing something special with the progressive outlook in forming fully equipped leaders in the profession of occupational therapy. I look to become a world-class change agent one day, so it was only befitting for me to join this monumental movement. I've learned a huge lesson in that you are continuously learning, regardless of your position or place in life." 
For Hooper, broadening the scope of occupational therapy and the diversity of its practitioners benefits everyone involved: the students and graduates, the individuals and communities they serve, and the field of occupational therapy itself. 
"Improving the profession and improving the lives of the people we serve, those are objectives that go hand in hand," she said "Our knowledge can't deepen and develop if the people working to build that knowledge are all from similar backgrounds. Occupational therapy can only build and grow if we have more voices at the table helping us develop the profession. Occupational therapists seek to build a bridge from the medical world to the life world of individuals and communities. We need to understand their lived experiences in a deep and intimate way to complete that bridge."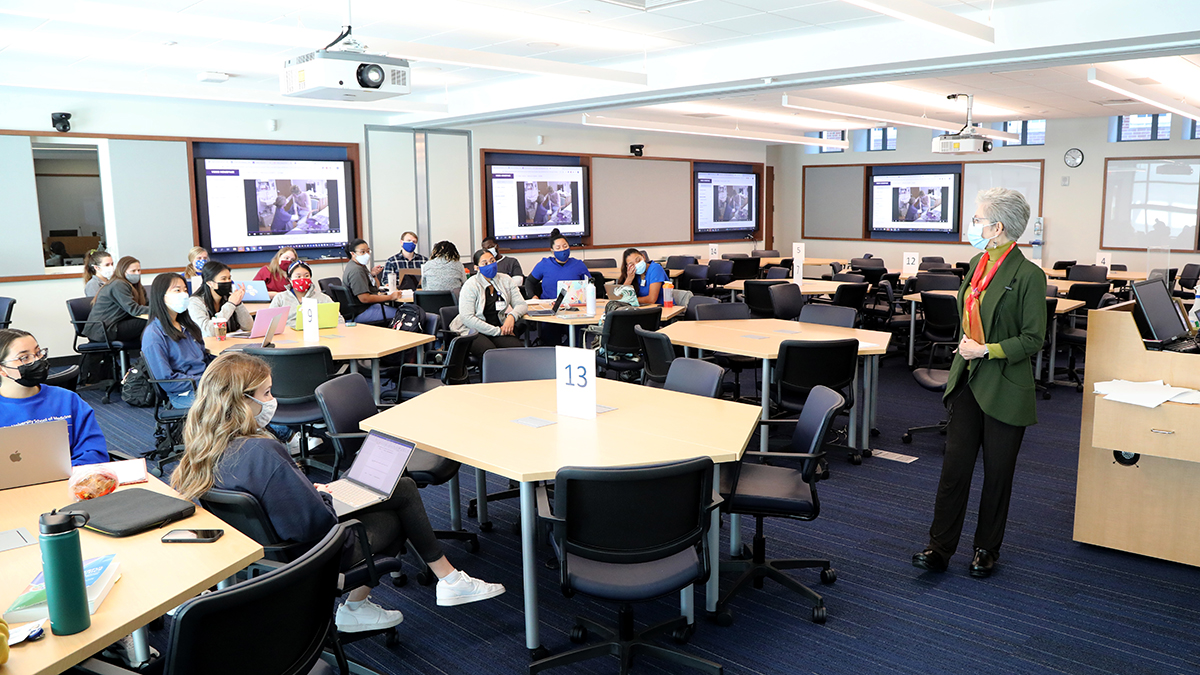 Holley Broughton is the communications strategist for the Department of Orthopaedic Surgery and the Doctor of Physical Therapy program. Photos by Jim Rogalski, video producer/director in the Office of Strategic Communications.
A Conversation with Barbara Hooper