Image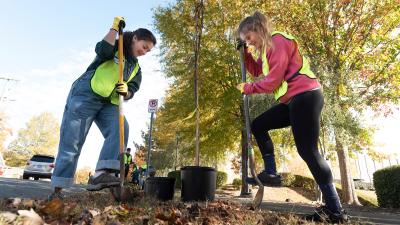 Medical Student-led Initiative Plants Change for Environmental Justice in Durham
Residents of Durham's Hayti community, one of the oldest Black communities in the city, will enjoy a flourishing array of blooming trees along their sidewalks this spring thanks to a joint effort by community members, the City of Durham, local nonprofits, and Duke. Nearly 100 trees were recently planted in southeastern Durham with the goal of protecting the community against the negative health impacts of climate change.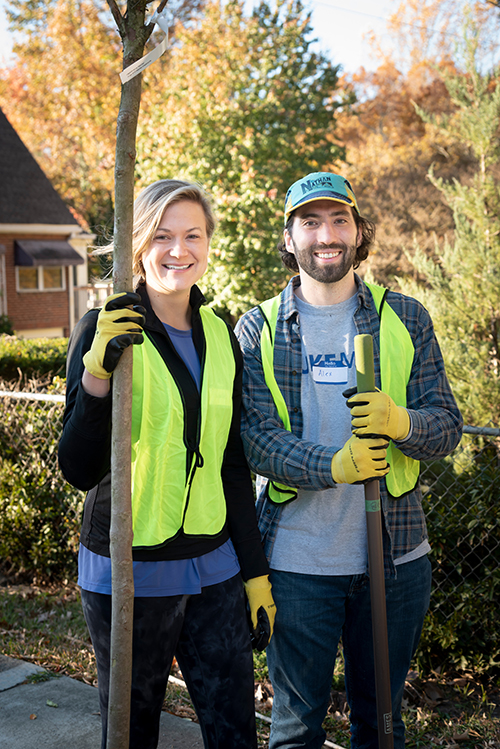 The initiative was the brainchild of Isabelle Byers and Alex Gunn, fourth-year medical students in the Duke University School of Medicine. 
Over the last decade, the health implications of a changing climate have become evident, and health care professionals have begun to recognize their role in tackling the environmental crisis. "Climate change is having real health effects now," said Gunn. "And those health effects are disproportionately affecting marginalized communities. And so, as future physicians, it is our responsibility to think about both of these huge forces and find ways that we can help work to mitigate them and help improve the health of the most vulnerable people." 
People who lack access to healthy food, clean water, and clean air are already more at risk for developing hypertension, heart disease, lung disease, and asthma, and warmer temperatures exacerbate symptoms associated with these conditions.
This is especially true in urban environments, where sunlight interacts with higher concentrations of chemicals from cars, stoves, and industrial facilities to create a particulate known as ozone that can send many people with pre-existing conditions to the hospital. Long-term exposure to ozone and other types of air pollution has been linked to increased risk of cancer and brain disease, especially in individuals with risk factors such as obesity, smoking, and lack of exercise, according to the students. 
An Idea Takes Root
Inspired by their concern over climate-driven health issues and their love of Durham, Byers and Gunn brainstormed ways to mitigate the effects of climate change for people living in the city. One way to do that, they discovered, is through the planting of trees. Trees do more than provide beauty and cooling shade: they help people stay healthier.
"For a long time, there has been this intuition that being outdoors, being around trees, is good for your health," said Gunn. "But over the past few decades, there has been a mounting heap of scientific evidence for that. Epidemiology studies have shown a correlation between different health outcomes — including mental health, cardiovascular health, even fertility and birth outcomes — and how many trees you live by or your tree canopy coverage."
In addition to the ecosystem services they provide, trees are a "shot in the arm" for human health, he said. By filtering out fine particle matter in the air, they reduce oxidative stress and systemic inflammation that is associated with hardening of the arteries and heart attacks. By filtering sunlight with their canopies, they reduce extreme urban heat, a precursor to faster heart rates, higher blood pressure, and excessive sweating that is associated with heart arrhythmias and failure. On top of that, a tree's mere presence is so calming to the human psyche that it increases activation of the parasympathetic nervous system, opening up blood vessels and helping people to breathe slower and easier.
When Byers and Gunn began looking into the geographic distribution of trees in Durham, they quickly uncovered a glaring inequity revealed in a study conducted by Duke students in the Nicholas School of the Environment in 2017. Those students, in partnership with the Environmental Protection Agency and the nonprofit Trees Durham, used a remote sensing technique called Light Detection and Ranging (LIDAR) to map the city's foliage. They found that the tree canopy was lush in affluent northern and western enclaves of the city, while other parts of eastern and southeastern Durham had mere specks of tree coverage. 
Tree coverage in Durham, the Nicholas students discovered, was correlated with the practice of "redlining," a housing policy enacted in the 1930s. After the Great Depression, the Home Owners' Loan Corporation classified certain neighborhoods at "high risk" of defaulting on bank loans, shaded these areas red on maps, and denied individuals there access to mortgages. 
"These designations," Byers explained, "were based almost entirely on race, and so historically Black communities were often excluded from homeownership and wealth creation. Individuals and families in redlined neighborhoods were effectively precluded from putting down roots in ways that other wealthier, whiter areas could." 
After seeing the study, Byers conducted extensive research on redlining in Durham. Her findings echoed those of the Nicholas School group. 
"What they [the Nicholas students] had shown is that neighborhoods that were redlined in the 1930s, today had the least tree canopy coverage of anywhere else in Durham," said Gunn. "And so, this policy that was 80 years old affected what the physical place and environment looked like today."
Byers and Gunn then compared the 2017 foliage map with another map provided by the Durham Neighborhood Compass that showed the incidence of heart disease across the city. Once again, the maps lined up: redlined districts with lower tree coverage had the highest incidence of heart attack among residents. Building on that data, the medical students analyzed Duke's emergency room statistics and learned that patients admitted for other cardiovascular and respiratory emergencies were also disproportionately from the same tree-lacking, redlined areas. The disparities were so obvious and heartbreaking that the students felt compelled to act.
Branching Out
Their first step was to find faculty support. Jennifer Lawson, MD, clinical associate in the Department of Pediatrics, agreed to help the students right off the bat. As a pediatrician, Lawson sees firsthand the growing effects that environmental factors have on vulnerable populations. Children from disadvantaged communities present to her clinic with exacerbations of inflammatory conditions such as asthma and allergies, which are directly affected by the effects of climate change. She has become increasingly active in educating others about the connections between climate change, health, and equity, and she was enthusiastic when Gunn and Byers approached her about creating a student group devoted to climate change, environmental justice, and human health.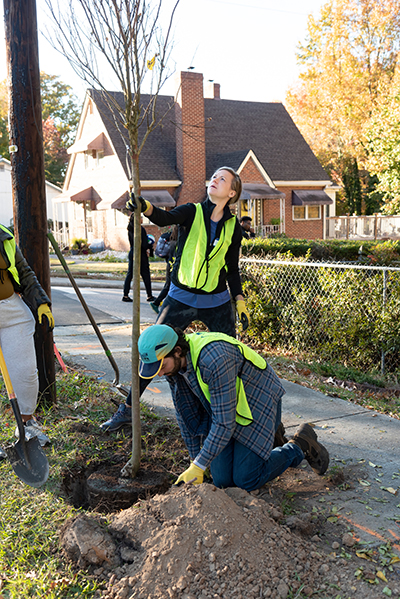 "I really appreciate the persistence and dedication of Alex and Isabelle in dealing with this issue," Lawson said. "We — older generations — have put a lot on the shoulders of our youth in terms of climate change, and it's a burden that they carry. With that in mind, we need to support them and be actively engaged alongside them as they confront climate change and its impact on human health and social inequity."
With Lawson as advisor, Byers and Gunn established a medical student volunteer outreach group called Duke Med for Environmental Justice and Health Equity, which currently has more than 38 members. They also developed a stakeholder board to enact real change in Durham, bringing in representatives from the City of Durham Division of Urban Forestry, Keep Durham Beautiful, Trees Durham, the Durham Rotary Club, and — most importantly — residents from the Hayti (pronounced Hay-tie) community in Durham.
Once a thriving center of Black-owned businesses, the Hayti district had been subjected to the effects of redlining and the disruptive placement of a freeway through the community in the 1970s. The maps that the students referenced showed that this community was disproportionately affected by health issues and also lacking in tree coverage. Byers and Gunn, equipped with their data and the idea of increasing tree coverage, began knocking on doors and reaching out to community leaders.
"We found that there was not only an interest in a tree planting project from members of the Hayti community, but also that the initiative aligned with long-time community revival efforts," said Byers. The students met with Angela Lee, executive director of the Hayti Heritage Center, who has been a tireless advocate for the community, stressing the importance of reconnecting Hayti to downtown Durham. 
"We wanted the project to be driven by neighborhood residents and community members," said Byers. "We created a resident-led stakeholder board, which included individuals from local businesses, churches, schools, and community organizations." 
Over the course of two months, the stakeholder board convened to discuss the best placement for new trees and which species they would most like to see. On November 14, 2021, more than 40 volunteers — Hayti residents and Duke students and faculty — showed up with shovels to plant 47 saplings of a variety of species, including Natchez Crepe, Yellowwood, Black Gum, Ginkgo Biloba, Sugar Maple, Snowgoose Cherry, Hawthorne, Southern Magnolia, Persian Ironwood, Scarlet Oak, and Service Berry. The City of Durham planted another 45 trees in collaboration with the initiative.
The trees came from a nursery associated with Keep Durham Beautiful, and the planting was made possible thanks to funding and support from the City of Durham, DukeMed Engage, the Duke Carbon Offset Initiative, Duke University's Community Engaged Research Initiative, and the Duke Chancellor's Service Fellowship: a funding opportunity for students in the School of Medicine who are interested in making change in their communities. Byers and Gunn applied for and received the fellowship in 2021.
"We couldn't have done it without the support of various entities at Duke and in the community," said Byers. "We are so grateful for their support."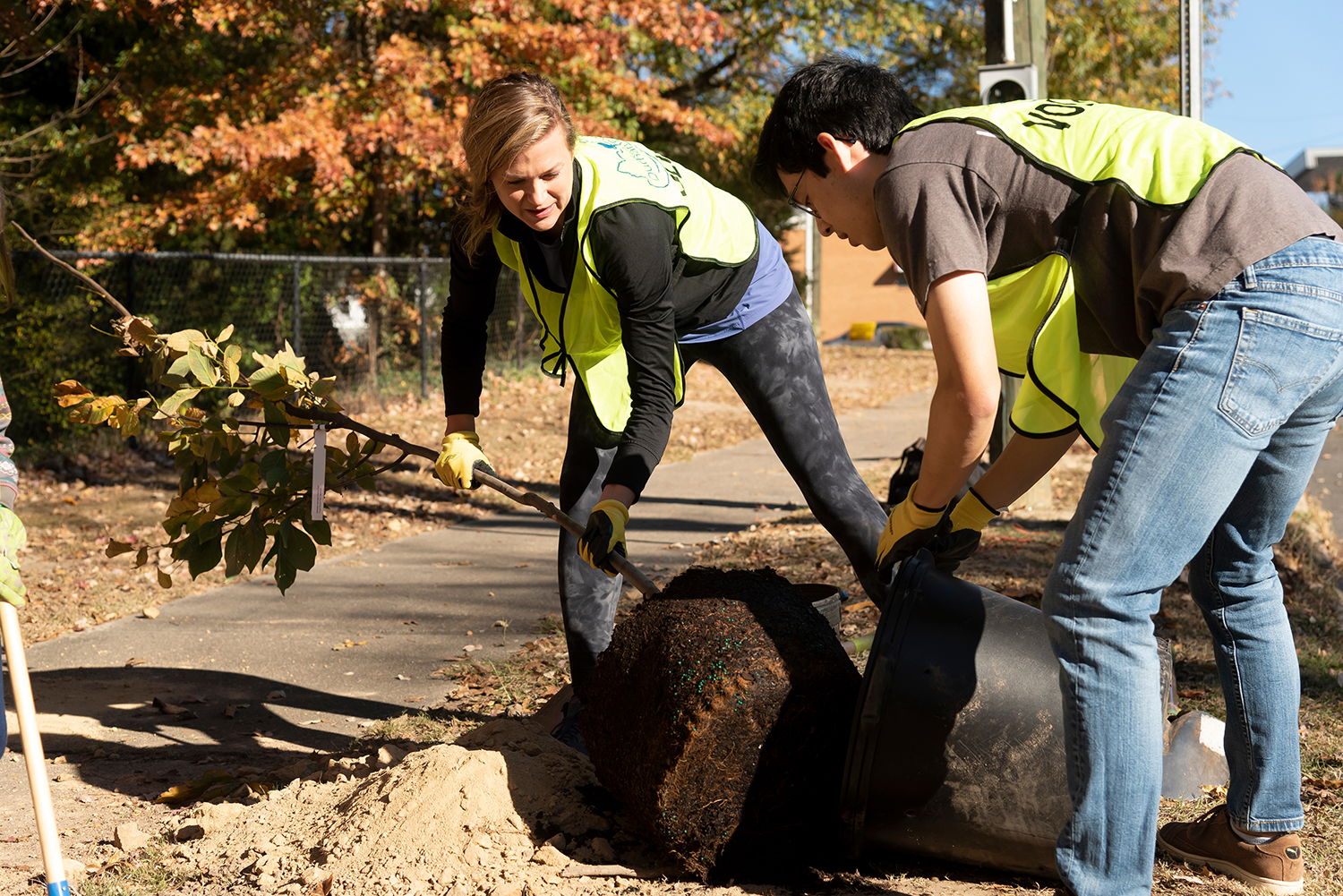 Shading Future Generations
As fourth-year medical students approaching graduation, Byers and Gunn want to make sure the changes that they are making now will have a lasting effect. They want to involve more medical students in environmental justice projects and are currently working with medical education leaders to explore ways that the topic of climate change and human health could be even more integrated into the medical school curriculum beyond the Cultural Determinants of Health course.
Beyond the medical school, they are working to grow their student outreach group to include students from other areas of Duke, such as the Nicholas School of the Environment and the Sanford School of Public Policy. The plan is for the student group to maintain a strong partnership with the City of Durham, which has already committed to planting a significant number of additional trees in the Hayti community next year, with the long-term goal of expanding the tree canopy each year. The hope is for this to be a small steppingstone in the way of climate justice and health equity.
"As physicians, we have a platform to be advocates, not only for our patients, but for the populations that we serve as a whole," Byers said. "The glaring health disparities we see today are largely informed by our environment — whether that be through access to green space, healthy food options, neighborhood safety, transportation, good schools, or job opportunities. At the same time, we're facing the biggest crisis of our generation: climate change. I believe that by recognizing the profound connection we have with our environment and our responsibility to this planet, we can come to see more clearly the connection we have with each other and our responsibility to create shared environments that empower individuals and communities — especially those who have been historically disenfranchised." 
Lindsay Key is a freelance writer and former editor of Magnify magazine.
Photos by Les Todd.
Top photo: MD students Anna Kulawiec and Kreager Taber