Instrumentation
| Faster throughput | Deeper coverage | Higher sensitivity | Accurate and precise quantitation |
| --- | --- | --- | --- |
| The Orbitrap Astral Mass Spectrometer enables the analysis of 180 samples in a single day at a depth of over 8,000 protein groups per sample. That's over 1.4 million protein group data points measured in a single day, achieved with a high throughput injection-to-injection cycle of just 8 minutes. | The Orbitrap Astral Mass Spectrometer provides a depth of 12,000 proteins in 1 hour with a single shot or over 15,000 proteins in 4.5 hours with multiple shots using bottom-up proteomics to measure human cell lysates. The near whole-proteome coverage of these methods reduces the chances of missing out on important proteins of interest. | The complex heterogeneity of biology necessitates measurements of limited cell populations or single cells. The high dynamic range of the proteome requires measurements of very low copy number proteins. The Orbitrap Astral Mass Spectrometer can identify over 5,000 proteins from a single-cell equivalent input and accurately quantifies proteins with just a few hundred copies in bulk samples. | Biological changes are quantitative in nature, requiring accurate and precise measurements to determine statistically significant biomarkers. The Orbitrap Astral Mass Spectrometer extends the dynamic range of accurate quantitative measurements at a faster throughput and with deeper coverage.   |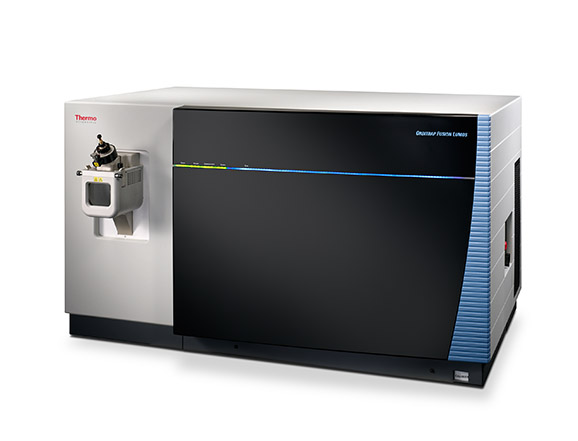 The Proteomics and Metabolomics Shared Facility has one Fusion Lumos Tribrid Orbitrap:
Fusion Lumos Tribrid Orbitrap with CID, HCD, ETD, EThcD and UVPD
Excel at the most challenging of applications, including low level PTM analysis, multiplexed relative quantitaion using isobaric tags, intact protein characterization, as well as MSn analysis of small molecules with the new Thermo ScientificTM Orbitrap FusionTM LumosTM TribridTM Mass Spectrometer. This system incorporates the brightest ion source, a segmented quadrupole mass milter with improvised selectivity and ion transmission, Advanced Vacuum Technology for improved ion transmission to the Thermo ScientificTM OrbitrapTM mass analyzer, ETD HD, and a higher-capacity ETD fragmentation.
Features
A brighter ion source provided by a High Capacity Transfer Tube and an Electrodynamic Ion Funnel for increased sensitivity 
Advanced Active Ion Beam Guide for improved robustness
Segmented quadrupole powered by Advanced Quadrupole Technology for improved precursor ion selection and transmission
Advanced Vacuum Technology for improved vacuum in the C-trap and Orbitrap regions resulting in improved ion transfer to the Orbitrap mass analyzer
ETD HD (High Definition ETD) incorporating a higher capacity ion-ion reaction for improved dynamic range of ETC spectra
UVPD, a new fragmentation technique achieved with a 213 nm UV laser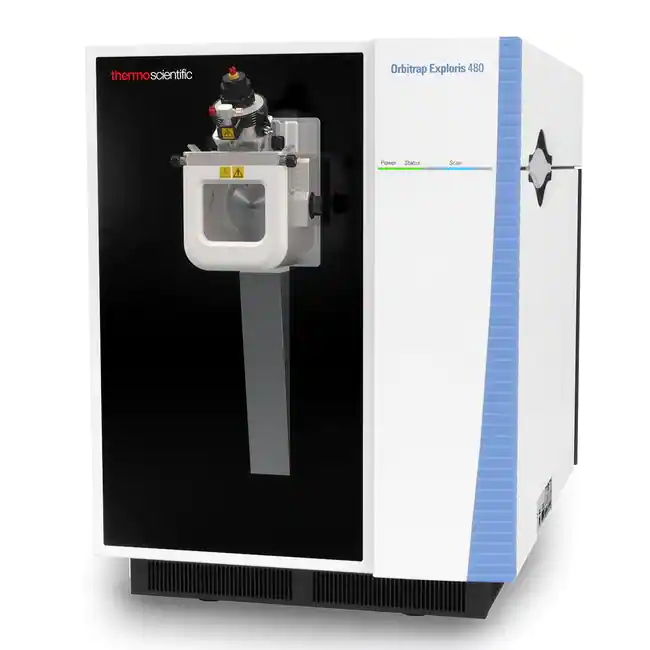 Thermo ScientificTM Orbitrap ExplorisTM 480 Mass Spectrometer
Maximum data certainty
Market leading resolution & mass accuracy, selectivity & spectral quality to solve the most complex challenges.
Robustness and reliability
Makes large scale studies possible and reduces everyday hassle. It just works!
Empowers more users
Transition each experimental step to the next level with intelligence-driven performance.
High resolution within a compact footprint
Because space is always a premium regardless of lab.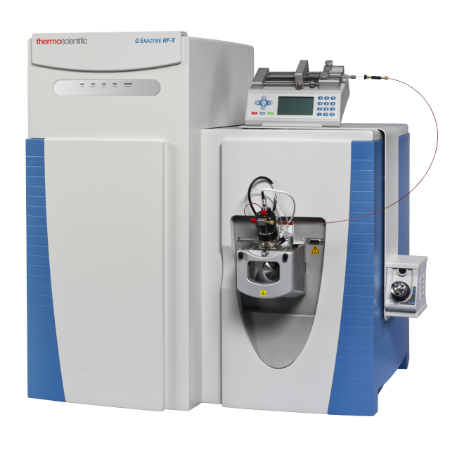 Scan speed up to 40 Hz with ultra-high-field Thermo Scientific™ Orbitrap™ mass analyzer technology
• Resolution of up to 240,000 (FWHM) at m/z 200
• High Capacity Transfer Tube (HCTT) and electrodynamic ion funnel for improved sensitivity
• Advanced Quadrupole Technology (AQT) for superior precursor isolation
• Advanced Active Beam Guide (AABG) for greater sensitivity and maximum robustness
• New Data Dependent Acquisition (DDA) strategy for bottom-up and top-down proteomics analysis
• Dynamic retention time adjustment in PRM for superior targeted quantitation
• Accelerated Higher-Energy Collisional Dissociation (aHCD) capabilities
• BioPharma option for enhanced analysis of intact proteins, protein-protein complexes, mAb subunits, and intact mAb. Includes Intact Protein Mode and High Mass Range (HMR) mode.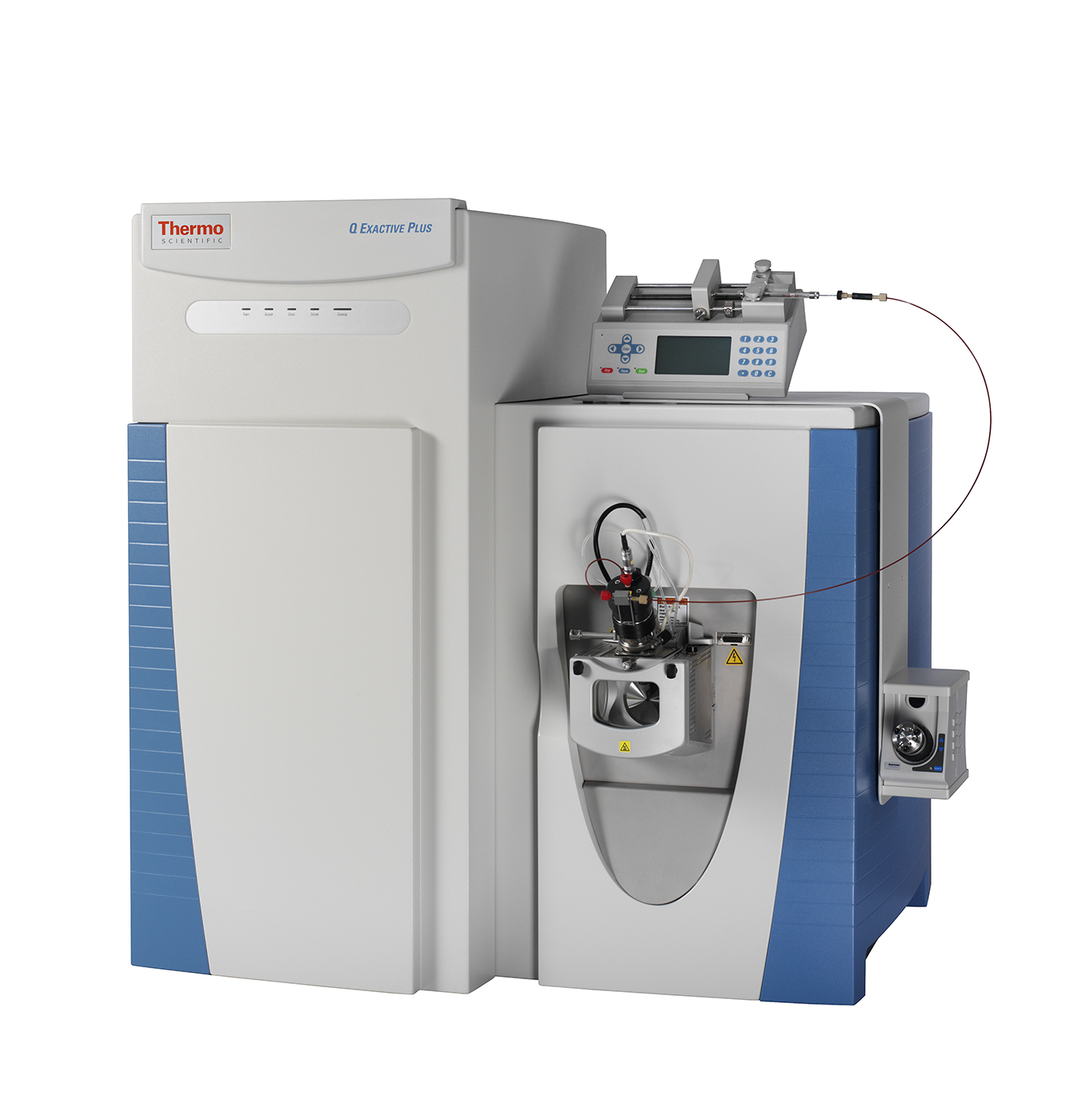 Thermo Scientific Web Materials
Quantitation
Advanced quadrupole technology (AQT) improves precursor selection and transmission for more accurate quantitation of low-abundance analytes in complex matrices.
Sophisticated data-independent acquisition (DIA) and parallel reaction monitoring (PRM) deliver reproducible quantitation with complete qualitative confidence.
An advanced active beam guide (AABG) reduces noise and extends maintenance intervals.
High-Confidence Results
HR/AM and full-scan capabilities capture all sample data, all of the time, enabling retrospective data analysis without need to re-run samples.
Resolving power up to 140,000 FWHM eliminates isobaric interferences, increasing confidence in results when analyzing samples.
High-throughput mass spec
This system is the fastest and most sensitive QTRAP. It provides the best LOQs to enable the detection and quantification of the broadest scope of chemical compounds in the most challenging matrices. Improved polarity switching and MRM3 speeds allow faster chromatography and better throughput. The built-in QTRAP functionality enables quantitative MRMs and qualitative QTRAP scans in the same injection to maximize throughput.
The system is ideal for laboratories performing demanding applications requiring ultimate sensitivity for ultra-low-level quantitation of small and large molecules.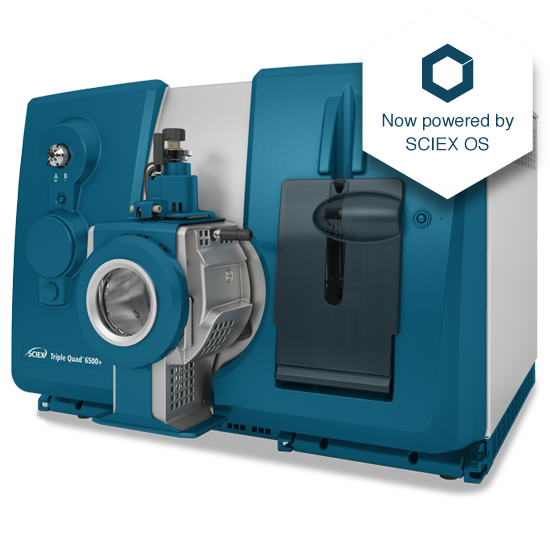 The Triple Quad 6500+ system features multi-component IonDrive technology including the IonDrive High Energy Detector+ that pushes the boundaries of LC-MS/MS quantification farther than ever before. The revolutionary sensitivity, speed, and performance delivered through these technology enhancements enable you to see it all, from low mass to high mass compounds, in positive or negative polarity – in a single injection, with high sensitivity, reliability, and confidence.
Superior signal-to-noise and LOQ for the widest scope of chemical compounds in the most challenging matrices
Up to 6 orders of linear dynamic range for an enhanced breadth of applications
Increased throughput with polarity switching speeds of 5 msec
No compromise in mass range with a 2000 m/z upper mass limit
Scan speeds of up to 12,000 Da/second for optimized UHPLC strategies
Compatible with SelexION+ differential mobility spectometry
Enhanced ion transmission for added selectivity without compromising LOQs
The Triple Quad 6500+ system delivers revolutionary sensitivity, speed, and performance for your most challenging methods.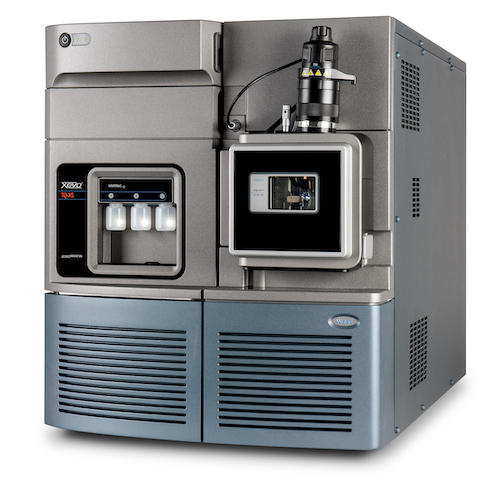 Waters Scientific Web Materials
Demands on analytical laboratories are changing and every laboratory needs to ensure it can keep pace with these changes. The Xevo® TQ-XS offers:
StepWave XS™ ion guide that provides increased sensitivity for challenging compounds.
Enhanced detection system with six orders of linear dynamic range to ensure sensitivity is accessible.
Tool-free probe design reduces the time taken for any routine maintenance and provides improved reproducibility between users.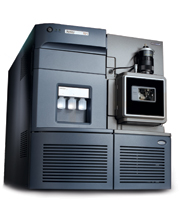 XevoTM TQ from Waters Corporation is designed for quantitative UPLC/MS/MS applications, so you can confidently quantify and confirm trace components in the most complex of samples. What's more, you can do this with unparalleled ease, speed and accuracy.
Xevo TQ features ScanWaveTM collision cell technology to provide enhanced spectral LC/MS/MS data acquisition capabilities. Unlike conventional tandem quadrupole mass spectrometers, Xevo TQ is designed to provide not only the very best quantitative data but also superior spectral MS/MS information. You benefit from more versatility in a single instrument platform adaptable to a wide variety of different UPLC/MS/MS applications both quantitative and qualitative: bioanalysis; absorption, distribution, metabolism and excretion (ADME) screening; food safety; environmental monitoring; forensic and more.
Features:
Engineered SimplicityTM - the combination of highest performance with system versatility and simplicity of operation
ScanWave - innovative technology that provides rapid, high quality, UPLC(R)-compatible, MS/MS data acquisition
RADAR - an information rich acquisition approach that allows you to collect highly specific quantitative data for target compounds while providing the ability to visualize all other components
Versatility - an extensive range of ionization capabilities to service the broadest range of applications
Simplicity of operation - guarantees maximum system performance accessible to the broadest range of users
Ultrahigh Pressure Liquid Chromatography
Three MClass systems and two IClass UPLC systems are available in our lab.
MClass:
The MClass ACQUITY UltraPerformance LC® (UPLC®) System is designed for nano-scale, capillary and narrow-bore separations to attain the highest chromatographic resolution, sensitivity and reproducibility.
Many analytical scientists would like to increase the sensitivity of their LC-MS analyses to meet the demanding goals of their labs, however, adapting conventional separations instruments to improve sensitivity can cause problems with reproducibility and reliability.
The ACQUITY UPLC M-Class System delivers the performance you expect from nano- to microscale separations with the usability of an analytical-scale UPLC system. Each part of the system was designed and tested to deliver the right flow for the right column. The ACQUITY UPLC M-Class System provides excellent performance with overflow rates from 200 nL/min to 100 µL/min and a range of column inner diameter (I.D.) from 75 µm to 1.0 mm.
IClass:
Looking for answers to the most complex scientific challenges is what you do, and the scientific tools you deploy and the information they provide can make all the difference. With industry-leading separations performance, the ACQUITY UPLC I-Class PLUS System provides new possibilities for maximizing the resolution and sensitivity of your methods, enhancing the characterization of your samples, and improving productivity to advance the science of your laboratory.
With the ACQUITY UPLC I-Class PLUS System, your lab can achieve highly efficient, rapid separations from industry-leading ultra-low dispersion and delay volume. The ACQUITY UPLC I-Class PLUS System enables your lab to get narrow, ultra-efficient peaks, enhancing the sensitivity of any mass spectrometer and simplifying the characterization of the most complex sample.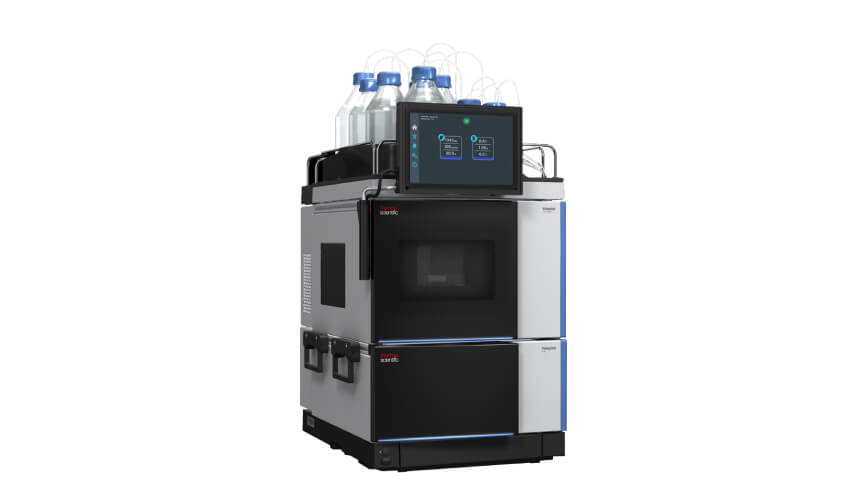 The Thermo Scientific™ Vanquish™ Neo UHPLC system is all-in-one nano-, capillary-, and micro-flow LC system that is ready for high sensitivity LC-MS workflows from discovery research with limited sample amounts to high-throughput validation in large sample cohorts.
• Thermo Scientific™ ProFlow™ XR pump technology enables robust operation up to 1500 bar from 1 nL/min to 100 μL/min
• Active flow control for the entire flow range ensures excellent retention time precision for long gradients as well as ultra-short run times
• Vial bottom detection technology enables injections from limited sample amounts
• Automated multi-wash of injection fluidics reduces system carryover to negligible levels
INTEGRATED PURIFICATION AND SEPARATION DELIVERED BY THE EVOSEP ONE
The Evosep One is a standardized platform designed for robustness and high throughput. This is achieved by using Evotips as disposable trap columns, where samples are loaded and desalted offline. The autosampler picks up the tip and integrates elution with liquid chromatography. This removes sample handling steps and reduces injection cycle overheads.
Minimal wear and tear on mechanical components is ensured as all elution and gradient formation happen at low pressure. The Evotip is left for disposal after each run, which then allows partial elution to extend column lifetime. Analytically important peptides are effectively retained, and cross-contamination reduced.
Built for standardization
The Evosep One provides a standardized solution with excellent reproducibility both "run-to-run", "column-to-column" and "instrument-to-instrument", facilitating individual studies and inter-laboratory collaborations alike.