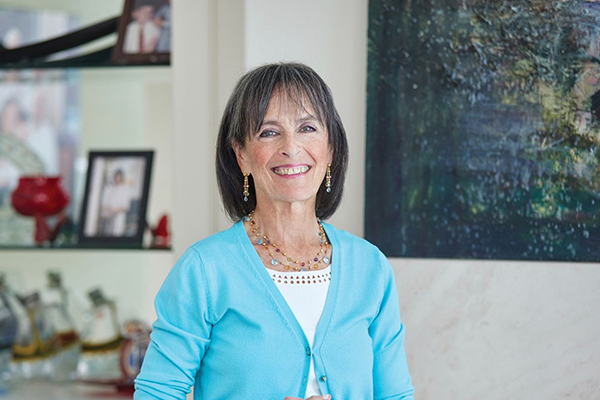 Targeting the Seeds of Cancer Growth

Eugenie S. Kleinerman, MD'75, HS'75
Pediatric Oncologist, University of Texas MD Anderson Cancer Center
Mary V. and John A. Reilly Distinguished Chair, Division of Pediatrics
Professor, Department of Pediatric Researchand Department of Cancer Biology
Please describe the current focus of your research.
My major focus has been in developing new therapies, particularly immunotherapies, for children with osteosarcoma lung metastases. One goal is to understand why osteosarcoma almost exclusively spreads to the lungs and how the lung microenvironment contributes to this process and the failure of current immunotherapies. Recently we've learned that the tumor microenvironment can limit the killing function of T-cells and their ability to penetrate into the tumor. So, instead of targeting the tumor cells directly, we are working on how to alter the tumor microenvironment.
What led you to choose Duke for medical school?
When I was in eighth grade, we took a trip to Durham because mydad, who was a pathologist, knew the chair of pathology at Duke. I walked onto the Duke campus and said, 'Oh my gosh, this is so gorgeous. I have to go here.' I didn't get into the undergraduate school, so I went to Washington University, which appealed to me partly because it looked like Duke. Then I applied to medical school at Duke and was fortunate enough to get in.
How did your time at Duke influence your career?
Duke was even more than I hoped it would be. I would not have had a successful research career without Duke. I was fortunate enough to work with incredible people like Ralph Snyderman [Chancellor Emeritus and former Dean of the School of Medicine] and Charlie Daniels [former professor of pathology]. They put me on the path. The attitude at Duke was, 'We don't make cookies; we make cookie cutters." We were encouraged to be leaders, to think outside of the box. I owe my career to Duke. This medical school and this university are very dear to my heart.
What do you see as the future of your field?
Immunotherapy is the way of the future. But we are really starting to understand that, in solid tumors, we must understand the tumor microenvironment. It's like planting seeds. If you plant tomatoes (T-cells) in sand, it doesn't matter how good the seeds are: they aren't going to grow. In solid tumors like the ones I study, immunotherapies are not very effective. We have to understand the impediments that are created by the tumor microenvironment and alter those in order to improve treatment efficacy.
What are the unique challenges and rewards of working with children?
In pediatric cancer overall, we're curing about 85%, although a large part of that is leukemia. In osteosarcoma, it's more like 65%. So there remain significant challenges for solid childhood tumors like osteosarcoma, Ewing sarcoma, and rhabdomyosarcoma. But most of the time we do get a response and most kids get better. You really become part of their family. It is incredibly rewarding to see your patients grow up and blossom into young adults. I took care of one young man who had osteosarcoma lung metastasis and whose pediatric oncologist had told his parents, 'There's nothing more we can do; just try to enjoy the time you have left.' He entered my clinical trial using Mepact, a liposome macrophage-activating immunotherapy. Today he's an orthopaedic oncologist at the University of Pittsburgh. I have many examples like that. Those are what keep you going.
---
Read About Other Alumni Making a Difference
in Cancer Research and Care:
Changing the Status Quo: Lori Pierce MD'85
Treating the Whole Person: Arif Kamal, MD, HS'12, MHS'15
A Discovery That Comes Out of Nowhere: Bill Kaelin, BS'79, MD'82
---
Story originally published in DukeMed Alumni News, Fall 2022.
Read more from DukeMed Alumni News