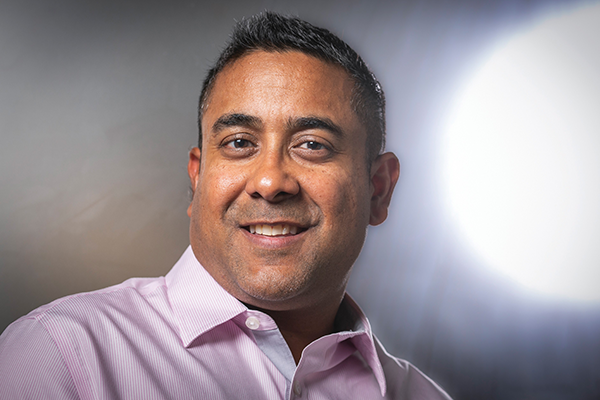 Treating the Whole Person
Arif Kamal, MD, HS'12, MHS'15
Chief Patient Officer, American Cancer Society
Associate Professor, Medicine and Population Health Sciences, Duke University School of Medicine
Please describe your current role at the American Cancer Society.
The American Cancer Society (ACS) is a 109-year-old organization that's focused on providing patient support services, education, engagement, and navigation. For example, we recognize that having a place to stay is an important barrier to timely and high-quality cancer care. ACS has 31 Hope Lodges across the country where patients can stay if they need to travel for cancer treatment. We also provide lodging grants to cancer centers so they can provide vouchers and gift certificates for patients to stay in ahotel. With the arrival of our new CEO about a year ago, the ACS reorganized so that all our patient-facing, caregiver-facing, and clinician-facing activities are organized under one business unit, which is led by the chief patient officer. My role is to look across all those programs to provide a coordinated strategy and to tailor the strategy to particular locations.
How did your time at Duke as a hematology-oncology resident and then a faculty member influence your career?
Duke was a great training ground. As a faculty member I started Duke's outpatient palliative care clinic for cancer patients. People come to Duke with all kinds of cancers, and the patients are very racially and economically diverse. Duke has a real commitment to assessing their quality-of-life needs and creating a plan for them, so I got to see a lot of great work in action. The ACS was looking for someone who sees the whole person and how to help them in their cancer journey, and that experience helped make me a good fit.
What are the biggest changes you see ahead for cancer care in the next decade?
Cancer centers are increasingly embracing the idea that their job is not only to identify the right treatment and give it to people, but also to provide whole-person care. They will increasingly address social determinants of health and systemic barriers to health care. Lack of access to food is emerging as one of the biggest challenges. About 40 percent of early-stage breast cancer patients don't take hormonal treatment every day because they can't afford it. Or they skip it for two weeks because they have to buy groceries. Until we solve this issue about how the patient will afford the treatment and also afford all the other components of their life, it is as much a threat to the patient's survival and prognosis as choosing the wrong drug.
We are also seeing shifts in decentralizing cancer care and clinical trials so that programs can provide services no matter where a person lives.
Your mother's experience with cancer influenced you to go into palliative care. How has palliative care advanced since then?
My mother was treated for cancer and passed in 2007, when I was completing an internal medicine residency at Mayo Clinic. I harnessed the energy of that experience to pursue a hospiceand palliative medicine fellowship at the Mayo Clinic. That was a career-defining moment for me. The field of palliative care started in 2008, so when she was treated, palliative care — this concept of a dedicated and trained group of medical professionals whose sole focus is the patient's quality of life — wasn't even something you could access. Now, 100% of National Comprehensive Cancer Network centers have palliative care programs. National Cancer Institute comprehensive cancer centers are required to have palliative care to receive the designation, and the Commission on Cancer requires it for accreditation. So pretty much every cancer patient has access to palliative care. You couldn't have said that 10 years ago
---
Read About Other Alumni Making a Difference
in Cancer Research and Care:
Changing the Status Quo: Lori Pierce MD'85
Targeting the Seeds of Cancer Growth: Eugenie S. Kleinerman, MD'75, HS'75
A Discovery That Comes Out of Nowhere: Bill Kaelin, BS'79, MD'82
---
Story originally published in DukeMed Alumni News, Fall 2022.
Read more from DukeMed Alumni News