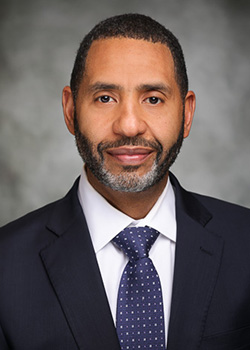 Dear School of Medicine Colleagues, 
Throughout my career here at Duke, I have been passionate about equity, diversity and inclusion. From delivering care to patients, conducting research focused on health inequities, to advocating for workforce diversity, I have had the privilege to lead programs rooted in addressing issues around equity, diversity, and inclusion.  
I feel fortunate to lead the Office of Equity, Diversity & Inclusion, which is made up of a wonderful team of individuals who are as committed to this work as I am. Equity is at the core of everything we do. We're working to develop a culture that promotes equity and fosters a sense of belonging. 
However, we can't do this work alone. Collaboration and connection are critical. We want to engage and empower our faculty, staff, students, and trainees. By bringing all groups within the Duke University School of Medicine together, we can cultivate a culture and climate that embraces differences in lived experiences, allows us to be present with our authentic expressions of our identities, and values our unique contributions to our missions.  
We hope you, as a partner in this work, will find ways to get involved. Embrace your own personal journey of education around systemic racism, bias, and inequities among minoritized groups. Sponsor those individuals who historically have not been seen or heard. Step in when you witness bias or discriminatory behavior. View your patients, learners, and peers through a lens that considers their lived experiences. Show grace to our colleagues who in earnest are curious and ask questions to learn. Participate in courses, workshops, and other learning opportunities offered through OEDI or our partners across Duke and Duke Health. We can also direct you to other resources to help you learn more about equity, diversity, and inclusion; report harassment and misconduct; and get the support you need to make a difference in the areas where you, work, deliver patient care, conduct research, or study.  
I am grateful to have you as a partner on this journey. Don't hesitate to reach out to our team with any questions or ideas you have.  
Sincerely,  
Kevin Thomas, MD 
Vice Dean for Equity, Diversity, and Inclusion