Image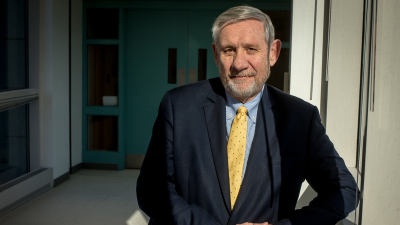 Thomas Denny: Overseeing Duke's Vaccine Research Enterprise
As chief operating officer at the Duke Human Vaccine Institute (DHVI), Thomas Denny is in the unique position of helping people fight flu and HIV, developing the next generation of COVID-19 vaccines, and all the while leading an annual $120 million enterprise.  
He was recently named one of the top health care COOs in the country for recognition of the kind of critical behind-the-scenes work he performs as a senior leader: overseeing everything from finance and program management, regulatory and compliance issues, intellectual property and facilities management to biosafety, human resources, and information technology. 
It's a lengthy list of responsibilities. But Denny, a professor of medicine at Duke University School of Medicine, finds reward in the breakthroughs that come from team effort.  
"My role is to create that environment for investigators to continue to grow their programs and to encourage a multidisciplinary team of scientists that over time develop new types of collaborations and new opportunities for grants and different areas to pursue — at the highest possible level we can," says Denny, an expert in molecular immunology who also earned a master's degree from the Institute of Law and Medical Ethics at the University of Glasgow.  
"That means no shortcuts, complete compliance and transparency, and being good stewards of the resources that have been given to us." 
Growing the DHVI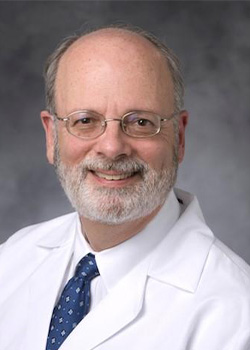 As a global leader in research, vaccines, and therapeutics, the DHVI has employed and collaborated with scientists locally and globally for the past four decades to make strides at preventing threats to public health.  
Denny helps lead the institute with its director, Barton F. Haynes, MD, the Frederic M. Hanes Professor of Medicine and Immunology. Their leadership has helped put the DHVI at the forefront of research and development targeting HIV, influenza, and other infectious diseases.  
Most recently, the DHVI has led the way in research, innovative testing, and vaccines for COVID-19, more precisely known as SARS-CoV-2. DVHI researchers are making progress in developing a pan-coronavirus vaccine that would provide wide protection against COVID-19 and its variants.  
Denny joined DHVI in 2006 after Haynes asked him to join his team and help build and develop the Duke Center for HIV/AIDS Vaccine Immunology.  
At the time, Denny led research and diagnostic teams in New Jersey, where he served as mayor of Cranford in 1999 and progressed as a professor and assistant dean at the New Jersey Medical School in Newark.  
There he supported the clinical work of James Oleske, MD, MPH, who was one of the first to recognize that HIV-positive pregnant mothers could transmit HIV to their developing child. The school was also one of the first to develop a comprehensive maternal-infant HIV program and helped develop the first use of AZT in pregnant women to block transmission of the virus from the mother to child. 
"Tom Denny was well-respected in the HIV/AIDS field as a clinical and laboratory investigator, and every person I asked about him said if you can recruit Tom Denny, you will find he is terrific and will do a wonderful job," Haynes says. "And he has." 
When Denny joined DHVI, its entire complement numbered about 35 people. Since then, the institute has grown to more than 300 people who collectively are taking research in immunology and infectious diseases from early discovery phase to translational phase, meaning they can both create products like vaccines for HIV, flu, and COVID and perform clinical trials to test their effectiveness.  
"We've experienced phenomenal growth and acquisition of talent, like our primary investigators," Denny says.  
The growth, he says, is based on a belief in bringing scientists from diverse backgrounds and training to work together through the entire translational research path. DHVI draws on researchers with expertise in disciplines including virology, immunology, structural biology, biophysics, computational biology, chemistry, manufacturing, and clinical trials.  
Denny believes DHVI has grown and retained talented faculty and staff because of a commitment to its mission to generate advances that will benefit society, and because of the dedication and expertise of DHVI faculty and staff.  
"We've been on an amazing trajectory and outplaced any vision we had," Denny says. 
COVID-19 testing strategy 
After the COVID-19 pandemic began three years ago, Denny spearheaded one of the most successful COVID-19 campus surveillance testing programs in the country.
In July 2020, at the request of Duke University President Vincent E. Price, Denny collaborated with current and former DHVI colleagues Anthony Moody, MD, and Mattia Bonsignoria, MD, MS, to develop a way to test for asymptomatic COVID-19 infections on campus.  
Using his knowledge from the early days of the HIV/AIDS pandemic, Denny and senior members of his lab including Raul Louzao and Todd DeMarco, along with Thad Gurley of the Moody lab, set up a program capable of testing over 30,000 samples a week from Duke students, faculty, and staff.  
He built a team of over 50 technicians to work in three shifts. They processed samples, read test results, and provided information rapidly to support contact tracing. Denny's innovative use of robotic processing of the samples for pool technology is something he used in the 1980s for HIV/AIDS testing.  
This meant, for example, that tests from five people could be combined, rather than having to test samples one by one. Once a positive result came from the pool of samples, technicians could then analyze that pool of results to identify the appropriate individual.  
Notably, these results had a 24-hour turnaround, something that Denny says was crucial to lowering the risk of an individual spreading the virus on campus.  
"It was a very stressful couple of years that came with supply chain challenges, instrument reliability questions, worries about the team, and constant agonizing over the what-ifs," says Denny. "In a pandemic like this you can't hide away. You must figure out how to meet society's needs, be creative, figure out a way to respond in a responsible manner, and use your training to help so that more people aren't put at risk, all while learning as much about the virus as possible."  
Denny says that part of leading these efforts means predicting what can go wrong and knowing how to pivot to another approach. He praised Duke University and the School of Medicine for their communication and support of DHVI's every move.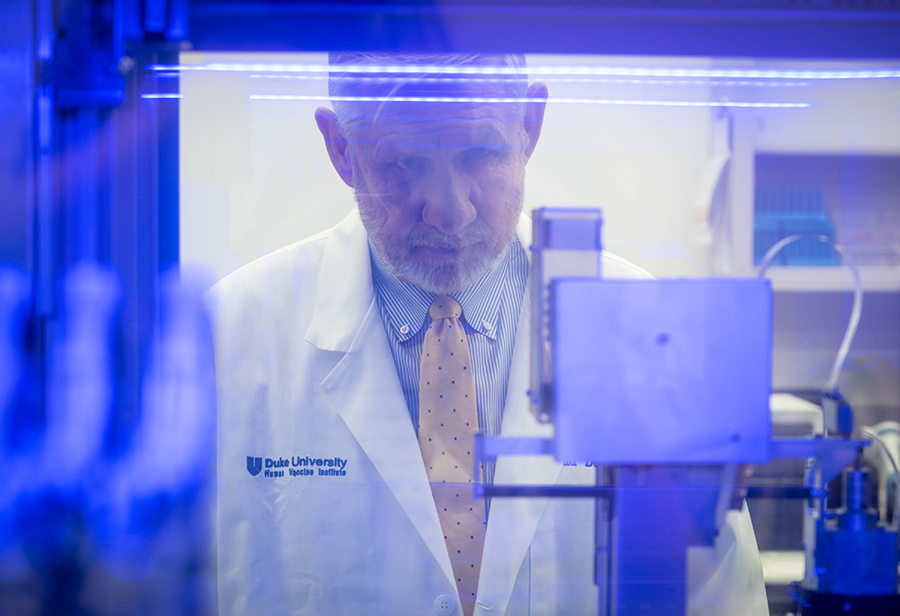 Expanding to the RTP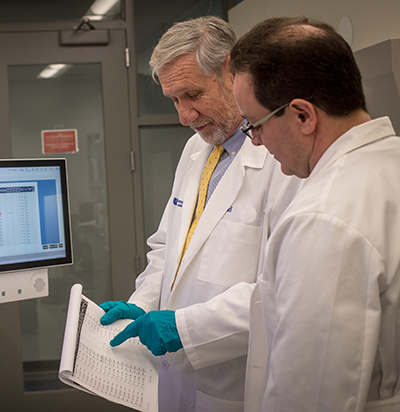 Denny also leads the Immunology Virology Quality Assessment Center (IVQAC), a resource designed to help domestic and international virology and immunology laboratories demonstrate the accuracy of their assay platforms that are used to support HIV related clinical trials.  
Denny's lab standardizes laboratory tests used worldwide to support clinical research, scientifically known as assays. His lab monitors how those assays are used.  
"Those assays can measure infectious diseases such as HIV, influenza and SARS-CoV-2, leading to clinical trials, tests, vaccines, and treatments," says Denny, who has authored and co-authored more than 200 peer-reviewed papers.  
He notes that the enterprise benefits from relationships with Duke University, the School of Medicine, and entities like the National Institutes of Health, the National Institute of Allergy and Infectious Diseases, and the Bill and Melinda Gates Foundation. 
In 2019, the DHVI joined the Collaborative Influenza Vaccine Innovation Centers, funded by the NIH, with a goal to improve the durability of seasonal influenza vaccines and develop a universal influenza vaccine through vaccine design, pre-clinical animal studies, and early phase clinical trials. 
As DHVI leadership carried this research forward, the need for a larger footprint and advanced infrastructure became clear. School of Medicine Dean Mary E. Klotman, MD, asked Denny to assume an associate dean role to lead the establishment of an additional research campus at the largest research park in the United States, the Research Triangle Park (RTP).  
Several labs, offices and spaces at the new campus, Duke Research and Discovery @ RTP, were ready for renovations to begin in March 2020, and the first research teams began working in the new space in 2021.  
During the COVID-19 pandemic, Denny has led the RTP campus to exponential growth, including teams of scientists and staff in research, product development, clinical trials, and process development, spanning more than 200 people and laboratories from DHVI, surgery, pediatrics, medicine, and molecular genetics and microbiology. 
Vision for the Future 
As Denny looks to the future, he sees an opportunity to simplify the country's COVID strategy with a new generation of vaccines that reduce the need for frequent boosting.  
It's a theme that extends to the DHVI work to develop a universal flu vaccine that would provide longer protection and potentially fewer shots. And he's never far from his roots in HIV research and the quest to create an HIV vaccine.  
"I'm committed to doing whatever I can do to help DHVI faculty and staff achieve their scientific goals and to foster an environment that is diverse, inclusive and nurturing," he said. "I'm committed to securing the resources and funding to support that, while showing our good stewardship, transparency, and accountability."  
While his career is based on a framework of science, he's open to inspiration found in day-to-day life that, when time permits, includes boating on the waters near Southport, North Carolina.  
A serendipitous interaction in Durham at Duke University Hospital helped with naming his grandson Cameron, who was born in 2022. 
The child shares the name with a nurse who helped with Denny's recovery from surgery last spring and Cameron Stadium, the home of the Duke Blue Devils, a favorite basketball team.  
"My wife Kim and I are expecting a granddaughter in the spring. I'm hoping another inspirational story will help us with naming her."  
---
Kelly Wright is director of communications at the Duke Human Vaccine Institute.  
Photography by Kate Medley  
Main feature photo: Thomas Denny is the chief operating officer at the Duke Human Vaccine Institute.