Image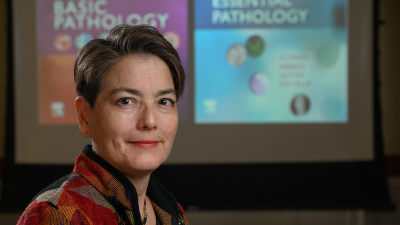 Shaking a Shared Delusion: Andrea Deyrup Combats Race-Based Medicine
A question from a medical student asking for clarification of racial disparities in hypertension launched a field-defining journey for Duke pathology professor Andrea Deyrup, MD, PhD. 
Deyrup had been taught race-based associations with disease as a medical student at the University of Chicago and, like many physicians, had considered these epidemiologic data to be useful in the diagnosis and treatment of disease.  
However, as Deyrup began looking at the science supporting these race-based associations she realized that the data were often misinterpreted and based on questionable science.  
She's building connections through presentations and a popular video series to end race-based medicine: "Focusing primarily on race can lead to delay in diagnosis if a physician discounts a disease because it is uncommon in a particular population," said Deyrup.  
"My goals are to change the textbook narrative and, through a series of national presentations, to build a community that will support and nurture the change we need in medicine," she said.  
Her approach has focused on structural change and individual outreach.  
In preparation for her role as a co-editor for the 11th edition of "Robbins Basic Pathology," one of the most widely used pathology textbooks worldwide, she analyzed the 10th edition the book to determine the extent of race-based content.  
Deyrup found more than 35 diseases that were associated with race. She then dove deeply into the literature, examining the data and providing context for claims in the text.  
Her compelling discoveries led to the presentation, "Race in Robbins: Data or Distraction?" delivered March 2021 for Duke Pathology Grand Rounds. The talk attracted a large local and national audience and resulted in subsequent invites from Harvard School of Medicine, Yale University, Memorial Sloan Kettering and other institutions. 
She and Joseph Graves Jr., PhD, professor of evolutionary biology at North Carolina Agricultural and Technical State University, have presented the material more than 50 times, including to Duke's departments of neurology, family medicine and community health, ophthalmology, pediatrics, radiology, and dermatology.   
"Dr. Deyrup has provided 'eye opening' insight into the embedded racial misinformation that permeates clinical medicine and patient care," said Edward Buckley, MD, chair of the Department of Ophthalmology and vice dean for education at the Duke University School of Medicine.  
Educating the educators 

 
Deyrup and Graves are working to remove race-based medicine from medical texts and board exams and to spread their message through a series of national and international presentations.   
"A common response that we get from attendees is shock and surprise that they've never noticed this or thought about medicine and medical education in this way," Deyrup said.   
Deyrup and Graves have begun many collaborations based on connections developed in their work, building a community of like-minded scientists to foster change.   
"Educating the educators is critical for systemic change," Deyrup said. "Medical students and residents feel supported when they see our presentation, since they recognize the pervasiveness of systemic racism in medicine, but often feel vulnerable when questioning what they see."    
In October 2021, Deyrup launched Pathology Central, a YouTube channel and website to share videos on race in medicine and content for medical students learning pathology.    
Her motto is "deeper understanding equals better medicine," and in each video she carefully dissects disease processes and links pathophysiology to patient care. Images used on the platform are of patients with multiple skin types.   
One of her "Race in Medicine" videos has had a far-reaching impact on shifting the policy of the California Department of Public Health (CPDH). In a video, Deyrup tracks down the origin of the frequently cited statistic that 16% of people of African descent develop keloids, thick scarring after a skin injury, to a comment made at a dermatologic meeting 90 years ago.   
In September 2022, a physician who had seen Deyrup's video brought it to the attention of the CPDH, which had published recommendations against giving intradermal vaccinations for Mpox (formerly known as monkeypox) to individuals of "African, Hispanic, and possibly Asian descent," due to an increased incidence of keloids up to 16%.   
After Deyrup and Graves met with a researcher from CPDH the race-based qualification was removed from the recommendation.  
"Over the time I have known Dr. Andrea Deyrup, she has shown great dedication and courage in taking on one of the biggest misconceptions in modern clinical practice," Graves said. "That misconception is the idea that humans have biological races, and that medicine can be organized around supposed biological racial differences."   
Another way that Deyrup is expanding her reach is through publications. In 2022, Graves and Deyrup authored two articles addressing race in medicine: a perspective piece in The New England Journal of Medicine titled "Racial Biology & Medical Misconceptions," and, with two colleagues from the University of Chicago, a research piece in Academic Medicine examining race-based associations in the second edition of the "American Academy of Pediatrics Textbook of Pediatric Care."   
Since then, the American Academy of Pediatrics has committed to eliminating race-based medicine from its guidelines, teaching materials, and textbooks.  
---
Listen to Duke pathologist Andrea Deyrup MD, PhD, in this episode of the Nature podcast "Racism in Health: the Harms of Biased Medicine," a production of the journal "Nature" and "Scientific American." 
---
'A Shared Delusion'

 
There are still obstacles looming and much work to be done. As Deyrup sees it, the two main challenges are systemic racism and the slow pace of change in medicine.   
"Systemic racism is part of the fiber of medicine, woven with assumptions formed from a biological concept of race," Deyrup said. 
Since few physicians have a background in evolutionary biology or in the biology of human variation, faulty experimental design and biased interpretation provide abundant "data" that can be used to support racialized medicine.   
"It's all part of a shared delusion," Deyrup said. 
In thinking about next steps, Deyrup would like to connect with specialty boards and continue her work with the National Board of Medical Examiners to remove race-based medicine from their exams.   
"The reason students are learning this misinformation is because they're tested on it," said Deyrup. "If we can get these testing entities to recognize that race-based medicine is harmful and then remove it, that will eliminate the impetus for medical students to learn this material and for faculty to teach it."  
While Deyrup and Graves emphasize that modern humans do not have biological races, socially defined race does exist and has a tremendous impact on health and longevity.   
"We must maintain focus on both the legacy and the ongoing influence of systemic racism on our patients and work to provide equitable, individualized care to each of them," Deyrup said.  
---
Jamie Botta is communications strategist for the Department of Pathology at the Duke University School of Medicine.   
Photo by Steve Conlon.  
Main feature photo Andrea Deyrup, MD, PhD, is a professor of pathology at the Duke University School of Medicine.