Image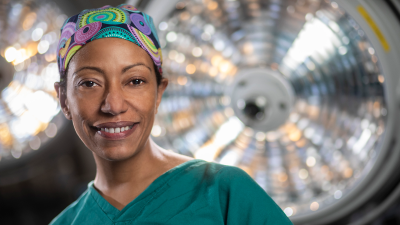 A Fair Process: Lisa McElroy Strives to Make Transplant Selection More Equitable
Lisa McElroy, MD, encountered skepticism when she made the choice to pursue a research career focused on eliminating health disparities in organ transplantation. But she stuck to what she believed was a worthwhile pursuit, and today as assistant professor of surgery at Duke University School of Medicine, she is a leader in improving the understanding of why inequities exist in accessing organ transplant. A bonus is that she's serving as a role model for women and people of color, showing them that they too can have a successful career focused on equity in health care.  
Researchers have been working for some time to figure out why disparities exist for patients waiting for an organ. Among the disparities: despite a higher incidence of kidney failure, Black patients are less likely to receive a transplant from a living donor than non-Black people. Also, Black patients with cirrhosis also have higher rates of death and are less likely to be referred for liver transplant. 
The National Academy of Science, Engineering, and Medicine recently released a report and issued recommendations to address the challenges that exist with ensuring fair and equitable access to transplant. According to the report, a person's chance of being referred for transplant evaluation, being added to the waitlist and then receiving a transplant varies greatly based on race and ethnicity, gender, socioeconomic status, and other factors.  
McElroy, the Onyekwere E. Akwari Assistant Professor of Surgery and assistant professor in population health sciences at Duke, said much of the work done to address such disparities in organ transplant has focused on the patient — from better educating them to changing their circumstances. She has made it her mission to instead focus on transplant centers.  
"What I'm trying to do through my research program is help transplant centers do a better job of looking at the ways that we can list more people and transplant people without compromising our standards for clinical excellence," McElroy said. "Transplant centers nationwide get it right a lot. We do very good work nationally. We have incredible clinical outcomes, but we leave a lot of people behind." 
McElroy hopes her work will put surgeons and transplants centers on a more uniform path to increasing access for all patients.  
"Transplant has historically been a therapy reserved for the most privileged of patients," McElroy said. "I think we really need to start thinking about how a transplant center serves the community it resides in, and what are some things we can do to help meet patients where they are?" 
Examining Waitlists 
To help get at the heart of these issues, McElroy is leading several studies. One examines access to the transplant waitlist and where in the selection process patients are lost unnecessarily. Multiple factors, such as heart disease or uncontrolled cancer can eliminate a patient as a potential transplant candidate. But McElroy said at times there are factors that unnecessarily eliminate a patient. For example, stigmatizing language in electronic medical records can influence access to care.  
The five-year mixed-methods study will examine attrition across the transplant evaluation process, characteristics associated with being denied, interpersonal bias, stigmatizing language, and informal exceptions to policies and protocols that are made for some patients but not for others.  
How transplant centers collect and organize information, particularly information about social determinants of health, can lead to inequities. Throughout the transplant selection process, lots of data are collected to help surgeons make decisions about whether a patient is added to a waitlist, including medical, social, and psychological data. But the data aren't always organized in a way that is useful for large-scale studies on inequities.  
"We're doing the work, I just don't think we're recording it and managing the information in a way that we can really learn from it," McElroy said. "That's how disparities can get very pronounced, because you don't realize it when it's happening, and then 20 years later it's a national crisis." 
Changing the Selection Process 
McElroy is the lead investigator of a multi-center consortium called the Consortium for the Holistic Assessment of Risk in Transplant (CHART). The consortium's mission is to bring scientific rigor to the transplant selection process, resulting in improved equity in access to care, increased transparency in the transplant selection process, and improved value for patients and clinicians. 
The consortium is made up of seven centers, including Duke, which serves as the coordinating center. McElroy and her colleagues are pooling data from the seven centers with the hope of figuring out where in the transplant process a patient's social challenges can lead to the patient not being able to receive a transplant.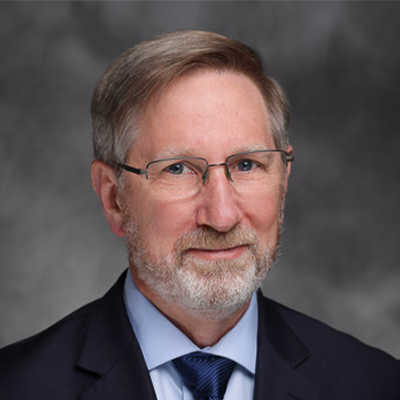 "We know that lots of patients after organ transplant have great clinical outcomes but may end up in bankruptcy or losing their car or job," McElroy said. "There are social complications that can creep up that we don't record or monitor, but we eliminate people based on the risk for social complications. There is not a lot of science in this right now. There is a lot of informal clinical practice, so the consortium's mission is to try to put some real science to the practice."  
Allan Kirk, MD, PhD, the David C. Sabiston Jr. Distinguished Professor of Surgery and chair of surgery at Duke, has been an active sponsor of CHART. McElroy said Kirk's support and encouragement played a major role in her ability to start the consortium and in its success so far.  
Kirk said McElroy's approach of providing objective weight to social determinants of health in her research is a key factor in creating equitable access to transplantation and care.  
"When we have a patient that we're going to operate on, we know how much they weigh, we know what their disease is, we know what their nutritional status is, we have lots of physiological facts about them," Kirk said. "We weigh those to determine how much risk there is in that operation, but we have no similar system for weighing the impact of social problems. If we can't measure their sociology, then we are not going to be able to make a good decision about how they should be treated." 
A Shift in Focus  
McElroy began her career with a different focus in mind. Her research training focused on patient safety and finding ways to reduce errors in caring for patients that needed complex surgical care. During her surgical fellowship at Michigan Medicine, the academic medical center at the University of Michigan, she couldn't help but notice inequities in the transplant evaluation and selection process.  
"I could not avoid the pull towards trying to improve that, because it seemed so egregiously inequitable to me, so much subjectivity," McElroy said. "As a clinical fellow, I decided, instead of working on system and process safety and reliability, I wanted to work on consistency for the sake of equitable access." 
McElroy, who first joined Duke in fall 2019 after completing her fellowship, said some doubted whether she could have a successful research career considering her choice to focus on inequities. Fortunately, she had the support of many Duke colleagues and mentors, including Ebony Boulware, MD, MPH, the former director of the Duke Clinical and Translational Science Institute (CTSI). McElroy said she was also drawn to and immediately supported by fellow researchers at the Duke Center for Research to Advance Healthcare Equity, also known as the REACH Equity Center.  
Kirk said it isn't unusual for researchers like McElroy to encounter skepticism for their work on health inequities. Most people have very few opinions on topics like molecular immunology, his area of research. However, he said most think they know how to do the kind of research McElroy does and can be quick to dismiss it. 
But her work is needed. Before Isaac Newton, people saw things fall all the time and intuitively understood it even though they had never heard of gravity, and a similar concept applies to health inequities, Kirk explained. "We see inequities in health care all the time, and we don't even know that they're there."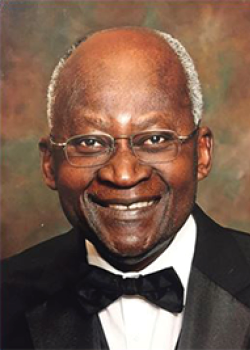 "There are a lot of places where the flaws of our society are so prevalent that we just don't recognize them," Kirk said. "At the end of the day, that's what scientists are supposed to do: help people see things that they see every day, but don't recognize." 
McElroy's work hasn't gone unnoticed. Last year, she was named the inaugural Onyekwere E. Akwari, MD, Endowed Professor. Onyekwere Akwari was the first African American surgeon on the faculty at Duke. The professorship was created to honor his legacy and to support a faculty member with distinction in the field of surgery and who shares his commitments to equitable and compassionate care. The Department of Surgery also created a society in his name. 
"Dr. Lisa McElroy's diligent scholarship and her devotion to her patients, colleagues, and learners mirrors the dedication of Dr. Onye Akwari," said Onyekwere Akwari's wife, Anne Micheaux Akwari, MD, JD. "Onye sought to enhance excellence by including, by enlarging. He addressed the mutually dehumanizing exclusion that can define the community we share. The professorship intentionally reverses prior practice." 
She added that along with the society, the professorship "means that to be truly excellent is a quest not only in academics and technique but also in professional growth, personal growth, and caring that results from creating an environment that is as richly diverse as it can be. Dr. McElroy is an exemplar for this full quest." 
McElroy said it's hard not to think about what her appointment means to the students she mentors and others interested in doing work like hers.  
"We're still lacking in workforce diversity, so I think the representation really matters greatly," said McElroy, who is one of only 10 practicing Black women transplant surgeons in the United States. 
"I want to show the medical students and residents who come through surgery that there's a host of ways that you can have an academic footprint," she said. "If what you want to do is study health equity, that's a possibility, and you can do it and be successful as a person of color or a woman of color. Dr. Akwari did it first at Duke, as a surgeon and as a scientist. Hopefully soon there will be enough of us where it becomes an accepted standard." 
---
Bernadette Gillis is a Senior News Writer/Producer in the School of Medicine's Office of Strategic Communications.  
Photo by Chris Hildreth. 
Main photo: Lisa McElroy, MD, the Onyekwere E. Akwari assistant professor of surgery and assistant professor in population health sciences at Duke University School of Medicine.