Image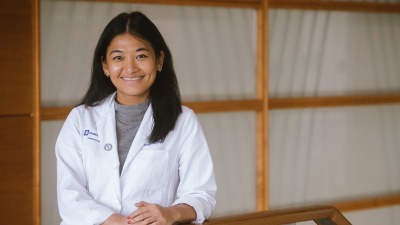 Exploring the Influence of TikTok on Health Information 
Jenny Wu, MD, found herself scrolling through TikTok more often during the pandemic when use of the social media platform skyrocketed. She quickly noticed that some of the content about women's health didn't stack up with what she was learning and practicing during her obstetrics and gynecology (OB/GYN) training at Duke University School of Medicine.   
She decided to investigate that discrepancy. In the last year she has worked with research teams to study medical information posted on TikTok, a destination social media platform. The video-sharing site is more than entertainment. If there's something young people want to know, almost 40% of them search on TikTok before Google.   
Recent studies by Wu and Duke colleagues revealed top TikTok videos tend to portray negative patient experiences with intrauterine devices (IUDs) and provide reliable and useful information about abortion access. But the core element of Wu's research, and potential new studies, is to address a topic doctors have pondered for ages: how patients obtain and interpret health information.   
"I've always been interested in how medicine and the work that we do translates across social media and to our patients," said Wu, a 2021 graduate of the School of Medicine and now an OB/GYN resident whose research interests include health policy and health access. "That's how a lot of our patients are getting their health information and influences how people come in and see their doctor."   
Jonas Swartz, MD, MPH, an assistant professor of obstetrics and gynecology at Duke University School of Medicine, has been a collaborator and lead author on the studies, which generated national attention. He sees an opportunity to learn from the social media posts — and the clicks and minutes of watch time they generate.  
"We're approaching this from the standpoint of improving the care that we provide to patients," he explained. "(TikTok) is a place where a lot of people, particularly those of reproductive age, are getting their information. And so, it's important to understand what that information looks like."   
Shaping a narrative  
A positive patient experience during consultation with a Duke physician signaled to researchers the influence of TikTok content.   
The patient had questions about insertion of an IUD, a T-shaped piece of plastic placed inside the uterus to provide birth control. The insertion can be painful, but there are ways to relieve discomfort, and the doctor talked her through the options. The patient posted about the experience on TikTok. 
A doctor's feedback offered to one patient became a source of information for thousands. Suddenly patient requests for care surged because of what they saw on TikTok.   
The post may have filled a void because it contrasted with a wave of other content about IUDs, most of it negative.   
Swartz, Wu, and colleagues analyzed the 100 IUD TikTok videos with the most likes. They found that 37.8% had a negative tone; 19.4% had a positive tone; 27.6% mentioned a distrust of health care professionals; and 24% contained moderately or highly inaccurate scientific claims.   
"It was interesting to see this huge disconnect in how I think about IUDs and talk about them as an option for birth control and how patients were talking about it and feeling about it," Wu said.   
Patients can be offered pain relief before IUD insertion and discuss those options in advance with their doctor, Wu explained.  
"I don't want getting an IUD to be a traumatic experience for patients," Wu said when the study was published. "I recognize that pain – particularly pain related to pelvic exams – is complex, influenced by many factors, and different for every person. That's why it's important to me that our patients, especially our young patients, be able to trust their gynecologists."  
User content can shape a narrative about health care, but how social media platforms manage content also has an impact, researchers said.   
In a study examining videos about medication abortion, the Duke researchers found that most information shared in TikTok videos was accurate and reliable.   
One reason: one-third of content about medication abortion is created by abortion providers, the study showed.    
"Videos on this topic often mirror what a patient would learn from a clinician or abortion educator, in part because of the fact that TikTok removed some hashtags, like #DIYabortion, where individuals were sharing non-FDA-approved regimens," Swartz said in a Duke Health news release. "This demonstrates one area where health care organizations have been able to shape a narrative and use the platform to disseminate important information."  
Learning what works   
With a lot of Americans looking to TikTok for health information, health care providers could use it as a health education tool with the potential for them to become as accessible as the influencers that dominate the space.   
"The question is, what is more compelling about a person on TikTok versus your health care professional?" Wu said.   
It's unclear what works in planning and posting health care content that connects. Duke researchers found most-watched videos that were big on style but scant on useful information. It could be inspiration for their next round of research.  
"There's an opportunity for a bigger project to gather information about what makes some videos trustworthy and others not, or some compelling in terms of believing them and others not," Swartz said.  
He breaks it down this way: "We might be able to use that in terms of how we communicate with our patients in the clinic room, and then if health care providers are going to post on social media, we can provide some tips so that we can connect better with patients."   
---
Shantell M. Kirkendoll is a senior writer and managing editor for Duke University School of Medicine Strategic Communications.  
Photo by Kate Medley.  
Main photo: Jenny Wu, MD, obstetrics and gynecology resident at Duke University Health System.