Image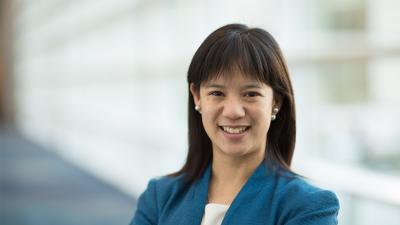 Pediatrician, Policy Expert, & School Principal
When Duke's Charlene Wong, MD, MSHP, initially decided to pursue a Master of Science in Health Policy Research, she hoped to one day draw on that experience to help improve health and health care.  But she never expected that she'd be leveraging her skills to respond to the largest public health crisis of the 21st century.
An interest that initially began as work to remove barriers to complicated health insurance exchanges eventually led to a new role for Wong this past year—the Chief Health Policy Officer for COVID-19 for North Carolina's Department of Health and Human Services (DHHS). Here, she helped lead COVID-19 response efforts, advising on everything from how to increase adoption of prevention measures like mask mandates to closures to mitigate the spread of the virus. She was also a member of the team at the helm of one of the largest public health campaigns that the department has ever undertaken: the effort to vaccinate as many people across the state as quickly and fairly as possible.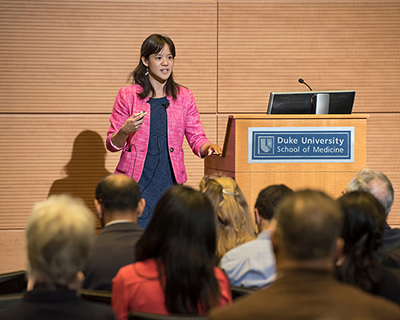 "I was honored and thrilled to have the opportunity to serve this state during a time when everything felt so uncertain," Wong says. "In a way, knowing that I was doing something productive to hopefully alleviate the suffering in the pandemic and in the face of so much uncertainty helped keep me grounded and well." This new role at the state level was one more hat for Wong to wear, along with researcher, policy expert, pediatrician, and parent. An associate professor of pediatrics in the School of Medicine, she is also a member of the Duke Clinical Research Institute and the Duke-Margolis Center for Health Policy, and describes her work as "sitting at the intersection of evidence, policy, and practice."
"Pretty early on in my training in medical school, I recognized that even though there is a lot that a physician can do in a one-on-one encounter with patients and their families, there were also clear patterns of issues that were well beyond what I could solve for in these doctor-patient interactions," she says. "That's what inspired me to pursue training and experiences in health services research and health policy—so that I could begin to tackle those issues at both the individual and systems or populations levels."
Driving Impact via Health Insurance
One of Wong's earliest experiences with pursuing health policy work happened during her Robert Wood Johnson Foundation Clinician Scholars fellowship at the University of Pennsylvania. It was at that time when health insurance exchanges, which allow people to buy health insurance online through sites like Healthcare.gov, were opening under the Affordable Care Act.
"I was interested in learning more about how people were choosing health insurance plans on HealthCare.gov because health insurance is such a complicated product," Wong says. "With the huge financial implications of choosing a 'bad plan,' I wondered if there were ways that information could be displayed differently or whether new tools could make it easier for people to make an informed decision about which health insurance plan met their needs and their budget."
She conducted research which involved monitoring how information was displayed on sites like HealthCare.gov and other health insurance exchange websites run by states, including the tools  offered to customers who were shopping for plans and how the information and tools evolved year over year. Wong also went directly to those impacted by the problem—people trying to sign up for insurance—and listened to their questions and pain points related to enrolling. Her research informed recommendations of how the exchanges could be designed in ways that would better position customers to make good choices. 
She presented her findings directly to executives leading health insurance exchanges all over the country. Wong began to see the impact of her research take hold quickly."As we monitored what was being offered on the health exchanges each year, we saw that more exchanges were adopting our recommendations over time.  For example, we saw more exchanges across the country provide easy-to-understand definitions of key health insurance terms like 'deductible' and increase availability of tools that estimated  total out-of-pocket costs for each plan – which we recommended as a way to simplify the choices and math for people," she says.
Filling Gaps with Service Integration
In 2019, Wong became the executive director of NC Integrated Care for Kids (NC InCK), a collaboration among Duke University, University of North Carolina at Chapel Hill, and North Carolina's Department of Health and Human Services.
Watch Dr. Charlene Wong Describe the Mission of NC Integrated Care for Kids
NC InCK, which is funded by the Center for Medicaid and Medicare Services, is an innovative model that aims to partner with communities to support and bridge services where children live, learn, and play.  The model works to integrate services and supports for children and families across physical and behavioral health, early care and education, housing, food, schools, maternal and child public health programs, child welfare, mobile crisis response services, juvenile justice, and legal services. The primary goals are to increase quality and reduce costs and out-of-home placements for children. The initiative aligns nicely with research Wong was already doing before NC InCK was funded.
"My work was already focused on innovations in children's health and health care—particularly policy-related innovations like value-based care," she says. "Our work on NC InCK is a close partnership with the NC Department of Health and Human Services. The Department's focus on investing in health, not just health care, is very aligned with what we are trying to achieve in NC InCK."
NCIncK serves five counties in central North Carolina—Alamance, Orange, Durham, Granville, and Vance. The project team is currently in the midst of a two-year planning phase, which will be followed by a five-year implementation period beginning in 2022.
Stepping Up During a Pandemic
Although Wong didn't expect to be working on COVID-19 when she launched NC InCK in 2019, through her work with Mandy Cohen, Secretary of the North Carolina Department of Health And Human Services, she was selected as an expert to join the state's COVID-19 Response Team.
"Dr. Wong's work and commitment to children through her efforts with NCIncK had already impressed us at the department," Cohen says. "Knowing her background in health policy and her prior experience in public health with training at the CDC, we were thrilled when she agreed to serve as a leader in our COVID-19 response efforts."
Wong drew on her prior experience working with the Centers for Disease Control as she advised on statewide policy. One consideration that is incredibly important to her and the team in the COVID-19 response is equity.
"Equitable distribution of vaccines has always been a guiding principle within the statewide vaccination campaign," Wong says. All vaccine providers are required to document race and ethnicity of recipients, and the team is also leveraging a multi-pronged approach to build trust in communities across North Carolina. This included partnering with faith leaders and other community ambassadors as trusted messengers of COVID-19 information, embedding equity throughout the vaccine allocation and distribution process, and instilling shared accountability by publicly sharing race and ethnicity data through a public COVID-19 dashboard.
During this work, like many other people across the state and the nation, Wong was also taking care of newfound responsibilities at home. Her children, age 5 and 6, formed a pod with one other family and took on virtual pre-K through first grade in Wong's family home.
"I joke that I really had three jobs during the pandemic," she says. "I had my role at the state, my work at Duke, and then I was also acting as home school principal."
Balancing all of this required long hours—but Wong was unfazed by the hard work.
"It's very gratifying work that I knew was having a positive impact on people across North Carolina – so I knew that the long hours were worth it," she says.
A Multi-Level Focus
Beyond COVID-19, Wong continues her work as a pediatrician and a researcher. She often cares for teens and young adults who come from disadvantaged backgrounds. Her interest in behavioral health economics led her to co-found the Behavioral Research Intervention Science Center (BRISC), a center within the Duke Clinical Research Institute.
"It really takes work at both the patient level and the population health level to improve health and well-being for kids and families." -Charlene Wong, MD, MSHP
One example of behavioral incentives at work in Wong's research is a study she conducted to determine whether financial incentives would help improve glucose monitoring targets for teenagers with diabetes. At the beginning of the study, the intervention group was given  $60. Two dollars were subtracted for each day participants did not meet their monitoring goals. Study results showed that people who were included in the behavioral incentive better improved adherence to glucose monitoring than those who did not receive the financial incentives.
Regardless of how good a treatment or an intervention is, it is useless if clinicians can't get patients to change their behavior to adhere to the treatment. "Engagement is central and key to all the goals I'm trying to achieve for my patients," she says.
Wong loves caring for patients in clinic, and she will continue to juggle multiple roles, keeping a close eye on health services research and policy and how she can continue to influence those spaces.
"It really takes work at both the patient level and the population health level to improve health and well-being for kids and families," she says.
Kaitlin Jansen is a clinical research communication specialist at the Duke Clinical Research Institute.