Image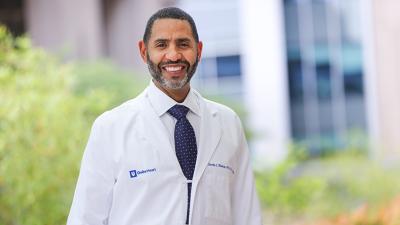 Kevin Thomas Looks to Lead School of Medicine Toward a More Equitable Future, and He's Up for the Challenge
Kevin Thomas, MD, had little interest in cardiology when he first entered medical school, but it is difficult now to separate his journey toward becoming a cardiologist from his current work advancing equity, diversity, and inclusion (EDI).
In November 2021, Thomas, an electrophysiologist and associate professor of medicine in Duke's Division of Cardiology, was named the Duke University School of Medicine's vice dean for equity, diversity, and inclusion by Dean Mary E. Klotman. The role is a first for the school, and was among the key action items outlined in the anti-racism and advancing equity strategic plan launched by the School of Medicine in June 2021.
"The creation of this critical new leadership role reflects the school's commitment to advancing equity, diversity, and inclusion," Klotman said. "We needed someone with great strategic vision, perspective, and dedication to lead this effort. Kevin Thomas embodies those qualities. We could not have made a better choice, and he is already making a difference."   
Thomas has been at Duke for more than 22 years, making a mark on health disparities research in the cardiology field. If it weren't for a few notable encounters with the right people at the right time, Thomas said, he may not have ended up in either role.
An Unexpected Path
Choosing cardiology as a specialty at Duke almost felt clichéd, Thomas said, and he did his best to avoid it initially. As a visiting fourth-year medical student, he became attracted to gastroenterology after a rotation in the division and working under Mark Swaim, MD.
But after a few of his mentors in that discipline left to pursue positions at other institutions, he began to wonder if there was something else in store for him. "This is not coincidence," he recalled thinking at the time.
Despite his initial resistance to cardiology, events and interactions kept steering him toward it. During Thomas' first year of training at Duke, close friend Mark East, MD, who was a Duke cardiology fellow at the time told him outright that he was going to become a cardiologist and that he should embrace it. "He said, 'Kevin, you know you're going to do cardiology; I don't know why you're trying to run from it,'" Thomas said.
Ultimately, as a person of faith, Thomas decided he should pay attention to the signs. "There was this narrative that people kept telling me: 'Oh, you have to do cardiology.' Through all those experiences, I said I feel like God is speaking to me, and maybe I need to consider cardiology."
So he did. Thomas became a cardiology fellow and chief resident at Duke. He has no doubt now that it was the right choice because it put him on the path to his other passion: equity, diversity, and inclusion work. His time as a fellow opened his eyes to health inequities, in cardiology in particular.
"I began to see people being treated differently based on race, ethnicity, and socioeconomic status," Thomas said. "There were things happening that were making me uncomfortable and made me want to see change. This is really when my passion and interest in health inequities and health disparities came about."
The realization led Thomas to begin researching the topic, and he has never stopped.
"I found research as a way to try to understand why these differences, disparities, and inequalities existed," he said. "Cardiovascular disease is the number one killer particularly of African Americans. Cardiology was a great platform and a conduit for me to get into my equity, diversity, and inclusion work."
After his fellowship, he joined the faculty at Duke in the Division of Cardiology section of clinical cardiac electrophysiology, continuing his patient care as a clinician, researcher, and champion for health equity. Several years ago, Thomas launched a research group focused on examining the roots of health inequities and finding solutions. In 2016, Dean Nancy Andrews appointed Thomas the inaugural assistant dean for underrepresented faculty development. In this role, he founded the School of Medicine's ADVANCE-UP (Academic DeVelopment, Advocacy, Networking, Coaching and Education for Underrepresented Populations), which aims to address the challenges underrepresented racial and ethnic faculty encounter in academic medical centers.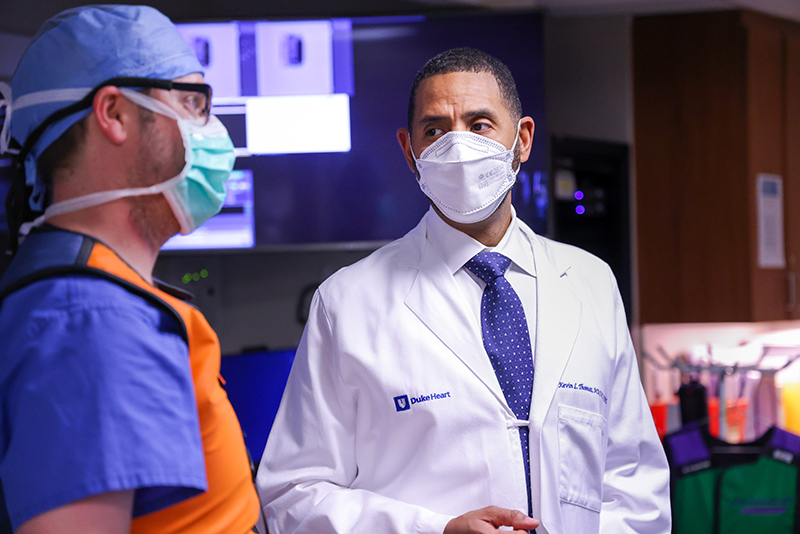 A Chance Encounter
It was a chance encounter in a hallway during his cardiology residency at Duke that led him to decide to become an electrophysiologist, explained Thomas. Much like the Duke fellow and friend who urged Thomas to go into cardiology, Rosey Gilliam, MD, saw something in Thomas and encouraged him to pursue a career specialty that wasn't initially on Thomas' radar.
Gilliam was section chief of electrophysiology at Duke at the time. "I knew who he was, but I hadn't spent a substantive amount of time with him," Thomas said. "I bumped into him in a hallway, and he looked at me and said, 'Thomas, what are you going to do with your life?' I said, 'Dr. Gilliam, I think I'm going to be a heart failure specialist.' He said, 'No you're not.'"
He encouraged Thomas to meet him in clinic at 7 a.m. several days a week to learn more about electrophysiology.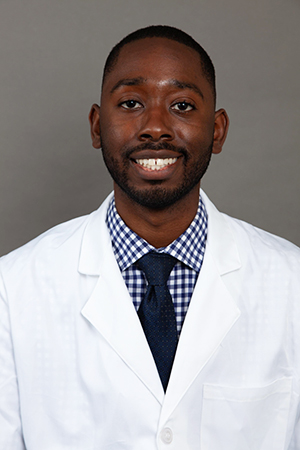 "It was through my experiences with him that led me to ultimately become very passionate about that field and to pursue advanced training," Thomas said. "I honestly don't think that would have happened if I hadn't bumped into him, if he had not taken that interest in me."
Thomas himself has taken an interest in many students and trainees, serving as a guide and mentor just as others did for him.
Lonnie Sullivan, MD, a cardiology fellow and chief resident at Duke, has worked closely with Thomas for several years on clinical research focused on health disparities. The most recent endeavor is the VIVID study, which uses videos to reduce racial disparities in implantable cardioverter defibrillator (ICD) therapy. Despite a higher prevalence of sudden cardiac death, Black people are less likely than white people to have an ICD implanted. The researchers hope to improve understanding and awareness of ICDs among Black patients and increase the number of those who receive or qualify for ICDs.
Sullivan said working with Thomas, whom he now considers a friend, has shown him what it takes not only to be a principal investigator, but also to be a good role model. He said Thomas is deeply involved in the research and makes himself readily available as a mentor.
"Dr. Thomas would always have a rule that whenever you do a project, you have to roll up your sleeves to get it done," Sullivan said. "Meaning the studies are big undertakings, and it takes a lot of work, but he's there literally every step of the way."
Partnering for Change
In his current role as vice dean for EDI, a major focus for Thomas is to oversee the implementation of the priorities outlined in the anti-racism strategic plan. It's an ambitious and far-ranging agenda, and he knows he can't do it alone. Since his appointment, Thomas has been intentional about meeting with individuals and groups throughout the school.
"Forming relationships, partnerships, and collaborations is critical to this work," said Thomas. "I've learned so much in a short period of time."
Thomas said making improvements to the faculty's appointment, promotion, and tenure (APT) process is among the strategic plan's key priorities. "Changing culture is also a top concern with a particular focus on our staff who are the heart and soul of everything we do as an organization.
"We have to change our culture, and that's a really hard thing to do," Thomas added. "Not impossible, but hard. It starts at the top. I've spent a lot of time talking to leaders across multiple entities, engaging with them to begin to identify what our challenges are, what we are doing well, and where there are opportunities to grow. I've been working to build a community of leaders who will partner with my team and assist in our efforts."
He added that true change will call for everyone's involvement. "This is not something we'll be able to do with just a few people," Thomas said. "It's going to take the masses."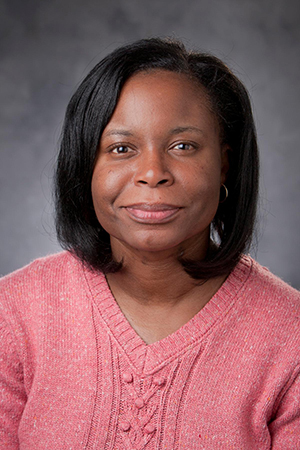 Kimberly Johnson, MD, professor of medicine in the Division of Geriatrics and director of the Duke Center for Research to Advance Healthcare Equity (also known as the REACH Equity Center), said Thomas has made a point to collaborate with and listen to others, including those outside of leadership positions.
"I've always been amazed at how well Kevin connects to people across disciplines and roles and not providers or clinicians, but staff, students, and trainees as well," she said.
Johnson led the search committee that selected Thomas for the vice dean role. The position was sorely needed, according to Johnson. Creating the vice dean's position was one of the many changes recommended in the COST (Communication to Operationalize Sustainability, Solidarity, Sponsorship, and Trust) letter written by Black School of Medicine faculty in 2021 detailing their experiences dealing with the effects of systemic racism.
"This is a high-level position within the dean's cabinet, and I've always felt that someone needs to be ever-present to remind people about the ways in which racism and inequities can seep into every decision that we make," Johnson said. "It's important to have that person at the table. The role of vice dean certainly gives some level of credibility that many of our other diversity and inclusion positions haven't had."
Johnson said Thomas was the right fit. "In a role like this, you have to have the ability to call out things that are wrong, but also to build coalitions that allow people to get on board with you to make them better," she said. "I think he has a real knack for doing that. He's not shy about calling out what's wrong, but he manages to say it in a way that spurs people to action rather than resistance."
Although the position of vice dean for equity, diversity, and inclusion is a new one, Thomas recognizes the work that he has been tasked with leading isn't new, and problems will not be fixed overnight. But he's eager for the challenge. 
"It is a big job, but I'm up for it. I want the opportunity to make a difference. No matter how hard this job is, it's nothing like what I grew up with," said Thomas, who faced adversities while growing up in the Maryland and Washington, D.C., area. After his parents divorced, his mother struggled to make ends meet.
"I tell myself, let's keep things in perspective. I'm a cardiologist at Duke. I know there are plenty of people who would trade with me in a second," Thomas said. "I always keep the perspective, that yes, it's hard, but I have the privilege to serve in my current capacity, and I pledge to make an impact."
Bernadette Gillis is a Senior News Writer/Producer for Duke University School of Medicine Office of Strategic Communications.
Video produced by Jim Rogalski, video and multimedia producer for Duke University School of Medicine Office of Strategic Communications.
Photos by HuthPhoto.