Image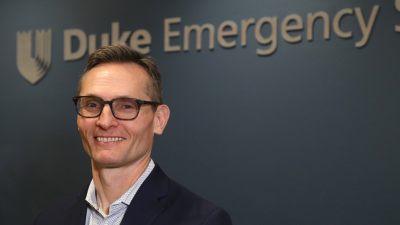 Duke Emergency Medicine Comes into Its Own
Anything can happen in an emergency department and that's especially true at Duke. "We are a destination emergency department for patients with complex problems," said Charles Gerardo, MD, professor of emergency medicine at the Duke University School of Medicine and an international expert on snakebites. A complex problem might be, for example, a patient with a hip fracture who also happens to have a transplanted liver. "We have the people who can handle that," he said. 
Unpredictability was especially high during the Covid-19 pandemic, when protocols changed frequently in response to changing conditions. "It was a constantly evolving process," said John Purakal, MD, assistant professor of emergency medicine. "Whatever the constraints are, we just figure it out. That's the mantra for emergency medicine in general, but especially in the past few years." 
Taking care of patients is only one of the ways Duke emergency medicine physicians excel. "We are leaders in clinical care, research, and education," said Gerardo, "and we weave equity, diversity, and inclusion across all three of those pillars." 
In recognition of that leadership and in expectation of bigger accomplishments to come, the Division of Emergency Medicine became the Department of Emergency Medicine in 2022, with Gerardo as interim chair. 
"As a department, we have a seat at the table in a way that we didn't as a division," said Gerardo. "That allows us to have a direct voice in the decisions made in the institution." 
Improving Care through Research 
Gerardo said the transition from division to department on July 1 was so smooth as to be almost unnoticeable. "When we became a department, we were fully mature," he said. "Our first year out, we are top 20 in NIH (National Institutes of Health) funding among departments of emergency medicine." 
One of the strategies that helps the department excel at research is the collaboration between clinicians and PhD faculty members who have expertise in specific research methodologies, from data science to qualitative research. "It's a really integrated web that allows for more productivity and faculty development," Gerardo said.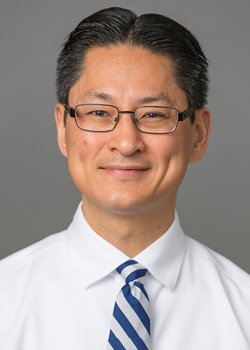 Much of the department's research takes place through randomized controlled trials in the emergency department, facilitated by a team of clinical research coordinators under the directorship of Alexander Limkakeng, MD, MHS, professor of emergency medicine. "It's not that we don't provide really good care to people right now," Limkakeng said, "but we should never be satisfied. That's a great thing about being at Duke: we provide cutting-edge care, but we can also be the ones to advance that cutting edge."  
As an example, Limkakeng cited the use of the protein troponin as a biomarker to help diagnose heart attacks in patients with chest pain. When the test was first available a couple of decades ago, patients typically needed to have their blood drawn repeatedly every several hours to determine if troponin levels were rising or falling. This usually required a hospital stay. Research at Duke and elsewhere has led to improvements, including a more sensitive troponin test and smarter ways to use it. The result? Most patients today need to be tested just once. "Now it's unusual for a patient with chest pain to have to stay overnight unless they are actually having a heart attack," Limkakeng said. "That's the value of research." 
Limkakeng also heads up Duke's participation in an NIH-funded project called Strategy to Innovate Emergency Care Clinical Trials Network (SIREN). In February, Limkakeng received an NIH grant as part of SIREN to organize a hub of local academic centers – Duke, University of North Carolina-Chapel Hill, Wake Forest, the Medical University of South Carolina, and Wake Med – performing randomized controlled clinical trials relating to cardiac arrest and traumatic brain injury. 
Leading in Global Health 
The area of research in the department with the most NIH funding is global health, led by Catherine Staton, MD, MS, associate professor of emergency medicine. The connection between global health and emergency medicine might not seem obvious, but Staton said the commonality is access to care. "We focus on trying to get patients the care they need in a timely fashion across all different specialties," she said.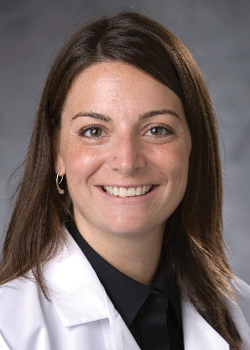 The barriers to timely care differ from country to country, but the strategies to overcome them are similar. "The partnerships and multidisciplinary work that we thrive on in emergency medicine is what we also do in the global health arena to try to reduce barriers," she said. 
Staton directs Duke's Global Emergency Medicine Innovation & Implementation Research Center (GEMINI), which conducts research around the globe, primarily in Tanzania, Brazil, and the United States. Projects include improving care of injured patients, increasing access to snakebite treatment, and reducing the burden of alcohol abuse in a culturally appropriate way. No matter the project, Staton and her colleagues collaborate with local providers and patients to build capacity while finding solutions. 
Sometimes Staton learns about systems in other parts of the world that could improve health care in the United States, such as Brazil's free community health centers that help reduce the need for emergency care by providing primary care to all citizens. "Part of what I love about global health is that it teaches us about our own health system," she said. "It's a missed opportunity if we don't focus on some of those lessons learned." 
Addressing Unmet Social Needs  
The current reality of the American health system is that emergency departments provide primary care, mental health care, and addiction treatment in addition to emergency care. Even emergencies are sometimes conditions that could have been prevented with regular primary care. But many people experience barriers to establishing a regular relationship with a primary care provider, including lack of transportation or housing. "We need to take a more proactive approach to addressing unmet social needs," Purakal said.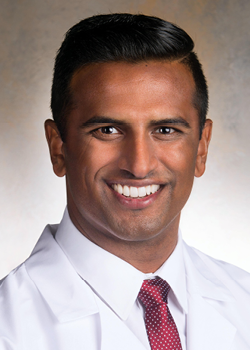 With this goal in mind, Purakal launched ParallelED, a program in which Duke undergraduates interview patients in the emergency department to ask if they need help with transportation, housing, prescriptions, food, utility bills, and the like. If so, students offer them the opportunity to sign up with NCCARE360, an online resource from the North Carolina Department of Health and Human Services that connects people with community services.  
Patients appreciate being listened to and offered concrete help. And the students appreciate the real-world learning experience. "It's foundational for them," Purakal said. "Usually you're not getting that level of patient interaction until med school. It gives them insight into the field of medicine and the complex problem-solving required." 
Purakal, who recently won Duke's Presidential Award, is a founding member of the department's Justice, Equity, Diversity, and Inclusion committee, which focuses on recruitment and retention, training, and mentorship of faculty and learners, as well as highlighting the equity-based work of emergency department providers, such as ParallelED. Another such program, led by Emily Thatcher, PA, along with emergency medicine physicians, uses an evidence-based strategy to help people struggling with opioid addiction by giving them buprenorphine (a medicine that helps reduce opioid dependence) in the emergency department rather than simply prescribing it. 
Having a Seat at the Table – at Duke and Beyond 
Purakal hopes to expand ParallelED in terms of time (24 hours a day), space (in more places in the hospital), and scope (connecting patients with primary care providers) to improve the health of the community and reduce the number of unnecessary visits to the emergency department.  
Departmental status could make it easier to reach those goals. "It gives us more autonomy to deliver care in ways that are best suited for our patient population," Purakal said. "It gives us a seat at the table as an equal voice with other departments in meetings about how the enterprise is going to function in the delivery of care."  
It also gives the department a voice nationwide. "It's allowed us to join the national conversation about a patient's course from the community through the hospital and back to the community," Staton said, "and how to keep people out of the emergency department, to make sure they are well and healthy." 
Staton notes that emergency medicine is facing challenges that will require nationwide teamwork to solve, including improving patients' access to care outside the emergency department and addressing the epidemics of opioid addiction, gun violence, and mental illness. "We're going to have to work together to change the system, which is another reason why a seat at the table is helpful," she said. "It's not going to be easy and doing it together is the only way." 
---
Mary-Russell Roberson is a freelance writer in Durham.  
Main Photo: Charles Gerardo, MD, interim chair of the Department of Emergency Medicine and professor of emergency medicine at Duke University School of Medicine.  
Photography and video by Jim Rogalski.