Image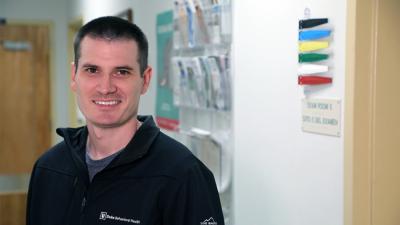 Colin Smith's "Why" Is Social Justice
As an internal medicine-psychiatry resident, global health graduate student, and lieutenant commander in the U.S. Public Health Service Commissioned Corps, Colin Smith, MD, has had plenty of training and experience in adeptly navigating challenging and unfamiliar situations.
Those skills were put to the test in March 2020, when he was deployed by the U.S. Public Health Service to help establish a field hospital at the Jacob K. Javits Convention Center in New York City as COVID-19 took hold of the city and many local hospitals reached patient capacity. It was the first time the convention center had ever been used as a medical facility, and health care providers treated more than 1,000 patients there between late March and early May, when it closed.
Smith's dual training in internal medicine and psychiatry enabled him to address both the medical and psychological needs of COVID-19 patients at the makeshift hospital. He was one of eight physicians trained in psychiatry to convene a team that provided consultation on and treatment of psychiatric and neurological disorders, as well as liaison services with other healthcare workers.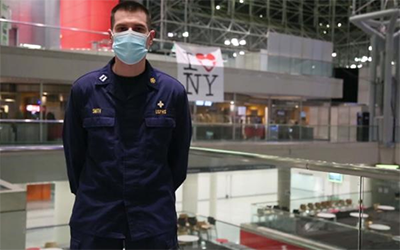 "Anytime you're caring for people who have a serious medical illness like COVID-19, either a comorbid mental illness or the stress of the environment is going to reveal itself," says Smith. "We realized early on that there was a need for mental health services for the patients."
He and other members of the consult-liaison service later published a commentary that outlined their approach to setting up the service and the lessons they learned, with the goal of providing a useful model should similar needs arise in the future.
Looking back on the experience, Smith says he's "really proud to have been part of a group of people to go out there and to provide whatever was needed at the time, to step up and use whatever skill set we had or advantage we had to help people."
Helping people, particularly those with limited or no access to high-quality health care, is what drives Smith's work in medicine and psychiatry.
Developing a Social Justice Compass
As an undergraduate biology major at Sacred Heart University in Fairfield, Connecticut — a Catholic school with a strong emphasis on social justice — Smith found he was often drawn to books and courses that examined the role of social, economic, and cultural factors in health, prosperity, and other outcomes.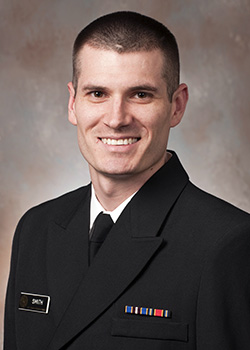 "I was thinking about what social justice meant for me, and how my work in the world could be related to that," he reflects. "What skills did I bring, and what interests did I have? And that's actually how I came to apply and then enroll in medical school at Uniformed Services University."
The Uniformed Services University of the Health Sciences (USU) in Bethesda, Maryland, is the nation's federal health professions academy. All USU medical students enter the university as commissioned officers in one of the branches of the U.S. military or in the U.S. Public Health Service (USPHS).
Smith was drawn to the USPHS because of its focus on working with underserved communities on both individual and population levels. After he completes his residency at Duke in 2022, he will fulfill his service to the USPHS by working with the Indian Health Service, a government agency that provides direct medical and public health services to members of federally recognized Native American tribes and Alaska Native people.
At USU, Smith completed the standard medical school curriculum as well as training in leadership, working in austere environments and participating in deployment scenarios — including a mock deployment in Fort Indiantown Gap, Pennsylvania, which Smith remembers fondly. "It was such a foundational experience for me. I found it to be very helpful in learning how to make decisions in high-stress situations," he says. "It's given me confidence in settings where I don't know the answer to something, and it helped me become comfortable with knowing there isn't always a perfect solution for the problem."
Finding His Way in Medicine and Psychiatry
When he began medical school, Smith had an inkling he would eventually specialize in psychiatry because he'd long been intrigued with the brain, the mind, and human behavior — an interest that led him to pursue a neuroscience concentration in college. A clerkship in psychiatry strengthened that interest — but a clerkship in internal medicine pulled him toward that too. He felt torn. He remembers thinking, "If only there were a way to do both of these things..."
It turned out there was. Once he learned about internal medicine-psychiatry residency programs, he knew that was the path for him: "As soon as I realized that was a possibility, I really didn't consider anything else, because I couldn't see myself doing one without the other."
It didn't take long for Smith to settle on Duke for his residency. It has one of the oldest internal medicine-psychiatry training programs in the country, and the Global Health Pathway for Residents and Fellows at the Duke Global Health Institute was a big draw. But what really sealed the deal for him were the people he encountered during his interview process. "When I walked into Duke, the first time I met residents and faculty, probably within a couple minutes I knew that I wanted to be here," he remembers. "There's a family atmosphere in the residency programs, and an atmosphere of really hard working, intelligent people looking to make a difference. And that really appealed to me."
A Quest for Health Equity
At Duke, Smith has worked to translate his passion for working with marginalized populations into projects and initiatives that have the potential for real impact. Not long after arriving on campus, he sought out Nathan Thielman, MD, the director of the Global Health Pathway for Residents and Fellows, a program that offers tailored research experiences, masters-level didactic training, and mentorship in global health. In medical school, Smith worked on several global health projects — including fieldwork with a psychiatrist in Kampala, Uganda — and he was eager to learn about global health opportunities at Duke.
Two years later, Smith enrolled in the Global Health Pathway, with plans to conduct research on hepatitis C, HIV, and substance use in partnership with the Indian Health Service at the Phoenix Indian Medical Center. But COVID-19 derailed those plans. After he returned from his deployment to the Javits Center in New York City, with travel restrictions in place for the foreseeable future, Smith shifted his focus to finding a local project.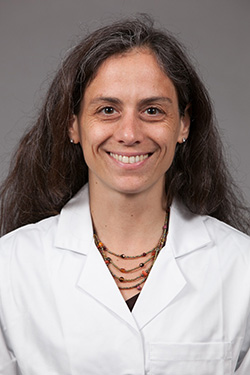 Jane Gagliardi, MD, MHS, an associate professor in psychiatry and behavioral sciences and medicine and Smith's residency program director, helped him design a study to examine disparities in psychiatric care for patients evaluated in the Duke University Hospital Emergency Department. Under the mentorship of Thielman and Gagliardi, he's exploring differences between the treatment of Black and white patients, including likelihood of chemical or physical restraint, likelihood of being placed in a locked area of the emergency department, and likelihood of being transferred to a state-operated psychiatric facility. The study is part of his curriculum as a master's student at the Duke Global Health Institute. He plans to defend his thesis in the spring.
Smith and his team are uncovering important insights through the study, but Smith wanted to supplement the hospital data with patients' personal stories to develop a more nuanced perspective. He applied for and received additional funding from Duke's REACH Equity Center for a qualitative study in which he and a few collaborators will interview Black patients who have been treated in the Duke psychiatric emergency unit to learn more about their experiences.
"I think it's vital to hear the stories of the people who are directly impacted," he says. "Our group can look at data and say, 'Here's what we think is wrong,' but I definitely don't have the experience of being Black, or of being a patient in our emergency department, or of things that happened before they came to the hospital, during their time at the hospital, or after they left the hospital."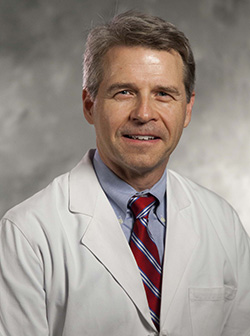 He hopes that the insights shared by these former patients will help inform future decisions about how to deliver the best possible psychiatric care to all patients, regardless of their race.
Thielman has been impressed by Smith's dedication to creating a more equitable health care environment, as well as his initiative: "He's very eager to serve, and in demonstrating that service, he invariably just leads," says Thielman. "He has led this project with very little shepherding from myself. He just figures it out and gets it done."
Gagliardi has also taken note of Smith's initiative, citing the extra effort he has made to verify the accuracy of the data and teach himself how to code in R, a statistical software program.
"Colin doesn't rest when he's done enough," she says. "He's just always trying to do something to make things better. I think he has a very clear compass and an incredible work ethic."
Providing Care in the Community
Indeed, leadership seems to come naturally to Smith. For the past few years, he's led the Healthcare for the Homeless volunteer psychiatric clinic, based at the Lincoln Community Health Center in Durham. Every other Wednesday evening, a group of Duke Psychiatry & Behavioral Sciences residents and clinical psychology interns provide behavioral health care to people experiencing homelessness. Smith's role involves recruiting trainees and attending physicians, helping the volunteers secure the necessary credentials, setting the schedule, and supporting the volunteers in myriad ways.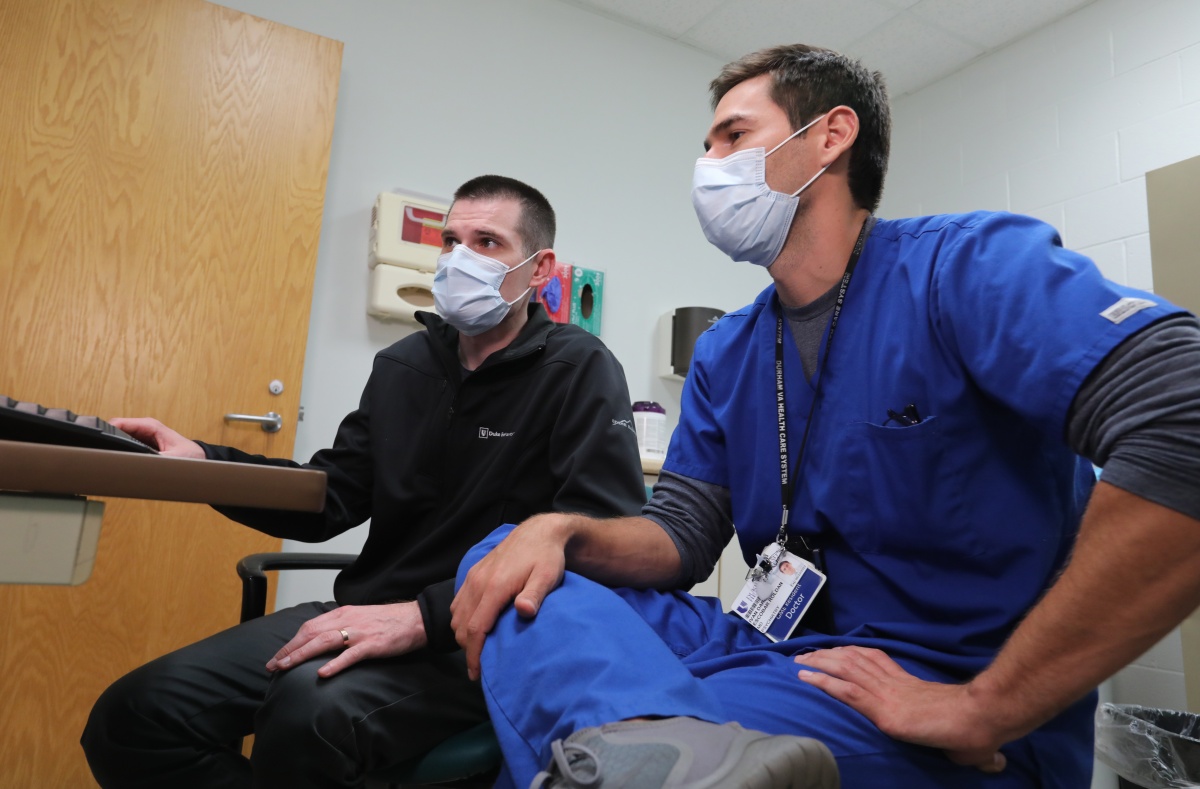 Smith cites his work with Healthcare for the Homeless as one his most enjoyable experiences at Duke. "It's been great to see trainees with such busy schedules volunteer to provide care to people that otherwise wouldn't have it," he says. "I think it's just really great work because you really see the direct impact you're making."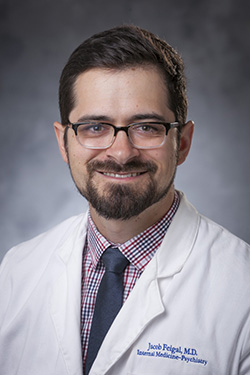 Jacob Feigal, MD, an assistant professor in the Department of Psychiatry & Behavioral Sciences and medical instructor in the Department of Medicine, serves as medical director of the clinic. He appreciates Smith's tireless advocacy in getting his fellow trainees involved in the clinic, and he says what strikes him most about Smith are the incredibly high standards he sets for himself and the care he provides for patients and the research he's engaged in, particularly for marginalized populations and communities. "And he does that while being exceptionally kind and personable to everyone," Feigal adds.
Bonded by their mutual interests in health equity, Smith and Feigal have worked together on other projects as well. Over the past year and a half, they and a handful of Duke colleagues have been providing COVID-19 testing and vaccinations in the Durham community to people experiencing homelessness.
"Colin was extraordinarily present and available to help with those testing clinics, often on very short notice, for long hours, in a lot of medical garb, in sometimes very hot and sometimes very cold conditions," recalls Feigal. "He was just a tremendous ally and support for those efforts, which were sometimes pretty difficult."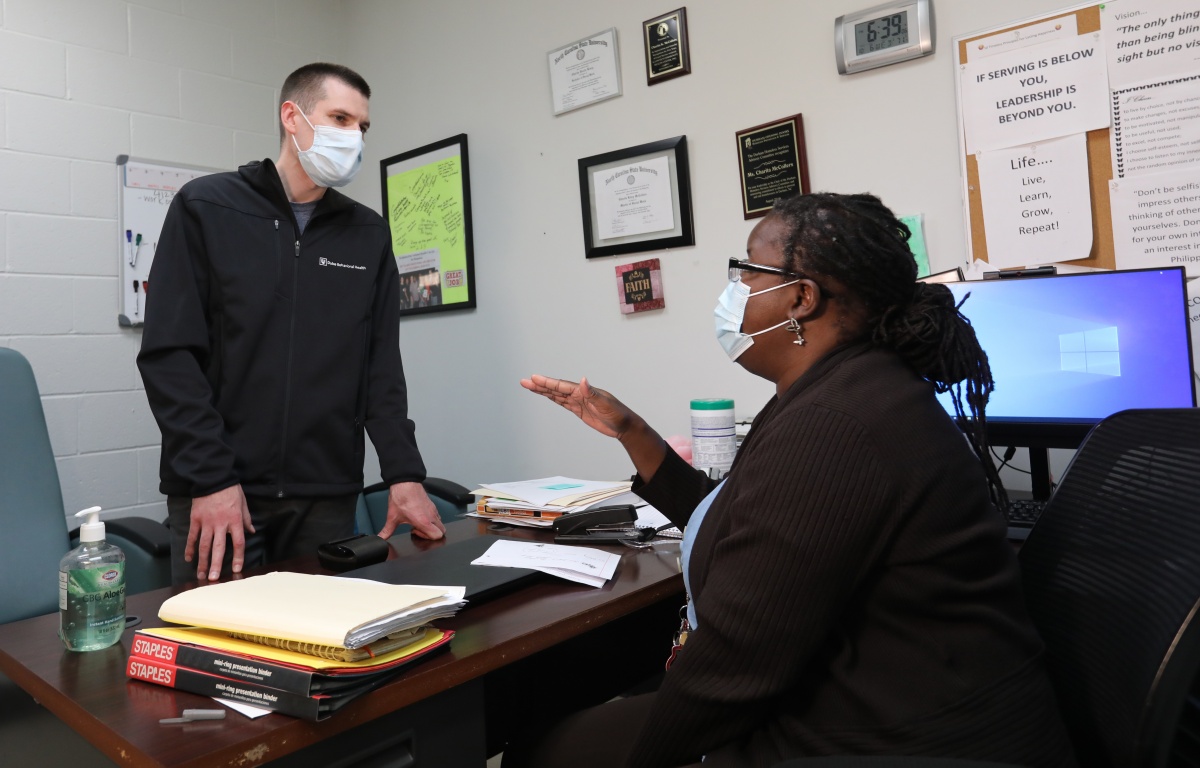 Advancing our Understanding of COVID-19
In addition to the COVID-19 clinical care Smith has provided for patients at Duke and beyond, he's also been busy publishing his insights about medical conditions that sometimes accompany, or follow, COVID-19 infections.
He was the lead author on the first clinical case description of symptomatic COVID-19-associated brief psychotic disorder in an individual with no personal or family history of psychiatric illness. He also contributed to an invited commentary highlighting some of the negative long-term medical and psychiatric outcomes resulting from COVID-19 infection and proposing public health measures to reduce them.
The list of Smith's accomplishments and honors is long, including receiving the Martin Fenton Award from the Association of Medicine and Psychiatry this fall and the James H. Carter, Sr. Community Service Award — honoring the late James H. Carter Sr., MD, the first Black full professor in Duke's Department of Psychiatry & Behavioral Sciences — in 2020 and 2021. But what seems to stand out most to his Duke colleagues is his deep commitment to helping others. Examples of his humble and service-oriented disposition abound, from everyday interactions like supporting a medical student struggling in clinic, to unusual events like rendering life-saving aid to an unconscious and acutely ill stranger on the street in New York City.
"There's a great quote by the Austrian psychiatrist Viktor Frankl: 'He who has a why to live for can bear almost any how.' And I think that kind of reflects how Colin operates," says Thielman. "I think that deep in his core, he understands and embraces the concept of social justice. He's very anchored in what he believes, and it's out of that position that he's willing to go far and wide to make a difference in the world."
Story by Susan Gallagher, director of communications for the Department of Psychiatry and Behavioral Sciences. Photos by Jim Rogalski, senior public relations specialist in the School of Medicine's Office of Communications.