Image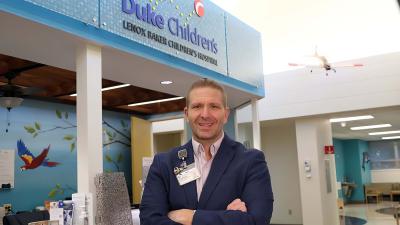 Anti-Ableist Advocacy: Christopher Lunsford Aims to Change the Conversation Around Disability
He didn't always have an awareness of it or a word for it, but Christopher Lunsford, MD, was affected by ableism throughout his life. It affected how he coped with the challenges that came with being hard of hearing since birth and having a speech impediment. It wasn't always easy to make his way in a world that focuses mostly on the experiences of people who can hear and speak clearly.  
Going on rounds during medical school proved especially difficult. The noisy nature of hospitals with multiple people speaking at once — sometimes in masks — made it extremely hard for Lunsford to know what his attending physicians, patients, and classmates were saying. He said he found himself working twice as hard just to keep up. He did ask for and receive accommodations, but it was a cumbersome process, and ultimately, the accommodations were not helpful. He simply chose to "grin and bear" it.  
Now he realizes the pressure to minimize his issues was due to ableism. He also has come to understand that not only is it okay to ask for accommodation, but it's also important to look at changing systems that lead to inequitable learning environments and patient care settings. 
"Rounds is possibly the worst possible way for a person who is hard of hearing to learn," said Lunsford, an assistant professor in the Department of Orthopaedic Surgery as well as the Department of Pediatrics. "The number one 'coping skill' that I was given was to minimize the challenge and to make it go away just by ignoring the negative impacts of it. I did not even process it as a systematic failure. At the time, I thought I should have never complained in the first place: 'I'll be fine, I'll figure it out.' I now process it differently in the hope that it helps make me a better advocate." 
The Effects of Ableism

 
Ableism is a term that is not commonly used in academic medical centers, but Lunsford wants to change that. He admits it's difficult to offer a succinct definition for ableism because of the complexities surrounding the topic. While it lacks the nuances of how ableism relates to other forms of discrimination, Lunsford often cites author and activist Simi Linton's definition of ableism as "the domination of the nondisabled experience and point of view" and the idea that "people with disabilities as a group are inferior to nondisabled people." A newer definition by Talila Lewis emphasizes intersectionality, considering how disability, race, gender, sexuality, and class are interconnected.  
According to Lunsford and the few others in health care who spend their time studying the concept, ableism often keeps patients from getting the care they need and leads to discrimination and other harmful outcomes.  
Physicians and providers, Lunsford said, are often too focused on fixing their patients or eliminating disabilities. They incorrectly assume that the lives of people with disabilities are somehow of a lower quality than those who do not have disabilities. Providers could benefit from listening to their patients and taking a more intersectional approach, he said.  
"People are afraid of getting a disability and don't want to say the word disability, because of the societal negative assumptions about disability," said Lunsford, a pediatric physiatrist who treats children with cerebral palsy. "That's the opposite of what we want. Disability is a normal part of human existence."  
In fact, Lunsford would like to increase conversation around disability as a facet of diversity. He believes that disability advocacy can and should be a focus of institutional excellence, supported by the overarching diversity, equity, and inclusion efforts already in place. Only then can the effects of ableism on health care begin to be more fully understood. 
"I think we need to have an understanding in the medical realm of what ableism really is," he said. "It's the same thing as saying, 'Do we truly understand what racism is doing to our health care?' We don't. We're still learning every day what racism is doing to us. But at least we're asking that question. We're not even asking what ableism could be doing to our health." 
Disability Consciousness in Health Professions Education

 
Lunsford also hopes to see a change in how health professions students are taught to care for patients with disabilities. According to the U.S. Centers for Disease Control and Prevention, 26%, or 1 in 4, of adults in the United States have some type of disability. Therefore, many providers will encounter someone with a disability, and it's important for them to be better prepared, Lunsford said.  
He and others published a paper that appeared in the Journal of Pediatric Rehabilitation Medicine that asserts that to change how patients with disabilities are treated, significant changes need to be made in medical education and training. They argue that the way students are currently taught about disability as a "competency" is necessary, but insufficient. Instead, they recommend a unique approach — what they call disability consciousness — using what disability studies and advocacy teaches us to improve the experience of people with disabilities. Disability consciousness considers the complex way disability intersects with factors such as race, gender, and class. 
In addition to his scholarly writing, Lunsford has given four grand rounds lectures on disability consciousness at Duke. He also has formed an informal group for students, faculty, and staff with and without disabilities who are interested in disability advocacy work. Since April 2021, the group, called Disability Consciousness in Healthcare, has met every two to four weeks. With representation from nearly every health professions education program at Duke and many other institutions across the country, the group has over 50 members.  
Students Making Change

 
Alison Jacobson, a 2022 graduate of the Duke Physician Assistant Program, participated in the Disability Consciousness in Healthcare group meetings as a student. She was inspired to collaborate with medical students and form another student group called Health Students with Disability and Chronic Illness for students with chronic illness and disabilities, in addition to those who are allies.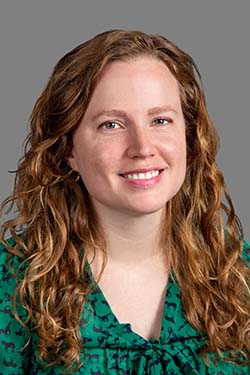 "One of our goals is to create some sort of mentorship program with undergraduate students who are interested in going into health care," Jacobson said. 
Jacobson is deaf and wears hearing aids. She can relate to Lunsford's struggles to find an equitable learning environment while in school. Through him she found a source of support and mentorship. He even helped her find a stethoscope that would fit her hearing aids.  
She also faced a similar experience to Lunsford's where she felt she had to minimize her need for accommodations.  
"Before PA school, I never got accommodations," Jacobson said. "I just did my best because I never wanted to cause any trouble. But with the pandemic and masking, I was like, 'Okay, I need some extra help.'"  
Jacobson said that getting accommodation for the first time made her realize the difficulties students with disabilities face to meet their access needs. The experience also called attention to gaps in education. "Medical education also has a lot more room for growth in creating inclusive environments for people with disabilities and chronic illness," she added.  
"I really don't know what I would've done without those student groups, because there was no one else, no other classmates going through the same challenges," Jacobson said.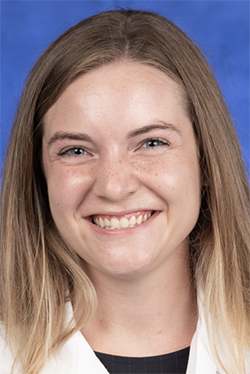 Lydia Smeltz first met Lunsford while shadowing a physician assistant at Lenox Baker Hospital as an undergraduate at Duke. A chemistry major and former Duke field hockey player, Smeltz was excited to learn that there were career fields in medicine such as physical medicine and rehabilitation that would allow her to work with children with disabilities, one of her passions. She quickly sought Lunsford's mentorship and began attending meetings with the Disability Consciousness in Healthcare student group. 
Since graduating from Duke in 2020, Smeltz has gone onto Penn State College of Medicine, where she is a second-year student. She started an adaptive field hockey program for children with disabilities in the Hershey, Pennsylvania, area.  
She also is using what she learned from Lunsford about disability consciousness to help enhance the quality and quantity of disability content within medical education. At Penn State College of Medicine, she has pioneered an Introduction to Disability elective for first-year medical students. She continues to participate in Disability Consciousness in Healthcare and has connected with four medical students from other schools who have piloted similar programs at their schools.  
She said she hopes their efforts will lead to change by answering one question: "How can we change medical education so that a lot more providers and future providers are keeping this anti-ableist perspective in mind when they're seeing patients?"  
"A lot of people don't fully realize that no matter what specialty or practice location you go into, you will inevitably care for people with disabilities, whether or not they have a visible or non-visible disability," Smeltz added. "I think [an anti-ableist approach] just makes you a better provider."  
Disruptive Change towards Anti-Ableism

 
Given how hospital rounds is an inaccessible learning environment for a person who is hard of hearing, Lunsford believes disruptive change is the answer. "If I had a mentee with my same hearing issues today, I'd recommend we request that they don't participate in large group rounds at all," Lunsford said. "Instead, we would find or develop another good learning opportunity for their clinical education. This would have been unheard of to request when I was a student; it could even have led to discussion of me being unfit for medical training."  
Accommodation used to mean making the student fit the learning environment, but now the idea is to make the curriculum fit the student. Lunsford says that is anti-ableism at work and through disability consciousness, he and his colleagues aim to amplify that message to improve health care for persons with disabilities. 
---
Bernadette Gillis is a Senior News Writer/Producer in the School of Medicine's Office of Strategic Communications. 
Main photo: Christopher Lunsford, MD, a physician at Duke Health who is hard of hearing, is working to improve health care for persons with disabilities. 
Photo and video by Jim Rogalski