Image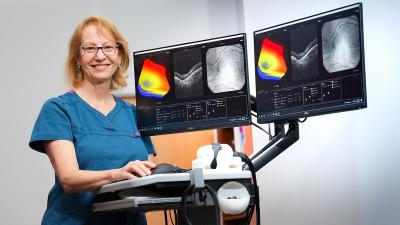 An Engineer at Heart: Cynthia Toth's 25 years of revolutionizing eye care and surgery
As Cynthia Toth, MD, prepares to "dive" inside the eye, she practices a relaxed mind. "Slow breath, focus, concentrate," she tells herself. In 30 years as a retinal surgeon, she has trained to make her left hand as proficient as her right, so she can smoothly reach the part of the retina she needs to.  
Toth is rewarded with immersion in an ocean of color. "When you use the operating microscope, it's like you're a deep-sea diver," she said. "The whole world in there is glowing orange. It's just fun and beautiful."  
Toth's love of exploring the retina has led to her revolutionizing retinal imaging for both adult and pediatric ophthalmology. The Joseph A.C. Wadsworth Distinguished Professor of Ophthalmology, she is a world expert in a high-resolution, three-dimensional imaging technology called optical coherence tomography, and she has pioneered its use during surgery and in very young children. Her research in this and other areas has led to better ways to diagnose and predict the course of blinding eye diseases such as macular degeneration and retinopathy of prematurity, one of the most common causes of childhood vision loss. Toth was instrumental in developing Duke Eye Center's Pediatric Retina Clinic, and she is the first female vice chair of clinical research in the Department of Ophthalmology. 
Toth made her last "dive" inside the eye in June 2022, and she stepped down from clinical practice in August. She will continue her duties as vice chair of clinical research and will focus on running her lab — the Duke Advanced Research in SD/SSOCT Imaging (DARSI) Laboratory. Toth said she will now have more time to spend on her medical device company in downtown Durham and cooking with her husband.  
Falling in Love with OCT
The first doctor in her family, Toth attended college and medical school on a U.S. Air Force Scholarship. After she finished residency, she spent two years as a general ophthalmologist on active duty in the Air Force. Toth liked the precision of cataract surgery, but she decided to pursue subspeciality training in vitreoretinal diseases and surgery. 
"I loved moving tissue around, and I realized that retina would be such a fun challenge," Toth said. The retina changes light into signals that it transmits to the brain, she explained. "When you operate on the retina, you're actually interacting with brain tissue in the back of the eye."  
After a retina fellowship at University of California at Davis, Toth returned to the Air Force in 1991 as chief of the retina service at Wilford Hall Medical Center in San Antonio, Texas. It was here that she became fascinated with optical coherence tomography (OCT). She met and collaborated with Air Force physicist Pat Roach, PhD, and an inventor of the technology, Jim Fujimoto, PhD, of MIT, who brought an OCT system to the base to conduct studies of how laser injury or treatment with lasers affected the retina. This work would help form the basis for the current laser safety standards in the U.S. 
Traditionally, research like this had been conducted in animal models by creating laser burns in the eye, then viewing the eye with an ophthalmoscope to determine whether a white spot (lesion) would appear. But OCT showed the microscopic injury evolve in real time. "With OCT, instead of seeing just a white spot, you would see the different layers of cells in the retina," Toth said. "The lesions would start out deep in those layers, and we watched as bubbles of fluid and different injury patterns formed." 
When Toth joined the Duke faculty in 1993, she found the perfect setting to develop OCT to improve patient care. She was appointed director of a biophysics laboratory that developed new surgical tools, a lab founded by longtime chair of ophthalmology Robert Machemer, MD, who was known as "the father of vitreoretinal surgery." Seeing promise in OCT imaging and image-guided surgery, Toth changed the lab's focus to imaging tools.  
Toth was eager to use OCT during surgery, but the systems were large, tabletop affairs. That would change after Toth met biomedical engineer Joseph Izatt, Ph.D. While he was at Case Western Reserve University, Izatt's team had built what he calls a "rudimentary" handheld OCT probe. "That was a very preliminary version, and it had very little input from physicians," said Izatt, now professor and chair of biomedical engineering in the Duke Pratt School of Engineering.  "Dr. Toth really inspired us with her applications and ideas and gave us a lot more direction."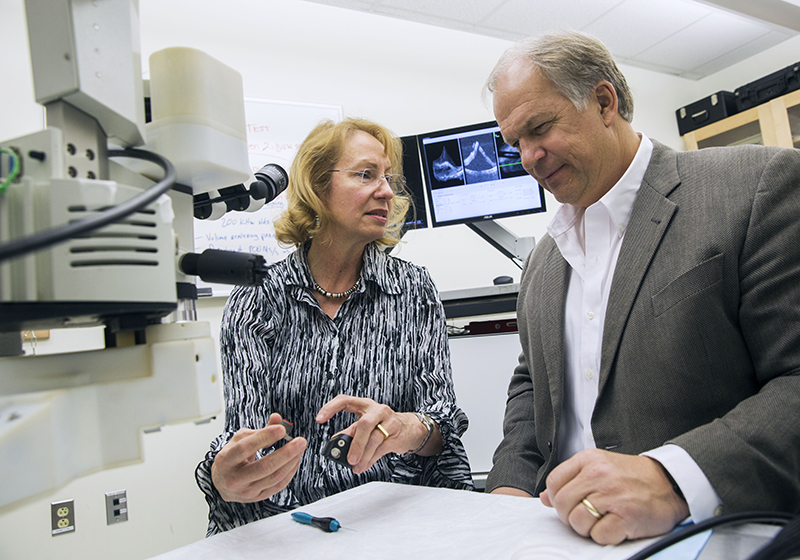 In 2001, Toth helped recruit Izatt to the Duke faculty. They brought Izatt's handheld spectral-domain (SD-OCT) device into the operating room in the early 2000s. At a couple of different points during surgery, Toth would move the surgical microscope aside and switch to the handheld OCT probe. Switching back and forth was disruptive, Izatt said, "But she did it because she was so anxious to see what was going on in real time as surgery developed." OCT gives the surgeon real-time feedback to avoid pulling or tearing the "microns thin" tissues of the retina, Toth said.  "It helps you to be a better surgeon." 
Toth's first feedback to Izatt was, "'Please build this into the surgical microscope so that I can see it all of the time during surgery,'" Izatt said. "So that became our biggest project together for the past 15 years. And we're still finding new ways to do it better." 
For the last two decades, Izatt, Toth, and their trainees have met for two hours at least once a week to present design ideas and receive feedback from the physicians. The engineers build prototypes that the surgeons try out with eye models in Toth's wet lab. Several of the resulting devices have moved into clinical research. "Cindy is our main conscience in terms of making sure that we have thought through every possible way that things could go wrong," Izatt said.  
Are lights too bright for patient eyes? Are the bolts used to attach an imager to a microscope strong enough? "Anything that we propose for her to use in the operating room, she's going to go over with a fine tooth comb herself before it goes to the safety board for review," Izatt said. 
Today, the third version of the intra-operative OCT is used in clinical research in patient operating rooms. It displays the OCT view alongside the operating microscope view on a large screen near the patient's feet. A fourth version involves an augmented-reality headset that displays the normal surgical view as well as the OCT view. Toth has tried it in trials with animal tissue to give initial feedback. "I doubt I could find any other surgeon in the world who would even be willing to think about wearing a headset during surgery where we controlled what they see," Izatt said.  
Izatt calls Toth, who has a secondary appointment in the Department of Biomedical Engineering, "an engineer at heart." He said, "She's contributed very substantial technical aspects to our work. When we're talking about new designs, she'll often come up with an idea that just wouldn't have occurred to us."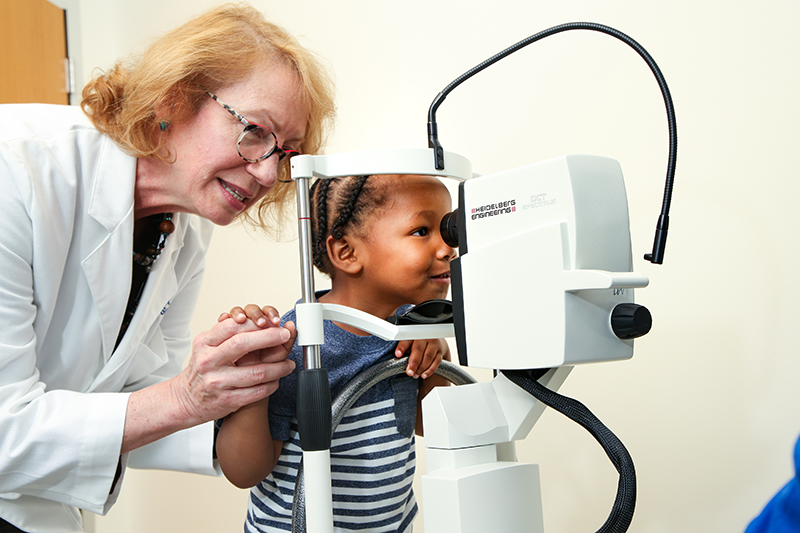 Imaging the Tiniest Eyes
In 2008, Toth put her mind to developing a handheld version of OCT for use in babies. Children under age 5 couldn't benefit from OCT at the time because they weren't able to sit still for imaging. "Adults could just sit down at the camera, put their chin in the chin rest, and we could capture all these amazing images," Toth said. But in the nursery, Toth and her colleagues examined babies with "antiquated technology" developed in the 1850s and refined in the 1940s – the indirect ophthalmoscope, which is worn on the ophthalmologist's head.  
That disparity bothered her, and she and Izatt, working with Duke ophthalmology faculty Sharon Freedman, MD, and Lejla Vajzovic, MD, collaborated to correct it, developing the first handheld version of OCT for this purpose. Toth is now recognized as the founder of pediatric OCT. For infants and children, her multidisciplinary team has published dozens of papers demonstrating novel eye findings that are visible only with OCT imaging and that are often associated with retinopathy of prematurity and other diseases or challenges of eye and brain development.  
A version of handheld SD-OCT created by Izatt's lab was developed by his Duke spin-off company, Bioptigen, and in 2012 the device became the only handheld OCT system to be approved by the Food and Drug Administration (FDA) for preterm infant and neonate use. This device is used in pediatric care worldwide. Toth's research group continues to partner with Izatt and other biomedical engineers to make their research handheld OCT system lighter, better, and faster for use in National Institutes of Health studies and other research studies of infant eyes. Toth and two Duke-trained engineering colleagues, Christian Viehland, PhD and Hafeez, Dhalla, PhD, MBA, have also created a company, Theia Imaging, to develop a streamlined commercial OCT system for infant use and will seek FDA approval for clinical use.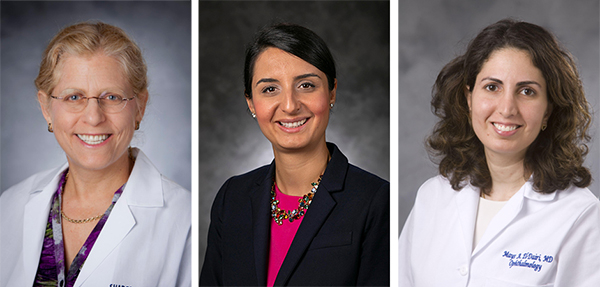 Breaking Glass Ceilings
In 2019, an imaging center inside Duke Eye Center designed just for pediatric patients and their families opened, spearheaded by Toth and colleagues, including Freedman, Vajzovic, and Mays Dairi, MD. The center offers children the same leading-edge imaging technologies that are offered to adult patients, plus child-specific imaging equipment, in a child-friendly environment. It is also the clinical home of the Duke Pediatric Retina and Optic Nerve Center, one of few centers across in the U.S. to treat pediatric patients with complex retinal and optic nerve diseases.  
Vajzovic came to Duke for the last step in her training, a vitreoretinal surgery fellowship, in 2011, when Toth was fellowship director. She credits Toth with generous mentorship and providing her such good guidance during her surgical retina fellowship that she didn't feel the need to pursue an additional pediatric retina fellowship. "She really inspired me to not only pursue retina, but to become a pediatric retina surgeon," Vajzovic said. "I was following in her footsteps, in every way."  
There are few women retina surgeons, even today, and there were even fewer a couple of decades ago when Toth was pursuing the specialty, Vajzovic said. "The retina world is a male-dominated field. Having her as such a strong role model has been so important for me." 
---
Angela Spivey is a Senior Science Writer in the School of Medicine's Office of Strategic Communications 
Main photo caption: Cynthia Toth, MD, was instrumental in developing Duke Eye Center's Pediatric Retina Clinic and is the first female vice chair of clinical research in the Department of Ophthalmology. 
Photos by HuthPhoto