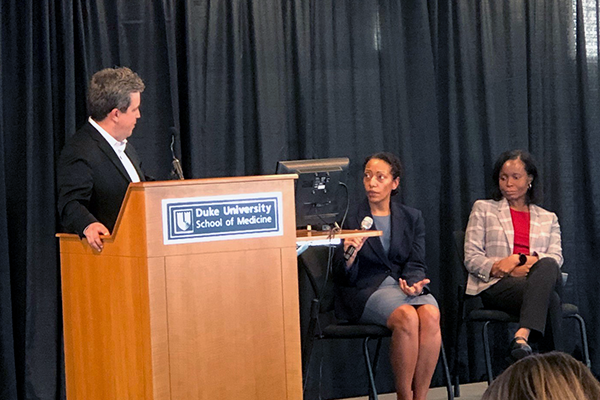 The Dean's Distinguished Research Series concluded on April 20 with lectures from Kimberly Johnson, MD, professor of medicine and a senior fellow at the Center for the Study of Aging and Human Development, and Lisa McElroy, MD, MS, assistant professor of surgery and population health sciences, and the Inaugural Onyekwere E. Akwari Endowed Professor in Surgery. 
The two researchers discussed their work to understand health disparities and develop health system innovations to reduce them. Johnson studies these issues in end-of-life care, and McElroy in organ transplant.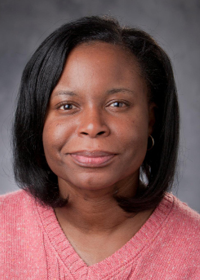 Johnson highlighted how engaging the community shaped the design of her six-year study that is testing two different interventions aimed at reducing disparities in the quality of palliative care for older African Americans, through improving advanced care planning.  
Previous research has shown that compared to their white counterparts, African Americans are less likely to relieve high-quality care for serious illness, less likely to access hospice and palliative care, and report less communication on this topic from providers. In addition, compared to white patients, African Americans with serious illnesses such as cancer are less likely to receive care that is consistent with their stated preferences, Johnson said. 
Before launching her study to understand this gap and how to close it, Johnson used a resource made available through the Duke Clinical and Translational Science Award that helps investigators conduct community consultation studios. For Johnson's study, the studio gathered a small group of African American stakeholders to help inform study design. "Despite lower rates of use, we learned that there were generally positive attitudes toward the value of advanced care planning," Johnson said.  
But the stakeholders indicated they wanted advanced care planning information to be available in the community, not just in the clinical setting, that spirituality is often an important factor in their decisions, and that informal planning such as conversations with loved ones or health care providers may be preferred to formal measures such as filling out a document.  
These insights directly influenced the design of the study, which is wrapping up data collection. For instance, the study includes informal planning, such as conversations with loved ones, as one of its measurable outcomes.  
One theme that stood out was the preference to "leave these decisions in God's hands," Johnson said. Some people feel that discussing your wishes may seem like you have no faith and are giving up. These conversations led to a subproject in which the study team partnered with faith leaders at 17 churches that have a long-standing partnership with Duke Health.  
The team conducted focus groups and surveys to understand cultural and spiritual beliefs and preferences around advanced care planning and to design a curriculum to be used at churches to talk about advanced care planning in the context of faith. Johnson said she was surprised how welcoming pastors were to the idea of talking about end-of-life care. They were able to share scripture passages that were relevant, such as scripture regarding how Jesus prepared for his death.  
"Community engagement is an important tool in my box to do research well, and there are resources here at Duke," Johnson said. 
Making Organ Transplant Selection More Equitable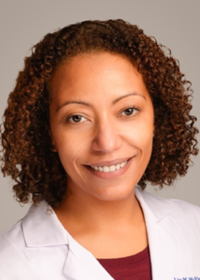 McElroy discussed the long-standing inequities in the process through which patients get selected for the organ transplant waiting list after referral to a transplant center. During this final step, a selection committee discusses the risk profile of each patient, how the center could intervene to reduce risk, and the likelihood of patient survival and a successful transplant. 
Collection and organization of data about social determinants of health varies widely, and in many cases this data isn't easy to access and analyze when making transplant decisions, McElroy said. "This makes it hard for our transplant centers to find out who we're leaving behind and to compare data with other centers," she said.  
Because of lack of accessible data about social determinants of health, selection committees often rely on an "institutional memory" that patients who have more social risks don't do well, she said. A patient who has many medical challenges but has stable income and social support may get chosen over a patient who is medically stable but has social risks such as low income or lack of transportation.
"With someone who is medically frail we have decades of science to help, but for a patient who is unstable from social risks and poverty, we have almost no tools to modify the outcome," she said. Most centers also don't have an objective way to measure the risk that comes with lack of social support.  
"We may feel like we have no resources to offer the patient who is socially complex. At a system level this challenge has resulted in enormous inequities in access for decades," McElroy said. 
In studies at Duke, she and colleagues have found that 52% of patients referred for transplant are eliminated before evaluation, and there are disparities in listing patients from marginalized groups and communities.  
"The challenges identified at Duke aren't specific to Duke, but we didn't want to wait for national validation of these findings," she said.  The Department of Surgery has begun a pilot intervention that involves using natural language processing to pull out social determinants of health data from the electronic health record, to create a centralized data architecture and provide a system for testing solutions.  
Clinical informatics specialists play an important role in this project, which will review all patients who are turned away to look for patterns and work toward establishing selection process best practices.  
"We're very fortunate to have leaders of our transplant center who were receptive to making changes in response to this data," McElroy said. 
Once transplant centers address the data challenge and can measure change, they can hold themselves accountable, McElroy said. "But after that we have to make a decision as a field to value equity as much as we do utility."  
Over the past two months, the research series has showcased groundbreaking research from the basic, clinical, and translational sciences. Hundreds across the School of Medicine community have attended in person or watched via livestream. 
Formerly Research Week, 2023's reimagined series provided the opportunity to hear from a guest lecturer, eight Duke faculty, as well as 24 trainees who presented posters.