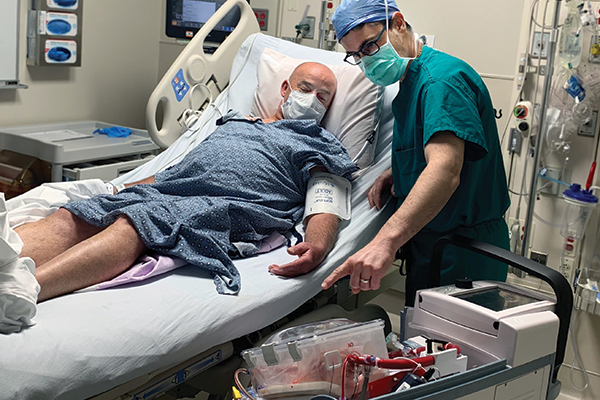 Excellence and Innovation Drive Duke's Organ Transplant Program
Nicole Wills knew she was in trouble.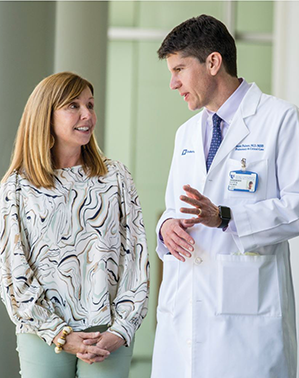 For the previous two years, Wills had been under evaluation and treatment for pulmonary fibrosis as an outpatient at Duke University Hospital, making the trip to Durham every three months from her home in Cramerton, a small town near Charlotte. She had recently undergone a lobectomy, but she was otherwise young and fit, exercising regularly and raising an active 10-year-old son.
But one night in June 2016 she awoke with a high fever and an alarmingly low oxygen level.
Her husband hurried her to the local emergency room, where she was hustled into intensive care. The doctor there offered a grim prognosis.
"He said, 'Either you get a lung transplant or you're not going to leave this hospital,'" Wills recalled.
She was airlifted from Charlotte to Duke. On June 23, 2016 — two years to the day after her father died of lung cancer associated with pulmonary fibrosis — she was placed on the transplant list.
"And four days later," Wills said, "I had new lungs."
She came to the right place. By any reckoning, Duke is one of the top organ transplant centers in the world, a leader in patient care and outcomes, innovative research, and training.
A Sense of Purpose
In the summer of 2022, Duke performed its 10,000th organ transplant, putting it among an elite group of institutions nationally. Duke ranks among the top five transplant centers by volume, with some of the shortest average wait times and best survival rates in the U.S. Duke teams perform more multi-organ transplants than any other center in the Southeast and take on complicated cases that other centers turn down.
Innovations in transplant surgery, immunology, and related fields at Duke have produced numerous "firsts" and other breakthroughs, and Duke researchers continue to push the frontiers of the possible.
Duke is also at the forefront nationally in tackling the vexing challenges that lie beyond the operating room and clinic: issues of equity, disparities, and social factors that play an outsized role in transplant access and outcomes.
"Transplant is among the features that differentiate Duke," said Scott Palmer, MD'93, HS'93-'96, HS'99, the Donald F. Fortin, M.D., Distinguished Professor of Medicine and clinical research director for the Duke Transplant Center. "One thing that sets us apart is the outstanding quality of care across all the organs and all the subspeciality areas. Good kidney transplant programs are fairly common. Livers, probably less so. A few big programs do heart, and top lung transplant programs are incredibly rare. We are extremely good at all of them. Very few places can say that.
"And in terms of research, I think Duke is unique. We have historically been one of the most outstanding transplant research programs, and that certainly continues today. Between the quality of clinical care and research impact across all the organs, transplant is one of Duke's signature areas."
-Scott Palmer, MD'93, HS'93-'96, HS'99
The impact of Duke's transplant program is due in large measure to its being part of an academic health system, said Allan Kirk, MD'87, PhD'92, HS'87-'95, the David C. Sabiston Jr. Distinguished Professor of Surgery and chair of the Department of Surgery.
"There is great science and great clinical activity going on here, but we are also working to figure out how to take this precious resource and allocate it in a way that has humanity at its core," Kirk said. "That can only happen at a university that has the broad sense of purpose that Duke does. We're more than a hospital. We are physically attached to a university that thinks about the broader human implications of scientific achievement."
Past, Present, and Future
In the beginning, there was Bernard Amos.
Amos, a British-born immunologist who was recruited to Duke in 1962 as professor and chief of the Division of Immunology, built Duke into one of the world's first great clinical and research transplant institutions. His fundamental discoveries about the mechanics of the immune system helped pave the way for modern organ transplantation, and he established a culture of collaboration, organizing the first International Histocompatibility Workshop at Duke in 1964 and co-founding the Southeastern Regional Organ Procurement Program, the nation's first organ-sharing organization.
"The history of transplant at Duke is in many ways the history of transplant everywhere in the world," Kirk said. "Some of the fundamental advances that had to happen to make modern transplantation possible were done right here."
In the decades since, Duke has attracted many of the world's leading transplant scientists and clinicians. They have built on those foundations and pioneered and propelled numerous breakthrough advances.
The foremost medical challenge remains overcoming immune system rejection of new organs. Kirk, Palmer, and many other researchers at Duke are addressing this fundamental issue on numerous fronts: by developing more targeted immunosuppressant medications; genetically engineering more tolerant grafts; transplanting a portion of the donor's immune system along with the donated organ; even genetically improving damaged or defective organs and returning them to the patient, avoiding the need for transplant at all.
Meeting a Growing Need
Concurrently, Duke researchers are working to increase the supply of high-quality organs and make transplants available to more people. Clinical trials at Duke recently led to the approval of machine perfusion devices that circulate warm blood through donated organs during transport, providing an invaluable alternative to traditional cold transport.
"Perfusion devices give us better organ preservation, more control, and a longer window," said Stuart Knechtle, MD, HS'82-'89, William R. Kenan, Jr. Distinguished Professor of Surgery and director of the Duke Transplant Center. "It has made a huge impact and is a tremendous step forward."
Knechtle also is helping drive efforts to overhaul the national organ procurement system, which he says is antiquated and inefficient.

"There is a huge disparity between the need for transplants and the supply of organs. We're still using an old system and, to put it mildly, it does not work very well."
-Stuart Knechtle, MD, HS'82-'89
 
Knechtle and Eric Perakslis, PhD, professor in population health sciences and the School of Medicine's chief research technology strategist, have published a proposal for a system that would use information technology to create a seamless, faster, and more efficient way to match and distribute organs.
"We have a concept for how to redesign the information platform that would serve patients and the transplant community far better and take advantage of technological advances that have occurred in recent years," Knechtle said. "These technological advances enable a seamless way to match and distribute organs, much like when ordering an Uber."
It Takes a Village
A great transplant program needs great surgeons, but it also requires great specialists in the vast number of other disciplines that care for the patient before, during, and after the surgery.
"I think transplant invented multidisciplinary care," Kirk said. "From the beginning, it was obvious that it can't be done just by surgeons or immunologists or anyone else in isolation. It can't be done without knowledgeable people in a whole range of fields. That's one of the best things about it."
One of the strengths of Duke's program is the quality of its programs and personnel across all those subspecialties: immunologists, pathologists, nephrologists, cardiologists, pulmonologists, hepatologists, anesthesiologists, infectious disease specialists, pharmacologists, nurses, rehabilitation specialists, physician assistants, physical therapists, occupational therapists, pharmacists, social workers, and many others.
"There's something in the water at Duke," said Sarah Casalinova, assistant research
practice manager in the Division of Cardiothoracic Clinical Trials and the transplant device manager. "We come from a lot of different backgrounds, but we all have the same goal. Everybody is skilled and dedicated and ready when needed. There is no quit in any of us."
Jeana Schneider, MHS'10, is the team lead for the lung transplant advanced practice provider group, which helps transplant patients prepare before their surgery and cares for them afterward.
"Every person on our multidisciplinary team, from the advanced practice provider group to the providers, the nurses, the therapists, all the way down the line — everyone here puts their whole self into this work," Schneider said. "We are all here to take care of the whole patient. And it is a privilege to do that. I can't tell you how wonderful it is help someone breathe again."
Addressing Disparities
Race, ethnicity, geography, economic status, and other social determinants of health play an enormous role in transplant access and outcomes. Lisa McElroy, the Onyekwere E. Akwari, MD, Endowed Professor of Surgery, is at the leading edge of efforts to understand the roots of transplant disparities and to improve access for people from all backgrounds.
"We are looking at equity in access to care," McElroy said. "We need to establish improved ways to ethically determine who is eligible for transplantation and expand our notion of what it means when we say someone is going to do well."
A given patient may recover from surgery well, but if they don't have a car to get to their follow-up appointments, or if they can't afford their medications, their outcome will suffer. McElroy and others are working to improve the incorporation of social determinants of health into transplant evaluations.
"There is not a lot of science on this right now, we want to approach this information the same way we evaluate blood type or any other biological data. What we know about each patient's social circumstances will help us make more informed decisions and deliver the best care to the most people ethically and efficiently."
-Lisa McElroy, MD, MS
Like a Miracle
Amid the intensity of research, clinical care, and policy debates, it can be easy to overlook the fact that transplantation teams regularly perform something almost like magic.
"It's easy to love transplantation," Kirk said. "When transplant came into the world, it seemed like a miracle — and it still does. To take a heart that has stopped beating out of one person, and to re-animate that heart and put in another person and watch them walk out of the hospital — that will never stop being remarkable."
Nicole Wills can attest to the miracle of transplant. Seven years after receiving her double lung transplant at Duke, she is, she said, "living her life." She had a few scares in the first year, but she's only been hospitalized once post-transplant. She is mindful of her
energy reserves and takes precautions against infection, especially during the COVID-19 pandemic.
But she hikes, works out at the gym, and has run 10-kilometer races. She has walked countless 18-hole rounds of golf cheering on her son, who will join Clemson University next year as a freshman and member of the golf team.
"I have no words to express my gratitude," Wills said. "From the donor and the donor family through everybody at Duke, they've been there every step of the way. There has never been a moment when I didn't feel like I was receiving the best care possible. I trust my Duke care team absolutely. I literally put my life in their hands."
History of Transplants at Duke
1962

Bernard Amos, a pioneering immunologist, is recruited to Duke. His groundbreaking research on the human histocompatibility system helped pave the way for modern transplantation.

1964

The first International Histocompatibility Workshop is held at Duke.

1965

Duke surgeons perform the world's first kidney transplant between a recipient and a living related donor on the basis of organ matching.

1969

Bernard Amos and David Hume organize the Southeastern Organ Procurement Foundation, the nation's first organ-sharing program. 

1984

Duke establishes the Adult Bone Marrow Transplant Program.

1992

The Duke Comprehensive Center Center develops the nation's first outpatient bone-marrow transplantation program.
Duke performs its first lung transplant. The lung transplant program will grow to become one of the highest-volume and best-performing programs in the U.S.
Duke performs its first combined heart/lung transplant.

2014

The Duke Heart Transplant program performs its 1,000th heart transplant.

2016

Duke surgeons perform the first hand transplant in North Carolina, attaching a limb to a patient whose hand was severed in a childhood accident.

2018

Duke performs the state's first liver transplant from an HIV-positive donor to an HIV-positive recipient.

2019

Duke performs the first Donation After Circulatory Death (DCD) heart transplant in an adult recipient in the U.S. 

2020

Duke surgeons performs the nation's first pediatric DCD heart transplant in a 14-year-old patient.

2021
A Duke team led by pediatric heart surgeon Joseph William Turek, MD, PhD, MBA'20, HS'02-'10, performs the world's  first combined heart/thymus transplant, in a 6-month old baby born without a functioning immune system. The thymus stimulates immune response, and implanting thymus tissue with the heart helps the immune system recognize and tolerate the new organ.
2022

A Duke team performs the world's first partial heart transplant, fusing living arteries and valves from a donor heart onto the newborn patient's existing heart. The procedure should enable the valves to grow along with the patient, eliminating the need for multiple followup surgeries.
---
More about Duke's Organ Transplant Program
and alumni making a difference in this field:
'Heart-in-a-Box' Device Revolutionizes Organ Transport
Alumni Making a Difference: David Axelrod, MD'96, MBA'96
Alumni Making a Difference: Roslyn "Roz" Bernstein Mannon, MD'85, HS'85-'90 
---
Story originally published in DukeMed Alumni News, Spring 2023.
Read more from DukeMed Alumni News