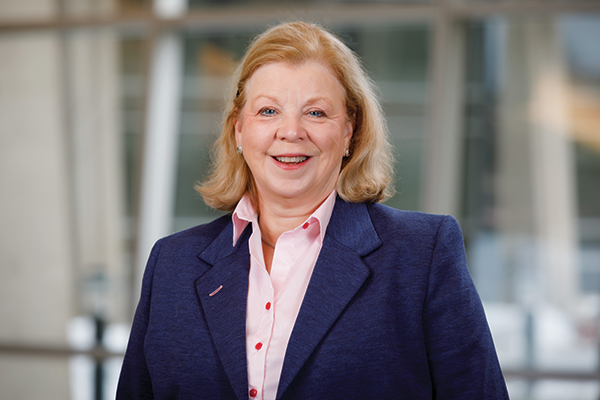 Roslyn "Roz" Bernstein Mannon, MD'85, HS'85-'90
Professor of Medicine, Professor of Pathology and Microbiology, University of Nebraska Medical Center
Vice-chair for Research, Department of Medicine
Associate Chief of Nephrology for Research
You got your medical degree at Duke and completed an internship, fellowship, and residency — including chief resident — here before joining the faculty. How did Duke influence your career?
During the first month of medical school, we had a Clinical Pathology Conference where transplant surgeon Ralph Randal Bollinger, MD, HS'74-'80, PhD'77, MBA, brought in a patient who had end-stage kidney disease. He told us how he had been on dialysis and couldn't work or care for his family, and then he pulled up his shirt to show us the scar over his abdomen and also pointed to his AV fistula on his arm, and said, "I had a transplant, and now look at me: I'm back at work, doing great, and able to take care of my family." That stuck with me. When we had to choose a surgery rotation, I said, "I want to see kidney transplants." And, although I didn't wind up being a surgeon, Dr. Bollinger and that patient with his fistula really set me on my way for my whole career.
I went from Duke to NIH, where I was the medical director of transplantation, and then to the University of Alabama at Birmingham before coming to Nebraska, and everywhere I've been my Duke training and experience really came into play. I had incredible experiences and great teachers, and they made me the doctor that I am today.
You are past chair of Women in Transplantation, an international initiative of the Transplantation Society. What are the sex and gender issues in transplant?
Of course, being sure we have more women as practitioners in transplant, including surgeons and physicians. That's clear. But we have overlooked for decades the impact that sex has on transplant immunology, transplant access, and transplant outcomes. This is particularly true in low- and middle-income countries. I'm most proud of starting a research grant program to develop clinical and basic scientists internationally who are focusing on how sex and gender affect those issues.
Importantly, we just developed a third pillar that focuses on advocacy for women worldwide. For example, although most transplant recipients are men, most organ donors are women. Is that due to altruism, or are women being exploited? The answer varies widely depending on where you look in the world. We work to drive change where it's needed. Trying to change policy in the U.S. is hard, but it can be an even bigger challenge in countries that are unstable or economically disadvantaged. Trying to find enough voices and inspire people is part of what Women in Transplant does.
What are the biggest challenges in your field?
We must address the organ supply. I think we can actually eliminate a lot of the structural barriers, but we must solve this organ crisis so we can transplant more people and do it faster. The longer you're on dialysis, the worse your outcome gets. So getting people transplanted quicker is a huge challenge.
We need new therapeutics that address specific immunological processes after transplant, like antibody mediated rejection. And then there is xenotransplantation, which has its own regulatory hurdles, but to be successful, we need more FDA-approved therapeutics. Having appropriate therapeutics to address the immunological challenges is going to be critical.
Finally, when you have advanced kidney disease, you come with a lot of "medical baggage." Transplant can get rid of the kidney failure, but you're married to these other diseases. And then you add the burden of immunosuppression. So, we really need to develop ways to mitigate the immunosuppressive burden and give people a better chance for a normal life and long-term survival.

What do you like best about your job?
A big part of what I do now as vice chair of research at Nebraska is finding resources and encouraging faculty and fellows to engage in research. I like being a mentor and seeing the next generation of physician scientists come up.
I've always tried to share the lessons I learned when I was in their shoes. My first sub intern at Duke was in cardiology, and my first attending was Robert Califf , BS'73, MD'78, HS'78, HS'80-'83. Dr. Califf was data driven, and on rounds he would stop and say, "Why did you do that?" And if your answer was "Because the intern told me" or "Because it's on the order sheet," well, that was not the correct answer. He turned to me and said, "You need to know this. You need to understand that data and put it into practice." I've always remembered that moment and reinforce it whenever I'm seeing my patients or rounding with trainees.
---
More about Duke's Organ Transplant Program
and alumni making a difference in this field:
Duke's Organ Transplant Program: Out With the Old, In With the New
'Heart-in-a-Box' Device Revolutionizes Organ Transport
Alumni Making a Difference: David Axelrod, MD'96, MBA'96
---
Story originally published in DukeMed Alumni News, Summer 2023.
Read more from DukeMed Alumni News