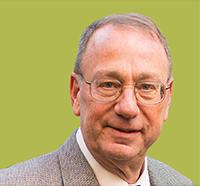 William Stead, AB'70, MD'74, HS'73-'77 is a 2019 recipient of Duke Medical Alumni Association's Distinguished Alumnus Award. He is a pioneer in the application of communication and information technology to improve the practice of medicine. He is considered a founder of the field of biomedical informatics and a contemporary thought leader.
In the 1970s, first as a medical student and then while a nephrology fellow and member of the faculty at Duke, Stead worked with Ed Hammond, PhD, director of Duke Center for Health Informatics, and others to build The Medical Record, one of the first practical electronic medical record systems. He also contributed to the development of one of the first patient-centered hospital information systems.
Stead has devoted over three decades to improving the adoption of information systems in medicine. He began his work in informatics when there was no formal training in the field. He has helped shape the learning requirements and competencies needed in graduate informatics programs.
Stead joined Vanderbilt University in 1991, where for two decades he guided development of the Department of Biomedical Informatics, one of the top informatics departments in the country. Under his leadership, the department was strategically associated with operational units providing information infrastructure to support health care, education, and research.
A member of the National Academy of Medicine and chair of the National Committee on Vital and Health Statistics, he served as the chair of the National Library of Medicine's Board of Regents and was honored by the American College of Medical Informatics with its lifetime achievement award, the Morris Collen Medal, in 2007. He was a leader in the merger of three organizations to create the American Medical Informatics Association. In 2013, the association created the William W. Stead Award for Thought Leadership in Informatics, and honored Stead as the inaugural recipient.
Education: Duke University; Duke University School of Medicine
Training: Duke Medical Center
Current title: Chief strategy officer, Vanderbilt University Medical Center; McKesson Foundation Professor of Biomedical Informatics; professor of medicine