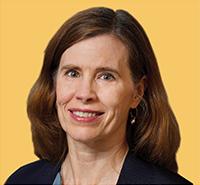 Caroline Philpott, AB'83, MD'87 is a 2019 recipient of Duke Medical Alumni Association's Distinguished Alumna Award. She is one of the most respected international leaders in the biochemistry and cell biology of iron metabolism. She has made groundbreaking discoveries in iron metabolism that deciphered the human intracellular iron trafficking mechanism. Her findings lay the foundations of cellular iron regulation that are now taught in every undergraduate textbook in modern cell biology and biochemistry and will likely have significant implications for the treatment of iron disorders in humans.
Philpott's innovative research using yeast as a host cell has identified iron transportation systems that coexist in mammalian cells. In her work over the last decade, Philpott solved one of the most vexing mysteries in the cell biology of iron by identifying the "chaperone" proteins that escort iron through the cell without damaging nearby molecules. In a brilliant series of papers, Philpott used the yeast system to identify the mammalian proteins that carry out this function and showed how the proteins deliver iron to storage sites and several specific recipient proteins. This remarkable research opens new areas of investigation and has relevance to the diagnosis and treatment of common disorders such as anemias, iron overload syndromes, and liver disorders.
Philpott is a scientific leader at the National Institutes of Health and a dedicated and talented investigator who utilizes every approach necessary to solve the problem at hand, from yeast genetics to mouse models. She is an influential mentor and serves as a regular journal editor, reviewer, and popular lecturer at national and international scientific symposiums on iron and metal biochemistry, such as the Gordon Research Conferences, the International BioIron Society Congress, and the American Society of Hematology national meetings. She is a fellow of the American Association for the Advancement of Science, a member of the American Society for Clinical Investigation, and the recipient of numerous honors.
Education: Duke University; Duke University School of Medicine
Training: The Johns Hopkins Hospital; The National Institute of Child Health and Human Development
Current title: Chief, Genetics and Metabolism Section, Liver Diseases Branch, National Institutes of Diabetes and Digestive and Kidney Diseases at the National Institutes of Health