Image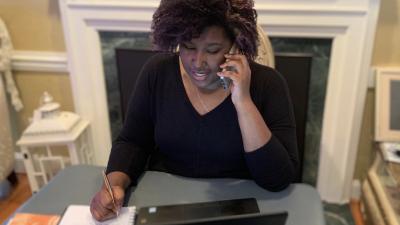 Providing a Listening Ear-- and Sometimes More
Marquise Eloi, L.C.S.W.A, sat in her sun-filled family room at a folding table she'd repurposed into a desk as part of her transition to working remotely during the COVID-19 pandemic. When her cell phone rang, she turned off the music and switched her focus from her laptop to a notebook she keeps close by to jot down notes while talking to people. She answered the call and listened intently as a Duke Health staff member shared concerns about being exposed to COVID-19.
Eloi, a clinical social worker, considers herself a first point of contact for the COVID-19 Emotional Support & Well-Being Line, which was established by the Department of Psychiatry & Behavioral Sciences in March just days into Duke Health's COVID-19 response. The free, confidential support service is staffed by a team of social workers, predoctoral clinical psychology interns, residents and faculty members from 8 a.m. to 9 p.m. on weekdays and 8 a.m. to 6 p.m. on weekends.
Eloi talks to callers and responds to their concerns. Sometimes that means connecting them with a trained psychology intern or psychiatry resident for a supportive conversation and resources. Other times, Eloi schedules a therapy appointment with a clinician in the department. Or she may refer the caller to another service offered by Duke, such as Duke Personal Assistance Service (PAS), Employee Occupational Health and Wellness or Zoom-based support groups for residents. And sometimes, she provides a listening ear.
"Some people feel like they have no one they can talk to," she says. "But if they call the line, someone will answer. I think that in itself can be comforting."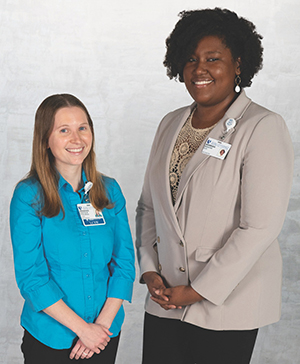 A Range of Concerns
The people who call the support line and the reasons they reach out are as diverse as the Duke community itself. "It's really a mix," says Kristen Stefureac, L.C.S.W., a clinical social worker who helped establish the line with Nicole Heilbron, Ph.D., vice chair for clinical services in the psychiatry & behavioral sciences department.
A high proportion of callers are health care providers, but many other university employees—and their family members—have taken advantage of the service.
Some callers' worries are directly related to COVID-19: they're afraid they or family members will get sick, they're mourning the loss of a loved one from the virus or they're anxious about what the future of the pandemic holds for their families, their community and their lives.
Some are struggling with logistical issues such as balancing work and life as they adjust to working from home, helping their children navigate new educational expectations or making childcare arrangements.
Others are looking for help coping with relationship stress, social isolation, financial insecurity or general symptoms of anxiety and depression.
"Some of the stressors people are calling about are every day stressors that are just harder to handle because of COVID-19," reflects Leigh Spivey, M.S., one of the predoctoral clinical psychology interns who staffs the support line. "They're things that may not normally stress us out, but our coping resources are just depleted, and the chronic stress of COVID-19 makes it harder to manage." 
A Place to Process Emotions
Spivey notes that everyone is under a higher level of stress right now because of COVID-19, and as a result, many people need to talk about their feelings and the ways their lives have been disrupted.
"For a lot of us, our stress is going beyond what we can normally tolerate, but not quite at a level where we choose to seek formal psychotherapy services," she explains. "I think that's where this line fits in really nicely—we can provide in-the-moment support for folks who just need someone to talk to who can understand."
Spivey was among the trainees who conducted an extensive review of case studies and research studies in March to identify best practices for psychological supports for health care providers during pandemics. Because many journals had already started publishing COVID-19-related research, Spivey and her peers were also able to learn from how other countries responded to the pandemic before the surge hit the U.S.
They also referred to American Medical Association and World Health Organization guidelines and recommendations for mental health considerations during COVID-19, which called for institutions to increase measures that protect provider well-being, provide support and monitor stress.
Through their research, they found that receiving support during a time of community crisis—such as a pandemic or other wide-ranging traumatic event—has a profound impact on people's health and well-being in both the short and long term. For health care providers, support such as a hotline or support group can help buffer against common negative outcomes such as loneliness, burnout, isolation and grief.
"The importance of having dedicated spaces where people can process their emotions really can't be overstated," Spivey says.
This finding, consistent across a number of studies, was a key factor in Heilbron's decision to establish the support line.
In addition to providing non-clinical psychological support through the line, Spivey and other trainees share well-being and logistical resources on topics including mindfulness, childcare, working remotely, and much more. They draw from a library of resources curated by a team of Duke psychology and psychiatry trainees in the first few weeks after the COVID-19 pandemic hit the U.S.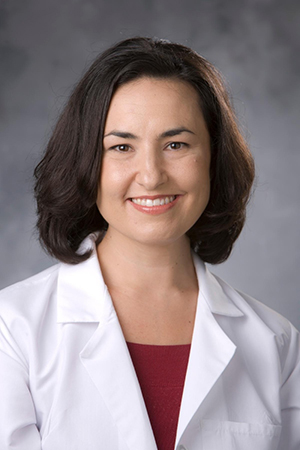 Working Together to Provide Much-Needed Support
Along with a team of faculty, staff and trainees, Heilbron spearheaded the initiative to help support members of the Duke community and their families through what she knew would be an extraordinarily stressful time. Her vision was to establish an easily accessible way for people to receive support outside of standard business hours, be connected with resources or schedule an appointment with a therapist.
The support line is part of a coordinated institution-wide effort to promote emotional health and well-being within the Duke community during the pandemic. Faculty and staff from PAS, the Center for Healthcare Safety and Quality, Employee Occupational Health and Wellness, Chaplain Services, Integrative Medicine, Case Management, the School of Medicine's Graduate Medical Education Office, Duke Health Human Resources and several other groups have contributed to this multi-faceted wellness initiative.
Heilbron worked closely with Nichole Capitanio, M.S., director of PAS, to conceptualize a service that would complement PAS offerings, which include assessment, short-term counseling and referrals.
The service's availability during non-business hours and the promise of immediate support are two features that distinguish this resource. "PAS is focused on scheduled sessions, and sometimes in a crisis like this, your need doesn't come at 2 o'clock on Tuesday," Capitanio notes. "The beauty of the support line is that callers will get a trained listener at a time when they need to talk."
The Team Behind the Support Line
Once plans were in place, it didn't take long for Heilbron to pull together a team of trained staff, trainees and faculty who were eager and well-prepared to implement and staff the support line.
Stefureac, a clinical social worker who helps direct the department's outpatient services, worked with Heilbron to set up the line and resolve initial technical challenges. After the line was established, she transitioned to answering calls during the evening—sometimes with her 10-month-old son in tow—and brainstorming with Eloi and others to refine the service.
Early on, as Heilbron and Stefureac thought about staffing for the line, Eloi was an obvious choice. In graduate school at the University of Southern California, she staffed a crisis line, and at Duke, she works on the North Carolina Psychiatry Access Line, a telephone consultation program that helps pediatric health care providers address the mental health needs of children and adolescents. She also sees patients for intakes and therapy, provides triage for children's clinical services and indulges her passion for wellness by co-leading her division's wellness committee.
"Marquise has a lot of experience with answering a call and not knowing who's on the other line and what they might be facing," Stefureac says. "And because she's just so warm and friendly and supportive, she's a perfect fit for this role."
Over time, Heilbron and Stefureac involved several other team members to answer the calls.
Tapping into clinical psychology interns like Spivey to staff the line was a win-win. Spivey and her peers had nearly a year of clinical training at Duke under their belts, and they were seeking opportunities to contribute to the pandemic response and continue practicing their skills after COVID-19 derailed their training activities.
"I feel really grateful to be a part of this," Spivey reflects. "Since I wasn't able to keep doing clinical work with the populations I'd been working with, it's meant a lot to me that I've found an avenue to continue that work that I was doing a slightly different way."
New Relationships, Opportunities and Insights
Although it's been a difficult few months, being a part of Duke's COVID-19 response has been heartening and rewarding for those who have played a role in the support line. It's also led to new relationships, opportunities and insights.
Nancy Zucker, Ph.D., an associate professor who supervises the clinical psychology interns on the support line, notes that the different ways the department is contributing to the response have given interns and psychiatry residents a rare opportunity to work together.
Stefureac also appreciates the chance to build new relationships with colleagues. "For me, a silver lining of COVID-19 is working with people I didn't work as closely with before, and just recognizing that everyone is so eager to help each other," she says. "It's been neat to see the residents and other trainees really band together to support people."
For Spivey, lending her expertise to the initiative is personal. "I went to Duke undergrad, and I'm back here again," she says. "I'm just so committed to the Duke community and finding ways to support folks across the system. Being able to give back has made my ability to tolerate uncertainty and grief associated with this experience much more manageable."
And Heilbron has been struck by the way the Duke community—full of "really committed, compassionate and smart people"—has worked together to support each other during the pandemic. "There are so many amazing people doing amazing things, and when all of those amazing things start to be connected, it can be very powerful," she says, "That's not something I just learned, but I've certainly been reminded of it throughout this pandemic."
Eloi says she thinks a lot of about how many people aren't calling the line. She knows it can be hard for people to acknowledge they're struggling with something, but she wants members of the Duke community to know that whatever they're going through, it's okay to reach out. "Even if it's just a thought in your mind, just do it," she says. "We're here to help." 
Members of the Duke community can access the COVID-19 Emotional Support & Well-Being Line by calling 919-681-1631. It's available Monday through Friday 8am-5pm except on university holidays.
To access other well-being resources, visit the Duke Health website.
Susan Gallagher is the Director of Communications for the Department of Psychiatry and Behavioral Sciences in the Duke University School of Medicine.
NOTE: As of August 1, 2021, the Emotional Support and Well-Being Line has been discontinued