Image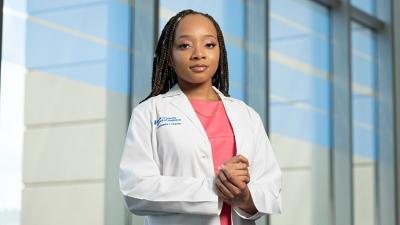 'A Leader Already': Second-Year Medical Student Participates in White House Innovators Series
When Antoinette Jasmine Charles was a child growing up in West Palm Beach, Florida, her mother, a home health nurse, sometimes took her along when she made home visits to her patients. The young girl watched as her mother not only provided standard nursing care but also made sure her patients had enough to eat, confirmed that they could afford and acquire their medications, and advocated on their behalf with other health care and service providers. On holidays, Antoinette pitched in as her family hosted food and sanitary product giveaways for people experiencing poverty and homelessness in downtown Miami.  
"My mother always went above and beyond for her patients and her community," said Charles, now a second-year medical student at Duke University School of Medicine. "She inspired me to do the same."
Did she ever. Among other things, Charles has led trips to Honduras and Nicaragua to support community physicians and deliver necessities for their patients; led an organization that prepared meals and distributed blankets, sanitary products, and other needs to people experiencing homelessness in Atlanta; co-founded a collaborative to intervene in the school-to-prison pipeline and reduce recidivism among formerly incarcerated youth in the Washington, D.C., area; launched a donation drive that provided than 800 books for prison inmates; conducted research through a National Institute of Mental Health fellowship on strategies to increase diversity among clinical trial participants; and created a podcast series, "Let's Talk Reform," dedicated to issues of justice and health reform.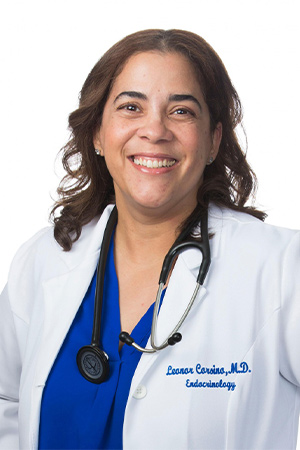 And all that was before she even got to Duke. Since she got here in 2020, she hasn't slowed down a bit.  
"Antoinette is a leader already," said Leonor Corsino, MD, MHS, associate professor of medicine and Charles's faculty advisor. "She is responsible, resourceful, and very hard-working. She is very committed to what she is trying to achieve, and I admire that. Moving forward, if she continues as she has thus far, I see her achieving a lot of great things and being a great role model and advocate for other Black students in medicine."   
Determined to Learn
Charles was among a group of medical students and clinicians from across the nation recently invited by the White House Office of Public Engagement to participate in a series of discussions called the "White House Health Equity Leaders Roundtable Series: Innovation/Technology."  
The participants engage in discussions related to the intersection of health care and policy, facilitating an open dialogue between leaders in medicine and representatives of the Biden administration. The White House sessions are held monthly throughout the year and cover four topic areas: social determinants of health, access to care, organized medicine, and tech and innovation.  
"This is a very rare opportunity that I am extremely grateful for," Charles said. "It is a blessing to serve my family, Duke School of Medicine, and the United States to this capacity. I'm excited to take my learned experiences through personal challenges, leadership opportunities, and clinical experiences to contribute to discussions on health policy and civic engagement that directly impact providers and patients."
Her already long history of activism and service gives her a deep well of experience in several of the subject areas the White House series addresses.
"I see myself as a community organizer," she said. "I've done projects related to access to care and the social determinants of health, and those are areas of great interest to me. It's a chance to learn how policymakers think, and to figure out how to take the issues I see in a clinical context and learn how to advocate for them with the people who actually set policies. I'm determined to learn and absorb as much information as I can."
Built to Make Leaders
Charles, who was interested in science even as a child, moved from Florida to Atlanta to attend Georgia State University, where she became active in community service and global health projects.  
She visited Duke when she was 17 as a participant in the Summer Medical and Dental Education Program, an immersive experience in academic health care for undergraduates. That summer she met a succession of influential mentors, including Maureen Cullins, director of the Duke University Multicultural Resource Center, and the late Brenda Armstrong, MD, longtime associate dean for admissions. "Those are two amazing figures who really shaped my ideal of medicine and the fact that I could be a doctor," Charles said.  
By the time she completed the summer program, she knew she wanted to pursue a career in medicine, and she knew Duke was where she wanted to do it.  
"I came to Duke because I knew Duke was very strong in mentoring their students and providing them with an outlet to be successful," Charles said. "If you're starting out as a first-year student who doesn't know exactly what you want to do, Duke will help you get there. If you come here knowing exactly what you want to do, Duke will provide you with the mentorship and resources you need to become successful."
Charles is not the type to wait for others to lead the way, and she knew Duke would help her hone that natural tendency.
"Duke is built to make leaders," she said. "I knew if I came to Duke, not only would I have the support I needed to succeed in medicine, but I would be trained to be a physician leader equipped to make a difference in health equity, especially in terms of global health and marginalized communities."
'One Hundred Percent'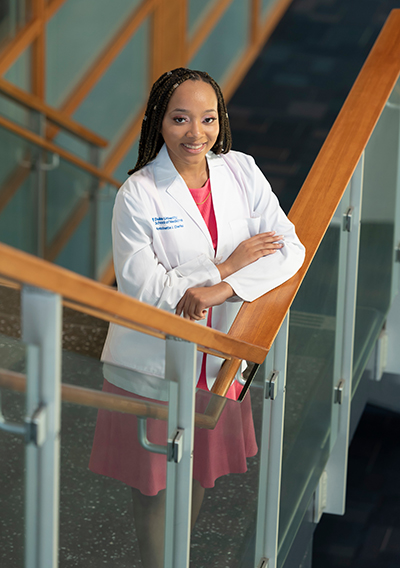 Charles's family background — both her parents came from Haiti, and she still has family there — spurred her passion for global health, and her experiences with physicians and patients in underserved parts of Central America and with homeless and incarcerated populations in the United States have fueled her commitment to serve.  
"Experiencing the enormous need for physicians who care and want to give to the community, I feel like I can fit that need," she said. "Being a physician, and being a Black woman going into medicine, I can be an advocate not only for the patients I serve directly but really for the whole community."
To that end, for her third-year scholarly activity she will combine spine research at Duke with earning a master's degree in public health, with a concentration in health policy, at the University of North Carolina at Chapel Hill.
When she began her medical studies at Duke, she leaned toward psychiatry as a specialty, but during her rotations she found herself drawn toward surgery, especially orthopedic surgery. Again, she credits influential mentors, including Rory Goodwin, MD PhD; Melissa Erickson, MD, MBA; and Anthony Fuller, MD MScGH, with helping her refine her goals and identify strategies for achieving them.
Two years into her medical studies, she said, the School of Medicine has lived up to everything she hoped it would be.
"One hundred percent," she said. "I knew if I came here, I would have the opportunities I was looking for. And I was right."  
Future Leaders
In her first year at Duke, she collaborated with partners at Harvard and the Ministry of Health in The Bahamas on the Caribbean Community Initiative, an ongoing project to develop a traumatic brain injury database in that Caribbean nation under the leadership of Myron Rolle, MD, MSc.  
During this past academic year, aided by a national fellowship, she organized a Future Leaders in Neurosurgery event, sponsored by the Duke Department of Neurosurgery and involving neurosurgery leaders not only here but from institutions including UCLA, Miami, and the Mayo Clinic. The virtual event was attended, virtually by some 200 undergraduate students from four continents.
"The purpose was to introduce undergraduate students of color to the field of neurosurgery from the perspective of neurosurgeons of color," she said. "We got people involved from across the country to showcase what it's like to be a neurosurgeon, and to showcase research projects so students could see what it's like to be involved in clinical research and global health. This is a huge passion of mine, and I'm hoping to continue that in the upcoming academic year."
Making a Difference
As Charles was beginning her second year at Duke, on August 14, 2021, a magnitude 7.2 earthquake struck Haiti. At least 2,248 people died, making it world's deadliest natural disaster of 2021, and some 650,000 people were left in need of assistance.
Charles helped organize and lead a cross-campus collaboration that secured more than 3,000 medical supplies and nearly $2,000 to help with relief efforts.  
"I still have family in Haiti, and the difficulty of getting supplies to the places in need was very frustrating," Charles said. "It taught me how important it is to put structures and systems in place to be prepared to act when people need help."
The experience reminded her of something one of the White House Fellows said: "Wars make generals."
"That stuck with me," Charles said. "Moments of crisis are when you discover who the leaders are. After the earthquake, we were able to donate 10 boxes of medical supplies from Duke, and I was grateful to be able to help."
Charles intends to keep on doing just that.  
"I think I can make an impact in global health as a future surgeon, and I'm excited to be exploring that field," she said. "I'm still working on how to incorporate global health and health policy into the surgical specialty. But I'm sure I can do it."
Dave Hart is director of editorial services for the School of Medicine's Office of Strategic Communications.
Photos by LKT Photography.