Image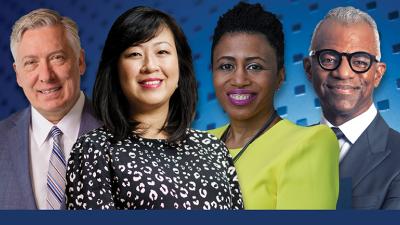 Alumni are Forging the Future of Biotech and the Business of Health Care
Look at almost any arena within the world of medicine, science, and health care across the nation and beyond, and you will find individuals serving as leaders who learned and trained at Duke University School of Medicine. For more than 90 years, the School of Medicine has been one of the nation's premier health professions training grounds not only for outstanding physicians and researchers, but for leaders and innovators.
Duke alumni are leading change and discovery as clinicians caring for patients, as researchers making the discoveries that transform knowledge and improve health, and as policymakers and innovators at the cutting edge of health care discovery, delivery, and biotechnology.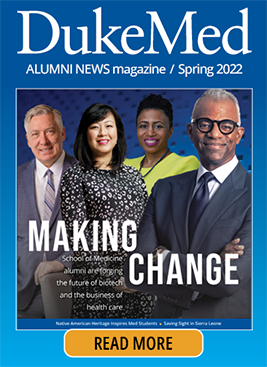 As national and international leaders, School of Medicine alumni are creating new models for increasing access and equity in health care delivery, developing cutting-edge therapies for devastating diseases, using artificial intelligence to craft solutions to vexing challenges, and leading efforts to realize the promise of biotechnology to improve health.
"Science, medicine, and health care are evolving very rapidly, and the world needs exceptional leaders with the vision and expertise to anticipate change and drive innovation," said School of Medicine Dean Mary E. Klotman, BS'76, MD'80, HS'80-'85. "I am proud to say that many of these leaders were educated and trained at Duke in the School of Medicine."
Meet four of the many Duke University School of Medicine alumni who are making a difference in health care delivery and biotechnology.
---
Michael Cuffe, MD'91, HS'91-95, MBA'09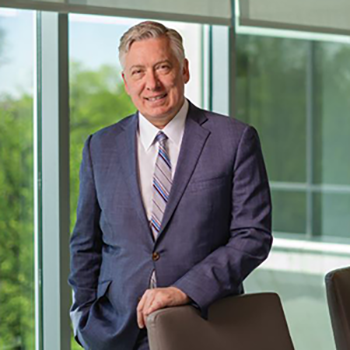 Current Position: Executive Vice President and Chief Clinical Officer at HCA Healthcare, one of the nation's leading providers of health care services. Before joining HCA, he practiced medicine and held numerous leadership positions at Duke for 24 years.
Why did you choose Duke for medical school?
I picked Duke explicitly because of the third-year research opportunity.

Why did you choose a career in health care operations?
I always wanted to be in health care operations. U.S. health care is one of the largest components of the U.S. economy. Leading in that space meant the ability to have a great impact on both health and the nation.

How did Duke support your interest in leadership?
Duke gave me the opportunity and the ladder to grow into a leader. As a medical student, I had a conversation with [then chancellor] Ralph Snyderman and told him I wanted operational responsibility at the earliest possible moment. I was a cardiology fellow when I was asked by Rob Califf [former director of the Duke Clinical Research Institute, now commissioner of the U.S. Food and Drug Administration] to serve as the director of site management at the Duke Clinical Research Institute. I completed my fellowship nights and weekends. After that, I practiced medicine at Duke and had a rapid cascade of leadership positions —vice chair of the Department of Medicine and vice president of medical affairs for the health system.

What is your goal at HCA Healthcare?


I love taking care of patients, but my role here gives me the broadest footprint I could ever imagine. HCA Healthcare provides over 5% of all U.S. hospital care. I am blessed to be able to work with our caregivers to improve medicine — health disparities, health access, the cost of health care. There's more to do.
---
Tony Coles, MD'86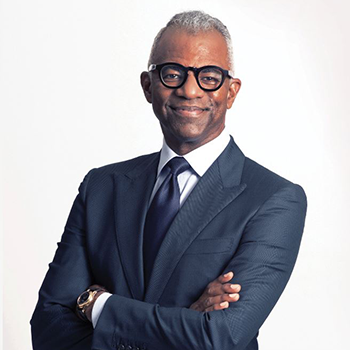 Current Position: CEO of Cerevel, a biopharmaceutical company focused on the discovery and development of new therapies for neurological diseases. He is also co-chair of the Black Economic Alliance and is working with Morehouse College and Spelman College to create a Center for Black Entrepreneurship on both campuses.
Why did you choose Duke for medical school?




I loved the curriculum approach where you had one year of basic science, one year in clinic, and the third year as a research elective. That suited my need to explore how I could best express my love of science and medicine.


 

How did your Duke experience inform your current career?




Duke helped me understand there are career choices that can complement the practice of medicine. In my third year, I chose a clinical research project that opened my eyes to epidemiology. I went on to get a master's degree in public health. What I found attractive about it was the large-scale change you could effect by focusing on population-based health care.


 

How did you enter the pharmaceutical industry?




I was interested in epidemiology and clinical research and I was thinking about careers where I could have that kind of scale impact when Merck called with an opportunity to participate in a two-year rotational program for physicians. Once I got to Merck and I better understood business, I knew instinctively I was destined to play a role in the delivery of new therapies. I wanted to work at the interface of commerce and medicine.


 

What is your goal at Cerevel?




The mission of the company is to identify new therapies that will provide better opportunities for patients with epilepsy, schizophrenia, anxiety, and Parkinson's and to really unlock the mysteries of the brain. That may sound daunting but, in my experience, if you don't articulate a big agenda, you can never realize what's possible.
---
Michelle McMurry-Heath, PhD'99, MD'00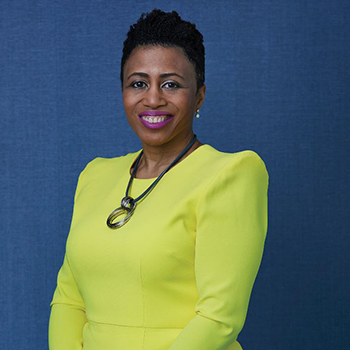 Current Position: President and CEO of the Biotechnology Innovation Organization (BIO), the world's largest biotechnology advocacy association. She previously held leadership positions at Johnson & Johnson and the U.S. Food and Drug Administration, and she serves on the advisory board of the Duke Margolis Center for Health Policy.
Why did you choose to earn both PhD and MD degrees at Duke?


I was always interested in how science got applied to human health, and there is no better way to learn about that than at the intersection of research and medicine. Two of my undergrad advisors at Harvard had recently come to Duke to join the immunology program. And they said, "You should really take a look at Duke."
 

How did your Duke experience inform your career?




I was breeding transgenic mice while taking science policy classes and medical anthropology classes. I got interested in the policy dynamic of science and innovation, which I still work on to this day.


 
Did you always aspire to lead an organization?


I always wanted to be an agent of change. I always liked to see how organizations and groups of people moved forward to do things in a new way. As I went along, it was clear the way to have that kind of impact was through leading.


 
What is your goal at BIO?


BIO is an organization of about 1,000 biotech companies, the majority in the biopharma space. We advocate for innovation. I'm a believer in how biotech companies can change the world and make it a better place. Most of the health care scourges that affect minority communities don't have ready solutions and will only be solved through innovation.


 

Final thoughts?


I made it through Duke in no small part due to a fellowship program Tony Coles helped start — the UNCF/Merck fellowship — that provided funds for research and travel and mentorship from Merck scientists.
---
 YiDing Yu, MD'12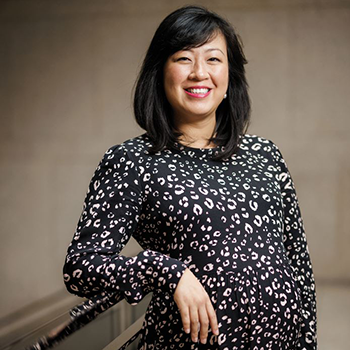 Current Position: Chief Medical Officer at Olive, a health care automation platform that delivers AI solutions to providers and payers. She also serves on the Duke Medical Alumni Council.
Why did you choose Duke for medical school?


I came to medical school deeply interested in health innovation, so the flexibility of the Duke curriculum was incredibly attractive.


 
How did your Duke experience inform your career?


Not only was I incredibly well trained as a physician, but I was given the opportunity to pursue my interests at a broad level. I worked with the Institute of Healthcare Improvement during medical school. It helped me think about the systems that drive health care outcomes and quality.


 
Why did you pursue a career as a tech entrepreneur?


I realized I could have an impact by using technology to better deliver medicine to people who need it. I started my first company, Twiage, while I was a resident at Brigham and Women's hospital. Twiage helps first responders communicate with hospitals so patients can get faster care on arrival. Once I started building tech, I got hooked. I've since led multiple start-ups, the latest of which was acquired by Olive.


 

What is your goal at Olive?


Olive delivers automation to create the internet of health care. We deploy artificial intelligence and automation to make care more efficient and bring the joy of medicine
back to practitioners.
 

You see patients at the VA Medical Center in Boston. Why do you continue to practice as a physician?




It's part of who I am. I love the practice of medicine. Seeing patients gives me inspiration for my work. In my day job at Olive, I get to think about how to solve the problems I see in clinic and lend my skills to improving the world.
---
Story originally published in DukeMed Alumni News, Spring 2022.
Read more from DukeMed Alumni News