Image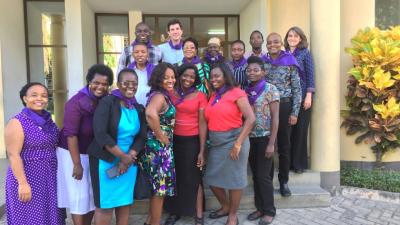 Caregivers as Partners in Mental Health Care and Recovery
It was the summer of 2000, and Joy Noel Baumgartner was a doctoral student in public health at the University of North Carolina at Chapel Hill, studying illness management and recovery pathways for people living with psychotic disorders.
Unlike other mental health illnesses like anxiety and depression, which may occur in people at different rates depending on socio-environmental factors, psychotic disorders occur indiscriminately around the world—about one percent of the global population in all regions. What varies, however, is the quality of life of people living with psychotic disorders. In the case of recovery, where and with whom you live can matter a lot. Recovery is a process of change through which individuals improve their health and wellness, live a self-directed life, and strive to reach their full potential.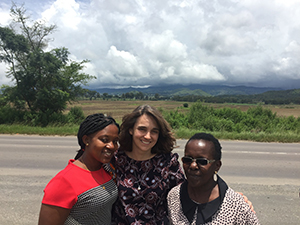 That summer, Baumgartner was reviewing World Health Organization reports citing potentially better mental health outcomes in some low-income countries, which had caused a stir in the mental health research community. In order to investigate these claims, Baumgartner knew she had to go back to Tanzania, a place where she had lived and worked for two years as a social worker in the late 1990s.
There, she knocked on the door of psychiatrist and then department head of Psychiatry & Mental Health at Muhimbili University of Health and Allied Sciences (MUHAS), Sylvia Kaaya, MD, PhD, and asked her if she could study schizophrenia in Tanzania with her and her colleagues. Schizophrenia is typically a long-lasting mental disorder characterized by disruptions in thought processes, perceptions, emotional responsiveness, and social interactions. Because it is often chronic and life-altering, the care that a person with schizophrenia receives—which can include medication, close monitoring, and psychosocial support— is paramount to quality of life.
That day, Baumgartner told Kaaya that she wanted to learn more about recovery-oriented mental health care, and what might be contributing to better outcomes in certain places like Tanzania.
"We were doing such a poor job taking care of people with schizophrenia in the U.S., and I had heard that maybe things could be better in another context and that we should be doing more cross-cultural learning from each other," said Baumgartner.
Global data indicates that approximately five percent of those with schizophrenia will die by suicide and in the United States, adults with schizophrenia experience a 3.5-fold increased risk of premature mortality compared to the general population for variety of reason including higher risk of chronic diseases like diabetes and potential underdetection and undertreatment of their physicial health conditions.  With insufficient social safetly net structures in place, we also know that 35 percent of adults with serious mental illness in the U.S. have had a history of homelessness or have been in jail, said Baumgartner.
Little did she know that her first meeting with Kaaya, who was later Dean of the School of Medicine at MUHAS, would forge a 20-year research partnership, lasting long after Baumgartner received her doctorate and went on to become associate researcher professor at the Duke Global Health Institute (DGHI), where she runs the DGHI Evidence Lab and leads the institute's Global Mental Health Working Group.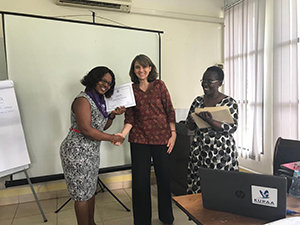 Through her long-term work with Kaaya and her colleagues, Baumgartner has learned about the barriers and benefits of working in mental health care in Tanzania. One major barrier is cultural stigma surrounding mental health care; not only are people with mental health challenges looked down upon, but so are the professionals who provide them care, making it hard to recruit students to the field, according to Kaaya. Secondly, and perhaps partly because of stigma, very little of the country's national health system resources go towards it's mental health care practice, she added.
"When healthcare systems are challenged by a high prevalence of infectious and other non-communicable diseases with high rates of mortality, the benefit of investing in people with mental disorders is challenged," said Kaaya. "But people with schizophrenia actually do have higher mortality due to higher risks of chronic diseases like diabetes and cardiovascular disease, and increased risk of suicide on top of that."
Today, Tanzania has just three mental health providers for every 1 million residents, making professional intervention for mental health disorders rare or even impossible for those outside larger cities, according to Baumgartner.
But there are also benefits to working in mental health care in Tanzania, and one of those benefits is the norm of multi-generational housing. Family-focused interventions are likely more feasible in countries where multi-generational households are the norm.
With this in mind, Kaaya and Baumgartner have been working together to create interventions that offer hope, both for people living with mental illness and their families, plus the overworked providers who seek to help them lead productive lives.
Most recently, they have implemented an evidence-based practice from high-income countries known as Family Psychoeducation that helps individuals living with schizophrenia and their family members or caregivers set goals and progress toward improved illness management. Kaaya and Baumgartner agree that for a person living with a serious illness like schizophrenia, care received at home facilitated by a trained caregiver is arguably just as important as the professional care received at a clinic based on the literature and clinical experiences.
People living with schizophrenia can experience acute episodes of hallucination or delusion with little notice, often triggered by individual-specific stressors, according to the National Institute of Mental Health. Having a trusted friend or family member who can notice symptoms of relapse early on is crucial to prevention of a major psychotic episode and the hospitalization that typically follows, said Baumgartner.
Although the Family Psychoeducation model was developed and approved in the United States by the Substance Abuse and Mental Health Services Administration, the mental health services arm of the federal government, it has yet to be consistently implemented in the U.S., where people with severe mental illnesses often live apart from family on their own or in group homes. Research indicates that social isolation can put them at higher risk for homelessness and poor mental health outcomes, said Baumgartner.
However, as illustrated in the World Health Organization (WHO) reports, social isolation is far less common in countries whose cultures support multi-generational housing. Earlier this year, Kaaya, Baumgartner and their colleagues in Tanzania were able to recruit 68 people – a combination of individuals living with schizophrenia and their caregivers - to participate in apilot randomized clinical trialfunded by the National Institute on Mental Health aimed at increasing functioning and quality of life and avoiding relapses of symptoms.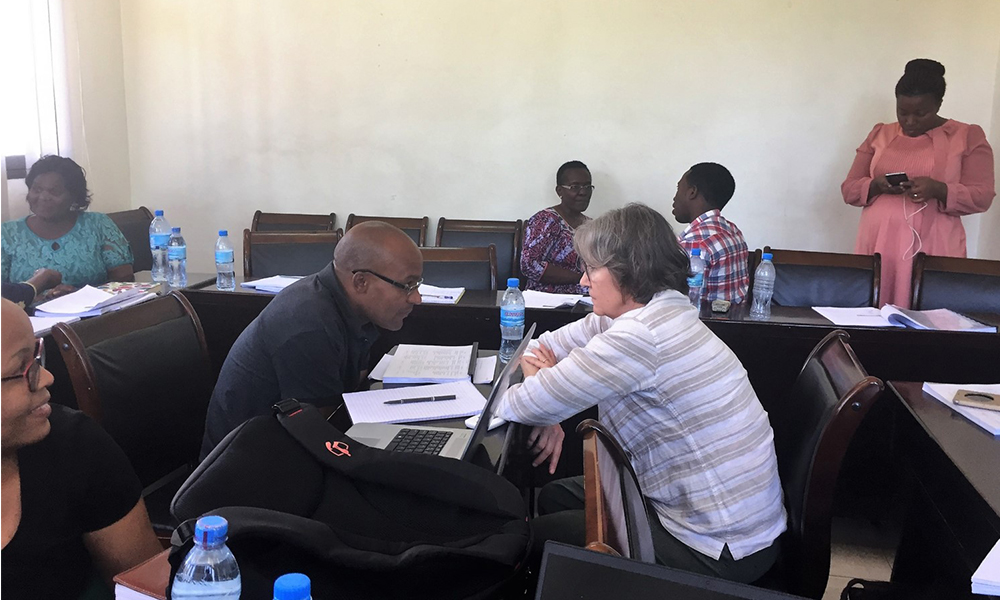 The patients and their caregivers meet in groups of 12 with a professional facilitator who educates them about the disorder, dealing with stigma, how to recognize symptoms of acute episodes, and how to set positive goals for recovery. There is also a trained lay person co-facilitator who is a peron with lived experience caring for and supporting a person with a psychotic disorder. Both facilitators help the pairs identify problems at home and in the community and how they might work together to problem solve. The program is called Kuwezeshana kupata uzima (supporting one another for wholeness), or KUPAA, which means "to soar" in Swahili. 
After the 12 group sessions, the intervention already yielded many positive outcomes, according to Praxeda Swai, a medical specialist at Muhimbili National Hospital who helps run the program and is a co-investigator on the study.
"There were people in the study who have not been functional in many years. But within a few weeks, almost all had really changed in a lot of aspects of their recovery," she says. "For example, from small things like getting up earlier in the morning to do chores and engage with family to thinking about new educational or occupational goals that previously seemed out of reach."
In fact, participants in the program decided to form Tanzania's first community-based organization to help people affected by schizophrenia. The group will work in tandem with KUPAA staff to increase the reach of the program and to further educate the community about schizophrenia. They also hope to attract more healthcare professionals to the field.
For Swai, who leads the East African Young Psychiatrists Association, choosing to become a psychiatrist was a no-brainer. She realized the great need for more psychiatrists while doing an internship as a post-graduate student in Kenya and while driving through her own rural hometown, which is fraught with homeless people who suffer from mental illness. She has seen them on the street during many trips home.
"I realized a lot more conditions are related to mental illness than I realized," she said. "And I came to discover that a lot of clinicians who are not trained in mental health have a very poor understanding and knowledge of the issues related to mental illness. So that was the starting point and motivation – I knew that for sure there were people out there suffering and there's a shortage of psychiatrists. I want to help people. I can't help everyone but at least I know I can help a portion of those who are suffering."
Baumgartner is encouraged by the intervention in Tanzania and hopes to expand its reach to other places.
"It's rejuvenated my interest in trying to do more of what we're doing with KUPAA here in North Carolina," said Baumgartner.
Relying on and pro-actively collaborating with family members is a promising strategy for caring for those with mental health needs in a time when it can be hard to gain access to specialized care due to lack of mental health specialists, and robust social programs that address psychosocial and occupational needs. In cultural environments where households can include multiple generations, it has been especially successful.
Similar experiments are underway in South Africa, where DGHI assistant professor of psychiatry and global health Lauren Franz is training caregivers of children with autism spectrum disorder in evidence-based techniques to improve social engagement. And in Kenya, Eve Puffer, an assistant professor of global health and clinical psychologist, is collaborating with village elders to use family therapy with community members who have experienced intimate partner violence. Other studies are helping family members and peers intervene in cases of depression and anxiety.
"The fact that we still have such high rates of untreated mental illness across the world is evidence that we need new ideas, new ways of doing things," said Baumgartner. "Some of these early studies in East and Southern Africa that incorporate a family member or community member serving as a caregiver have been very promising for more holistic, hopeful, recovery-oriented treatment."
Top feature photo: KUPAA team in Tanzania. All photos provided by KUPAA team.
Lindsay Key is senior science writer for the Duke University School of Medicine and editor of Magnify.