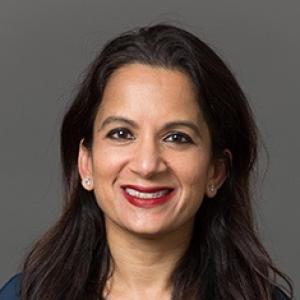 Associate Dean of Genomics
Svati Shah, MD, MHS, is the Associate Dean of Genomics and Director of the Duke Precision Genomics Collaboratory. The collaboratory is a coordinating center that serves as the nexus for genetics and genomics activities in the School of Medicine. As director, Dr. Shah coordinates efforts among institutes, centers and departments in all areas of genetics and genomics, ranging from fundamental basic science to clinical genomics and precision medicine.
Dr. Shah is the Ursula Geller Distinguished Professor of Research in Cardiovascular Diseases, a Professor of Medicine, Professor of Biostatistics and Bioinformatics, and Director of Duke-Kannapolis. She also serves as Vice-Chief of Translational Research and Director of the Adult Cardiovascular Genetics Clinic in the Division of Cardiology, Department of Medicine. She is a faculty member and co-director of Translational Research in the Duke Molecular Physiology Institute and is a faculty member in the Duke Clinical Research Institute. Her early research led to the identification of novel genetic variants and pathways leading to premature heart disease in families. Currently, her NIH-funded translational lab studies metabolic and genetic pathways of cardiometabolic diseases, integrating diverse genomic, metabolomic and proteomic techniques for identification of novel mechanisms of disease and biomarkers.
Dr. Shah received her public health degree from Johns Hopkins and her medical degree from the University of Washington School of Medicine. She did her internal medicine residency at the Brigham and Women's Hospital and came to Duke for a cardiology fellowship in 2001, where she completed a Master's in Medical Genomics and a postdoctoral fellowship in Genetic Epidemiology in the Center for Human Genetics. Dr. Shah is a member of the American Society of Clinical Investigation and a fellow and board member of the American Heart Association.