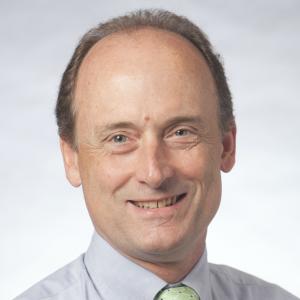 Director of Admissions; Assistant Professor in Orthopaedic Surgery
919-681-1008
311 Trent Drive
richard.clendaniel@dm.duke.edu
Dr. Clendaniel is a clinical scientist, educator, clinician, and mentor in the DPT program. His training and scientific practice have made him a recognized expert in the rehabilitation of individuals with vestibular disorders.
He is an invited lecturer nationally and internationally on the evaluation and management of people with dizziness. He has authored numerous papers and book chapters on vestibular system plasticity and treatment. He is the co-editor of a major textbook on vestibular rehabilitation.
In addition to teaching and research, he maintains an active clinical practice in treating individuals with dizziness and imbalance. In addition to his faculty position within the DPT program at Duke, he has an adjunct faculty appointment and teaches in the Doctor of Audiology program at the University of North Carolina at Chapel Hill.
Education
Postdoctoral fellow, Johns Hopkins University, 1993

PhD, Psychology, The University of Alabama at Birmingham, 1991

MS, Physical Therapy, The University of Alabama at Birmingham, 1982

BA, Biology, University of Vermont, 1978
Teaching
PT 705: Neurological Patient Management I, course co-director

PT 614: Movement Sciences II (Motor Control / Motor Learning / Observational Gait Analysis), course director

Vestibular Rehabilitation Elective, course director

PT 612: Body and Brain II, lecturer
Practice
Evaluation and management of individuals with vestibular system disorders
Research
Current lab research is designed to address questions about vestibular system physiology and plasticity as a model of motor learning as well as for its relevance to the management and rehabilitation of individuals with vestibular disorders. Projects are designed to:
Identify the mechanisms of recovery following unilateral vestibular loss

Identify the best treatment approach for patients with vestibular disorders, and

Determine the test metrics for currently used clinical evaluation tools
In addition, lab work is expanding to evaluate tests used in the analysis of individuals with cervical spine disorders, with a primary focus on cervico-genic dizziness.
Recent publications
Awards and honors
Associate editor for the Journal of Neurologic Physical Therapy 

Associate editor for the Journal of Manual and Manipulative Therapy

Board of Trustees member for the Foundation for Physical Therapy

The University of Alabama at Birmingham Department of Physical Therapy Alumni Leadership Award

The University of Alabama at Birmingham, School of Health Profession, "Fab-40" Outstanding Alumni Award, 2009