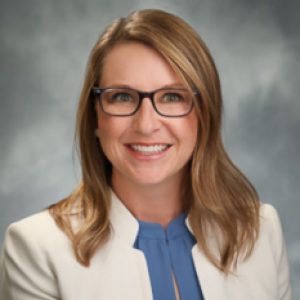 Medical Instructor in Orthopaedic Surgery
Dr. Reynolds is a neurological physical therapist with 18 years of experience. Her clinical work has focused on inpatient adult neurorehabilitation with an emphasis on spinal cord injury. She joined the faculty as a Faculty Development Resident in 2019 and moved to Core faculty in 2022. Dr. Reynolds teaches in the foundational curriculum in gross anatomy, geriatrics, and neurologic patient management and the Durham Neuro Camp advanced practice course. She is currently a PhD student at Rocky Mountain University, studying Health Sciences. 
Education
PhD, Health Sciences, Health Professions Education Rocky Mountain University, 2019 – Present
DPT, Virginia Commonwealth University, 2004
BS, Education, Sports Medicine, University of Virginia, 2001
Teaching
PT 642: Physical Therapy for the Older Adult, Course Director

PT 646: Foundational Neurological Practice I, Course Director

PT 752: Foundational Neurological Practice II, Course Instructor 

PT 632: Structure and Function of the Human Body, Course Instructor

Durham Neuro Camp Advanced Practice Course, Course Instructor
Practice
Dr. Reynolds is board-certified in neurological physical therapy with specific expertise working with people with spinal cord injury.
Research
Personal attributes and the relationship to performance in DPT students

Understanding characteristics of diversity (racial/ethnic minority status, educationally and economically disadvantaged) and impact on personal attributes and academic performance

Evidence-guided holistic admissions in DPT education

Equity in assessment

Impact of motivation and learning strategies on academic performance
Publications
Reynolds K, Bazemore C, Hanebuth C, Hendren S, Horn M.  The relationship of non-cognitive factors to academic and clinical performance in graduate rehabilitation science students in the United States: a systematic review. J Educ Eval Health Prof. 2021;18:31. doi:10.3352/jeehp.2021.18.31 
Whitson H, Potter G, Davis S, Plassman B, Sloane R, Reynolds, K, Schmader K, & Welsh-Bohmer K. Difference in brain activation with higher task demand in asymptomatic adults with and without an APOE E4 allele. Innov Aging. 2018:2(suppl 1):402. doi:10.1093/geroni/igy023.1502. 
Whitson H, Potter G, Feld J, Plassman B, Reynolds K., Sloane R., & Welsh-Bohmer K. Dual-task gait and Alzheimer's disease genetic risk in cognitively normal adults: A Pilot Study. J Alzheimers Dis. 2018;64(4): 1137-1148. doi:10.3233/jad-180016