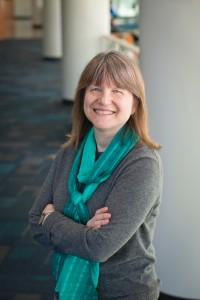 Sally Kornbluth, a prominent cell biologist with long experience leading academic programs, has been named provost at Duke University, President Richard H. Brodh029913_kornbluth012ead announced Monday.
Kornbluth is currently James B. Duke Professor in the department of pharmacology and cancer biology at Duke and the vice dean for basic science in Duke's School of Medicine. She will succeed Peter Lange, who is stepping down on June 30 after 15 years in the position. Her appointment was approved this weekend by the Board of Trustees.
As the university's chief academic officer, Kornbluth will have broad responsibility for leading Duke's schools and institutes, as well as admissions, financial aid, libraries, information technology and all other facets of the university's academic life.
"Sally Kornbluth will supply outstanding academic leadership for Duke's future," said Brodhead. "A distinguished researcher and mentor, she has won high praise for her administrative gifts as a creative problem solver in service of academic excellence. She combines a deep love of Duke with keen intelligence about the challenges facing higher education. I'm confident that Duke will continue to thrive in her care."
"To be Duke's chief academic officer is both a tremendous honor and a significant challenge, and I am grateful to President Brodhead and the search committee for the chance to serve the university in this new and exciting way," said Kornbluth.
"Our intellectual foundation is strong, our teaching and research are transformative, and our collaborative, interdisciplinary culture creates opportunities for faculty and students to make a difference in the world. I look forward to listening, to learning, and to working with my colleagues to build on our many strengths."
Kornbluth's appointment comes after a national search that began last fall and was chaired by George Truskey, R. Eugene and Susie E. Goodson Professor and senior associate dean for research in the Pratt School of Engineering.
"We had an excellent group of candidates, but Sally distinguished herself as a very effective leader who listens carefully and considers a diverse range of views," said Truskey. "She quickly grasps the core of complex issues and works collegially. Sally is someone who knows Duke, but offers a fresh perspective and vision as we move forward."
Ellen Davis, the Amos Ragan Kearns Professor of Bible and Practical Theology at the Divinity School and a member of the search committee, noted that "Sally's own broad liberal arts education gives her a strong base to understand and guide our programs. She has a good track record of promoting collaboration between partners who had not previously worked together, and her sincere interest in how others think, and her desire to have them work in mutually beneficial ways, will open new doors for Duke."
A member of the Duke faculty since 1994, Kornbluth was appointed vice dean for basic sciences at the medical school in 2006. She oversees the school's biomedical graduate programs, manages the school's laboratory space, oversees the core research facilities, works with department chairs on faculty recruitment and retention, and develops new programs to support research by faculty and students. From 2009-2011, she also played a major role in directing the clinical research enterprise in the School of Medicine.
Her own research is focused on the biological signals that tell a cell to start dividing or to self-destruct, both key processes for understanding cancer and degenerative disorders. She is a member of the Institute of Medicine and a fellow of the American Association for the Advancement of Science.
A widely-recognized teacher, Kornbluth received the Basic Science Research Mentoring Award from the School of Medicine in 2012 and the Distinguished Faculty Award from the Duke Medical Alumni Association in 2013. She has mentored 25 graduate students through their doctoral degrees, and also has worked with undergraduates and high schools students interested in biomedical sciences.
A 1982 graduate of Williams College with a bachelor of arts degree in political science, Kornbluth received a bachelor of science in genetics in 1984 from Cambridge University, England, where she was a Herchel Smith Scholar at Emmanuel College. She received her Ph.D. in molecular oncology from the Rockefeller University in 1989 and went on to postdoctoral training at the University of California, San Diego.
Kornbluth's husband, Danny Lew, is James B. Duke Professor of Pharmacology and Cancer Biology at Duke. Their children, Alex and Joey, are undergraduates at Yale University.
In addition to Truskey and Davis, the other members of the provost search committee included faculty members Katherine Franz, associate professor of chemistry; professor Michael Platt, director of both the Duke Institute for Brain Science and the Center for Cognitive Neuroscience; Richard Schmalbeck, the Simpson Thacher & Bartlett Professor of Law; Lynn Smith-Lovin, the Robert L. Wilson Professor of Sociology; and Maurice Wallace, associate professor of English and African and African American Studies. Also on the committee were Duke senior Stefani Jones, president of the Duke Student Government, and Amol Yadav, president of the Graduate and Professional Student Council; trustees Frank Emory and Betsy Holden; and Benjamin Reese, vice president of the Office for Institutional Equity.