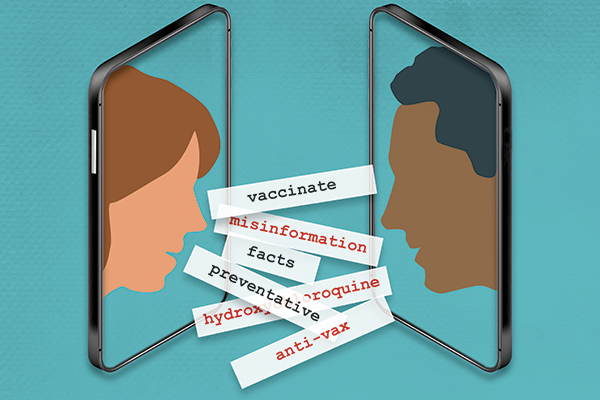 The expanse of the internet, pervasive social media, and round-the-clock news sites have put a world's worth of knowledge literally at our fingertips: with a click or two you can summon vast amounts of information about almost anything.
Unfortunately, a lot of it is wrong.
Often that doesn't matter much. A false story about the origins of popcorn, for example, isn't likely to make much tangible difference in anyone's life, even if you repeat it to everyone you know.
Incorrect information about health and disease, however, can have devastating consequences, especially if it gets widely disseminated and accepted. Medical misinformation — the spread of false or misleading information related to health and medical topics — can lead people to make dangerous decisions, engage in harmful practices, avoid beneficial and life-saving preventive care and treatments, and otherwise put themselves and others at risk. It results in avoidable clinic and hospital admissions, billions of dollars in additional health care costs, needless illnesses, and deaths that could have been prevented.
Brian Southwell, PhD, adjunct professor in the Department of Medicine, and colleagues at Duke University School of Medicine are engaging with other researchers, medical professionals, and organizations in an effort to tamp down medical misinformation.
"'Misinformation' itself has become a buzzword. We sometimes use the term without really thinking about what it means, but belief in false claims can lead to real harm if it undermines trust in established medical practices and institutions."
-Brian Southwell, PhD
Medical misinformation can show up anywhere and everywhere: social media, websites, forums, television, videos, and even in-person conversations.
For example, as the COVID-19 pandemic raged on, a lot of attention was placed on hydroxychloroquine, a medication used to treat conditions like malaria and autoimmune diseases, to treat COVID-19. Despite limited scientific evidence, some people — even public figures — promoted the use of hydroxychloroquine and began self-medicating and hoarding the drug, keeping it from those who actually needed it.
According to an analysis by Brown University, over 300,000 COVID-19 deaths can be attributed to unfounded fears about the COVID vaccines, showing just how high the stakes of disinformation are.
In an effort to find better solutions, Duke University School of Medicine is co-hosting a National Forum on Best Practices to Address Health Misinformation: Healthcare Readiness and Response this November. Other co-hosts are RTI International, an independent, nonprofit research organization dedicated to conducting research that improves the human condition, and the Coalition for Trust in Health and Science, an organization with over 70 groups working together to advance trust and factual science-based decision making. The Duke Clinical and Translational Science Institute, which houses the Duke Program on Medical Misinformation, has also played an important role in organizing the event.
The event is designed to highlight innovations and provides space for attendees to help develop best practices and interventions for health care organizations and their partners to address medical misinformation.
"Duke has made a big effort to address medical misinformation, with leaders like Dean Mary Klotman opting to take a stand on this issue," Southwell said, "Our goal with this forum has been to bring together health care leaders and practitioners to help brainstorm ideas for best practices and ways to mitigate misinformation."
Stamping out medical misinformation will require a multifaceted approach that addresses misinformation in the media and online environments, in medical education, and at the community level. Forum attendees will discuss possible solutions and potential stumbling blocks at each level and hear from clinicians and physicians about their experiences with medical misinformation.
This is only one part of a growing effort to eliminate medical misinformation and mitigate its harms. Southwell, along with Nadine Barrett, PhD, associate professor in family medicine and community health, is working with the National Academy of Science, Engineering and Math (NASEM) committee on Understanding and Addressing Misinformation about Science. That eventually will result in a consensus report on the scope and consequences of misinformation about science.
"As we look across the country," Southwell said, "we see a lot of headlines about misinformation in health and medicine. We need better engagement and widespread collaboration between many different types of organizations. Duke is helping to provide that."
---
Story originally published in DukeMed Alumni News, Fall 2023.
Read more from DukeMed Alumni News