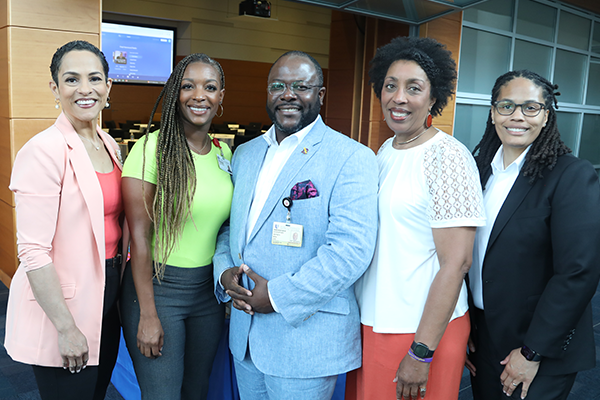 Duke University School of Medicine's Black Employee Resource Group, called ME², held its second annual Juneteenth celebration at the Trent Semans Center for Health Education on June 15. ME² stands for Motivate, Mentor, Educate, & Empower. 
A total of 85 employees gathered in the Great Hall to hear keynote speaker Coral May, MPA, SHRM-SCP, director of the School of Medicine's Human Resources Service Center. The theme was "Raising Your Standards."  
Launched in 2021, ME2 aims to foster a community focused on networking, professional development, and leadership opportunities for Black staff.  
After asking the attendees, "Are you really where you want to be in life?" May guided the audience through a series of prompts to help them create a framework for a personal or professional plan.  
"The only thing standing between you and what you want is you," she said. "I am going to challenge you to raise your standards."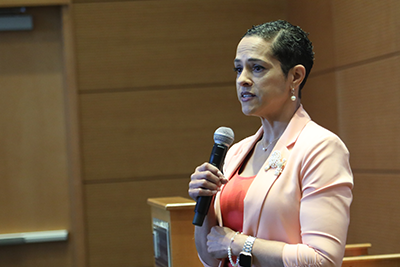 Between sharing anecdotes about her own challenges and successes throughout her 25-year career in human resources, May asked the audience to write down several things during the luncheon, including what they want out of life and the "why" that motivates them. She also challenged them to commit to one personal or professional development activity over the next three months, determine an area they could commit to giving 100%, and make a list of people to add to their circle of support. 
"Surround yourself with people who respect you, who want the best for you," May said. "You need people in your world who are going to challenge you."  
May encouraged attendees to use what they wrote down as a starting point and to spend time further refining their plan and consistently working toward achieving their committed goals. 
"Know where you're going, and work your plan," she said.  
During the event, attendees also had the opportunity to choose a book from a selection of books purchased by ME2 from Rofhiwa Book Café, a Black-owned bookstore in Durham.  
The event was a celebratory one, with May starting the event by leading the crowd as they danced to a song by R&B artist Mary J. Blige.  
---
Photos by Jim Rogalski 
Top photo: Coral May and members of the ME2 Leadership Team, Rasheeda Clay, Antonio Jones, Jeanine Holland and Annise Weaver.