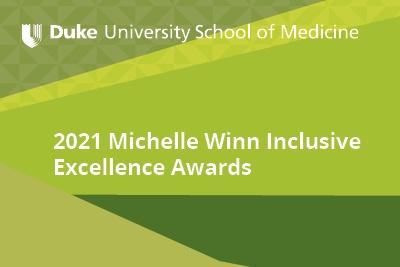 The Duke University School of Medicine has announced the recipients of the 2021 Michelle P. Winn Awards, which recognize exceptional achievement within the field of diversity and inclusion. This year's recipients are Maureen Cullins, Jacqueline Barnett, DHSc, MSHS, PA-C, Marcus Taylor, and the team of Gabriela Maradiaga Panayotti, MD, and Viviana Martinez-Bianchi, MD.
"This year's Winn recipients exemplify the values of innovation, leadership, and excellence at their most powerful. Despite a year filled with more than its share of pain, loss, and uncertainty, they never wavered in their commitment to making the School of Medicine a better place for everyone," said Chief Diversity Officer Judy Seidenstein.
This year's Winn Awards were given only to one student, one staff member, one faculty member, and one team from among the more than 10,000 staff, faculty, trainees, and students that make up the School of Medicine. The Winn award is named for Michelle P. Winn, MD, an associate professor of Nephrology within the Department of Medicine, a visionary and driving force within the field of Nephrology, a researcher, tireless mentor, a champion for diversity and inclusion, and a role model for women and underrepresented minorities. Winn passed away after a courageous battle with pancreatic cancer in 2014.
In addition the following individuals received nominations for the 2021 Winn Awards:
Kevin Saunders, PhD (Duke Human Vaccine Institute)
Julius Wilder, MD, PhD (Department of Medicine)
Jeff Hoder, DPT, NCS (Doctor of Physical Therapy program)
Latoya Patterson, MD, MPH (Department of Obstetrics and Gynecology)
Tomi Akinyemiju, PhD (Department of Obstetrics and Gynecology)
Lamercie Saint-Hilaire, MD (Department of Family Medicine and Community Health)
Jessica Solis Sloan, PhD (Department of Psychiatry and Behavioral Sciences)
Charles Gerardo, MD (Duke Department of Surgery)
Madhav Swaminathan, MD (Department of Anesthesiology)
Pamela Keels, MBA (Department of Surgery)
Claudia Pamanes (Department of Neurosurgery)
Bryanna Stukes (Medical student)
John Amodeo (Medical student)
DCRI Anti Racism Group (Duke Clinical Research Institute)
Staff Award: Maureen Cullins, AM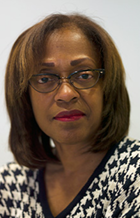 Maureen Cullins received the Winn Award for staff for her continued leadership, advocacy, and commitment to education as co-director of the Multicultural Resource Center, where for years she has role modeled and promoted inclusive excellence through education, advocacy, service, mentoring, program design, teaching and scholarship. As co-director of the MRC, Cullins supports and advocates for student organizations as well as individual students themselves. Among many other accomplishments, Cullins was critical to the design and implementation of the Master of Biomedical Sciences Program, now serves as a member of the program's executive team and as the senior advisor.
"Ms. Cullins has consistently role modeled and promoted Inclusive Excellence through education, advocacy, service, mentoring, program design, teaching and scholarship over many decades. She never seeks the limelight and instead elevates others to rewards and recognition. It is past time for her to be recognized for her numerous impactful contributions.
"We could write a book on the influence and impact that Ms. Cullins has had on students, the Duke SOM community, and beyond for many decades," wrote a panel of faculty and student leaders in their nomination. "When you think of any of the Diversity, Excellence, Inclusion and Belonging work, in the medical school at any level, and in much of Duke University, Ms. Cullins probably had one or more roles.
Faculty Award: Jacqueline Barnett, DHSc, MSHS, PA-C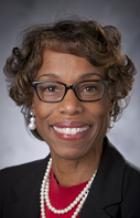 Jacqueline Barnett received the Winn Faculty Award for her commitment to diversity and inclusive excellence through her various roles as Director of the Duke Physician Assistant Program.
Among other achievements this year, Barnett provided vision and guidance for a course that integrates health disparities and structural competencies for special populations that have poorer health outcomes due to race, sexual orientation, geographical locations, neurodiversity, and citizenship status. This innovative course is currently one of the highest-rated courses in the PA program's curriculum.
"Dr. Barnett's leadership, mentoring, and culture of inclusivity has made joining Duke one of the best decisions of my professional life," wrote Alicia Bolden, DMS, MPH, in her nomination for Barnett. "Dr. Barnett has dedicated her time to ensure my professional growth as a minority faculty. I look forward to paying forward the guidance I've received to the next new faculty members and students of color who are interested in Duke."
Student Award: Marcus Taylor
Marcus Taylor, a second-year Doctor of Physical Therapy (DPT) student, received the Michelle P. Winn Award for his leadership and innovative approaches to foster inclusion, both within the DPT program and the School of Medicine. Within the DPT program, Taylor co-authored a "Call to Action for Duke DPT," outlining inequities experienced by his classmates, as well as potential solutions that would later serve as a framework for change within the DPT program. He served as Vice President of the DPT program's class of 2022, advocated for equitable student compensation, and led the Duke DPT Diversity and Inclusion Committee.
Taylor also championed diversity and inclusion within the broader School of Medicine. He represented the voices of medical, physician assistant, and physical therapy students for the Moments to Movement campaign on the School's Health Professions Anti-Racism Steering Committee and also represented Duke DPT students on the Dean's Diversity & Inclusion Student Advisory Committee.
"Marcus has exemplified role modeling, leadership impact within the School of Medicine, and participating in innovative approaches to foster inclusion. I know Marcus will be an outstanding physical therapist, but I am equally excited about his potential as a leader," wrote Kenyon Railey, MD, in his nomination.
Team Award: Gabriela Maradiaga Panayotti, MD, and Viviana Martinez-Bianchi, MD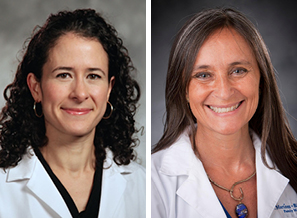 Gabriela Maradiaga Panayotti, and Viviana Martinez-Bianchi, received the Winn Award for their contributions to the development of LATIN-19 (Latinx Advocacy Team & Interdisciplinary Network for COVID-19), as well as for other numerous contributions to diversity and inclusion as Associate Professor of Pediatrics, and Associate Professor of Family Medicine and Community Health, respectively.
LATIN-19 is a group of medical providers, case managers, Durham City Council members and other stakeholders that meets weekly to tackle public health efforts related to the Latinx community in the Triangle related to COVID-19. Additionally, Maradiaga Panayotti and Martinez-Bianchi have acted as guest speakers on numerous Spanish-language health programs and media campaigns and advocated for the Latinx community, all while performing their usual clinical, administrative, and educational responsibilities.
"We can think of no more deserving candidates for the Michelle Winn Awards than Drs. Gabriela Maradiaga Panayotti and Viviana Martinez-Bianchi," wrote a panel of faculty leadership from the Departments of Pediatrics and Family Medicine and Community Health. "They fully embody excellence, innovation, and leadership in championing diversity and inclusivity through outstanding clinical care, advances in research, and excellence in education. This pair is perfect to honor the legacy of Dr. Winn."