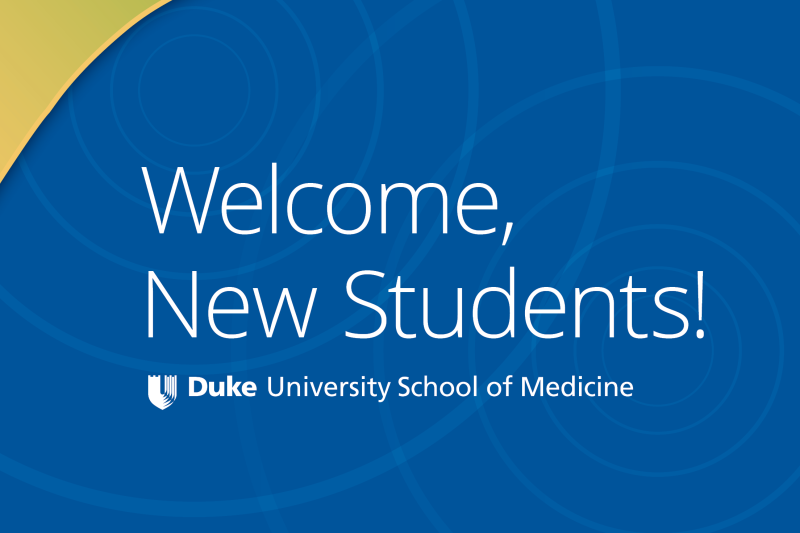 The Duke University School of Medicine welcomes incoming students from across the country and around the world as they start their health professions careers at the School of Medicine this month.  
First-year students in the Doctor of Medicine (MD) program participated in a White Coat Ceremony on Aug. 5. Over 70% of this year's class are women, and 29% are from underrepresented racial and ethnic groups. 
The Doctor of Physical Therapy (DPT) program held a White Coat Ceremony in June to mark the transition of its students from the classroom to their clinical experience. The Occupational Therapy Doctorate (OTD) program will welcome its incoming students with a convocation ceremony on Aug. 12, and the Physician Assistant (PA) program will hold a ceremony for its new students later this semester. 
Health Professions Education Programs
MD Program
113 Students
79 Women, 33 Men
35 Underrepresented Minority Students
31 States
MD/PhD program
7 Students
6 Women, 1 Man
0 Underrepresented Minority Students
5 States
Doctor of Physical Therapy Program
102 Students
84 Women, 18 Men
28 Underrepresented Minority Students
29 States
Occupational Therapy Doctorate Program
44 Students
41 Women, 3 Men
20 Underrepresented Minority Students
13 States
Physician Assistant Program
91 Students
71 Women, 20 Men
31 Underrepresented Minority Students
27 States
Master of Health Sciences in Clinical Leadership
8 Students
5 Women, 2 Men, 1 Unspecified
2 Underrepresented Minority Students
4 States
Master of Biomedical Sciences
48 Students
33 Women, 15 Men
30 Underrepresented Minority Students
21 States
Master Biostatistics and Bioinformatics
47 Students
29 Women, 18 Men
6 Underrepresented Minority Students
15 States
Master of Medical Physics
16 Students
9 Women, 7 Men
2 Underrepresented Minority Students
9 States   
Master of Science in Population Health Sciences
6 students
5 women, 1 Man
2 Underrepresented Minority Students
4 States
Pathologists' Assistant
8 Students
7 Women, 1 Man
2 Underrepresented Minority Students
6 States
Biomedical Graduate PhD Programs
Biochemistry
9 Students    
7 Women, 2 Men
2 Underrepresented Minority Students    
8 States
Biostatistics
8 Students
6 Women, 2 Men
0 Underrepresented Minority Students
3 States
Computational Biology and Bioinformatics
1 Student
1 Woman, 0 Men    
0 Underrepresented Minority Students
1 State
Cell and Molecular Biology
15 Students
9 Women, 6 Men
3 Underrepresented Minority Students
10 States
Cognitive Neuroscience
3 Students
2 Women, 1 Man
2 Underrepresented Minority Students
3 States
Developmental and Stem Cell Biology
6 Students
6 Women, 0 Men
2 Underrepresented Minority Students
3 States
University Program in Genetics and Genomics
10 Students
8 Women, 2 Men
4 Underrepresented Minority Students
5 States
Immunology
4 Students
2 Women, 2 Men
1 Underrepresented Minority Students
4 States
Molecular Cancer Biology
7 Students
5 Women, 2 Men    
1 Underrepresented Minority Students
4 States
Molecular Genetics & Microbiology
12 Students
7 Women, 5 Men
5 Underrepresented Minority Students
8 States
Medical Physics
11 Students
5 Women, 6 Men
2 Underrepresented Minority Students
5 States
Neurobiology
10 Students
6 Women, 4 Men
2 Underrepresented Minority Students
6 States
Pathology
5 Students     
4 Women, 1 Man
0 Underrepresented Minority Students
1 State
Pharmacology
3 Students
2 Women, 1 Man
1 Underrepresented Minority Students
3 States
Population Health Sciences
6 Students    
4 Women, 2 Men    
2 Underrepresented Minority Students
2 States
Integrated Toxicology and Environmental Health Program
3 Students
3 Women, 0 Men
1 Underrepresented Minority Student
3 States