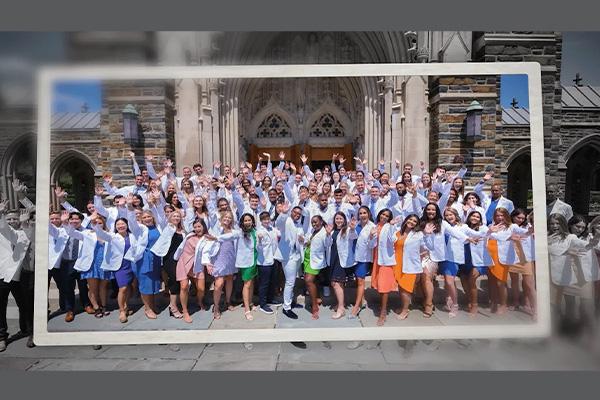 91 students made the transition from the classroom to their clinical experiences on Thursday, June 9, 2022, as members of the Duke Doctor of Physical Therapy Class of 2023 donned their white coats at the DPT White Coat ceremony.
After a warm welcome from DPT Chief and Program Director, Todd Cade, PT, PhD, the keynote address was given by Professor Emeritus Carol Figuers, MS, PT, EdD, who suggested that the students listen to three things as a physical therapist–their patients, their bodies, and their hearts. Immediately following the ceremony, the students and their families and friends, DPT faculty, and staff attended a reception at Penn Pavilion for the to celebrate before clinicals begin in July.
Watch this video about the day featuring faculty and student interviews, footage, and a look inside the importance of DPT's ceremony.