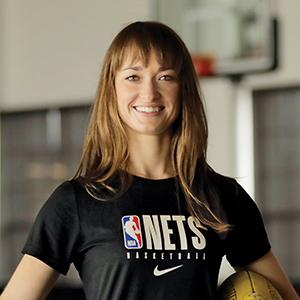 Amy Arundale, DPT'11, has spent virtually her entire life involved in soccer: as a player, coach, trainer, biomechanical researcher, and clinical physical therapist. 
So it was a bit of an adjustment when she was hired in the spring of 2018 as a physical therapist and biomechanist for the NBA's Brooklyn Nets. Basketball and soccer involve different sorts of movements on different surfaces, for one thing, and that has implications for injury risks.
"And obviously, you're working on much larger human beings," says Arundale, one of a relative handful of women working in NBA training rooms. "We laugh about it in the training room, because if you take one of our larger players' shoes, you can actually fit our shoes inside their shoes."
Still, basketball wasn't completely foreign to Arundale, the 2019 recipient of the Duke Doctor of Physical Therapy (DPT) program's Emerging Leader Alumni Award. At Duke, you can hardly fail to absorb hoops to some degree. "I camped out two of my three years at Duke," Arundale says.
The similarities between basketball and soccer, she says, outweigh the differences: knees, after all, are knees. Arundale helps injured players recover and rehab, and she oversees movement assessments for current players and potential draftees. She employs direct observation, video, motion capture technologies, tests that measure strength and acceleration, and other methods to evaluate each player's movements and, if appropriate, recommend changes.
"We want to minimize injury risk and optimize performance," she says.
 "We create a sort of big picture of each player from a biomechanical perspective. Then we can work with them to improve movement patterns to help a player get stronger when he's driving to the basket or land more safely after a jump shot."
Arundale's path to the Nets began far from Brooklyn, in Fairbanks, Alaska, where she grew up and developed her passion for soccer. She played as a child, and she both played and coached in high school before leaving the frozen north for Haverford College in Pennsylvania, where she played, coached, worked in the training room, and even competed for a season in the Scottish Women's Premier League during a study abroad year.
With graduation came a decision. "I wanted to make a career in soccer," she says. "I thought my options were coaching, orthopaedic surgery, or physical therapy. I'd coached quite a bit, but I wanted more academic stimulation, not to mention more job stability. I'd spent some time observing orthopaedic surgeons, and I realized I really appreciated the relationships that you develop working with people as a physical therapist."
She explored a number of schools, but the admissions staff at the Doctor of Physical Therapy (DPT) program at Duke went out of its way to make her feel welcome, and by the end of her day on campus, her mind was made up. "Duke blew every other place I'd visited out of the water," she says.
Arundale thrived at Duke, where won the 2011 DPT Outstanding Student Award. She gained invaluable clinical experience, made connections, conducted original research, and discovered a passion for exploring the intersection, as she puts it, "where medicine meets sports."
After graduating, she completed a PhD from the University of Delaware and then a post-doctoral fellowship at Lingköping University in Sweden. She has published numerous papers and clinical guidelines for anterior cruciate ligament injury prevention, and she's been active in the American Physical Therapy Association, serving on its Sports Section Research Committee and Leadership Development Committee and receiving the 2017 APTA Emerging Leader Award.
All along, Arundale has balanced her research with clinical physical therapy, working with organizations including the Carolina Railhawks and Atlanta Silverbacks—and now the Brooklyn Nets.
"Everybody associated with the team has been terrific," Arundale says. "It's a good challenge, and I'm enjoying it."
NBA training rooms have long been largely a male province. But that is changing; in fact, two other women from the Duke DPT program are also working with NBA teams: Erin Sierer, DPT'07, (Minnesota Timberwolves) and Kristen Crenshaw, DPT'17, (Orlando Magic).
Despite her responsibilities, Arundale has managed to stay active on the playing field—although her sport of choice has become Australian Rules Football, which is similar to rugby. Arundale has qualified for the U.S. National Team and will play in the World Cup in Australia this summer, during the NBA's off-season.
"Duke prepared me incredibly well for a career in physical therapy, the education, the faculty support, the clinical rotations, the networks … I attribute a lot of where I am now to Duke."