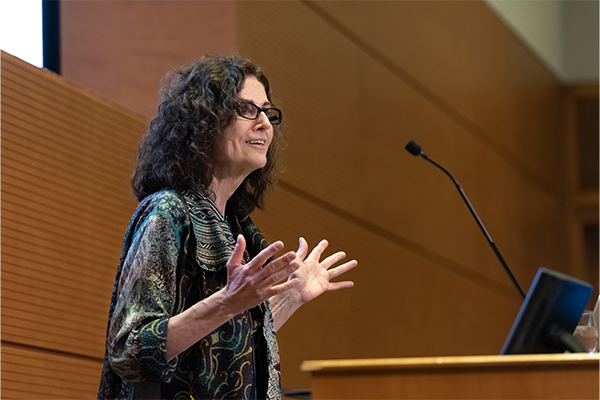 Duke University School of Medicine's Dean's Distinguished Research Series kicked off on February 23 with the Robert J. Lefkowitz, MD, Distinguished Lecture by cell biologist Titia de Lange, PhD, of Rockefeller University and faculty lectures from two Duke researchers who study the genes that make us uniquely human. 
De Lange, director of the Anderson Center for Cancer Research, the Leon Hess professor, and the head of the Laboratory Cell Biology and Genetics at Rockefeller University, delivered the Lefkowitz Lecture on "Telomeres and Cancer: Genome Instability and Tumor Suppression." 
Telomeres are structures made from DNA sequences and proteins that are found at the ends of chromosomes. These protective structures, essential for cell division, naturally shorten over time, but they can also degrade due to cellular damage. By investigating the genomic consequences of telomeres becoming too short, also known as telomere crisis, de Lange is gaining a better understanding of how telomere shortening contributes to genome instability. On the flip side, de Lange's research has indicated that telomere shortening can also help limit cancer development.  
Dysfunctional telomeres play an important role in the early stages of cancer and can activate what is known as the telomere maintenance system, which is a hallmark of human cancer. De Lange's lab discovered shelterin, a dynamic protein complex only found in telomeres that can help prevent the activation of DNA damaging signaling pathways and block double-strand break repair at chromosome ends. 
Prior to the Lefkowitz Lecture, faculty lectures were delivered by Debra Silver, PhD, and Craig Lowe, PhD.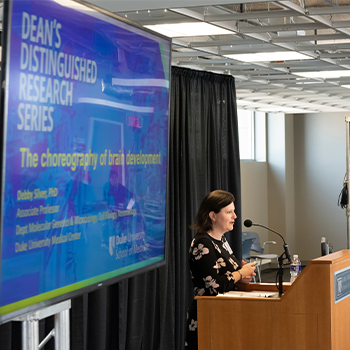 Silver, associate professor of molecular genetics and microbiology, cell biology, and neurobiology, spoke about "The Choreography of Brain Development." 
Silver's lab studies how the fate and maturation of neurons are controlled, how progenitor cells compartmentalize functions, and how genomic differences in species influence development.  
Her studies have led to a new paradigm: subcellular gene expression compartmentalizes progenitors to organize the fetal brain. Trainee Brook D'Arcy, a winner of the Chancellor's Award for Research Excellence, will share more about this work during the March 9 trainee poster session. 
In addition, Silver's lab has found a stretch of DNA that is uniquely human and that influences brain size.  
Lowe, assistant professor of molecular genetics and microbiology, assistant professor of cell biology, and a member of the Duke Cancer Institute, spoke about "The Fastest Evolved Regions in the Human Genome."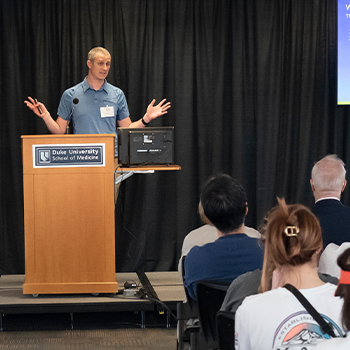 Studying the three-spined stickleback fish as a model, Lowe has found that many different genetic mutations can lead to the same phenotype or outcome, but that evolution uses mutations that occur at a higher rate. 
He has begun to take what he has learned from this model and apply it to questions about human evolution. 
He has identified the fastest-evolved regions of the human genome, called Human Ancestor Quickly Evolved Regions (HAQERs), which appear to be a new regulatory element "born" in humans. 
The Dean's Distinguished Research Series showcases groundbreaking research from the basic, clinical, and translational sciences. Formerly Research Week, the reimagined series is being held in-person at the Trent Semans Center for Health Education and livestreamed. All faculty, staff, trainees, and students are welcome to attend. 
---
Upcoming sessions
March 9 
Trainee Poster Session, 2:30-4 p.m. 
Faculty Lectures, 4-5 p.m.: Chris Beyrer, MD, MPH; Keisha Bentley-Edwards, PhD 
March 30 
Faculty Lectures, 12-1 p.m.: Cagla Eroglu, PhD; Andrew West, PhD Trainee Poster Session, 1-2:30 pm. 
April 20 
Faculty Lectures, 4-5 p.m.: Kimberly Johnson, MD; Lisa McElroy, MD, MS