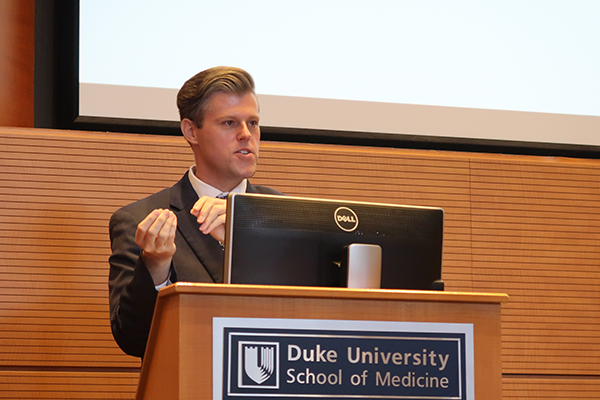 A recent health forum organized by the Duke University Policy and Organizational Management Program (POMP) brought together health and social services leaders from across the globe to the Duke University School of Medicine to discuss mental health.  
The forum titled "Rebuilding Emotional Resilience and Mental Well-Being," featured presentations by Kody Kinsley, North Carolina Secretary of Health and Human Services; Ling-Fong Lee, Senior Counselor to the Minister of Taiwan Ministry of Health and Welfare; Jilma Meneses, secretary of the Washington Department of Social and Health Services; and Chris Jones, commissioner of the North Dakota Department of Health & Human Services. 
Each shared their unique regional challenges and innovative solutions to address the issue, which includes a shortage of mental health providers; rising rates of depression, anxiety, and opioid use; and the need for a more community-based approach to care. 

But one of the key themes of the event was the need to reach people where they are. 
 "The solution resides in proximity to the voices we serve," said event moderator David Johnson, a deputy assistant secretary of the U.S. Department of Health and Human Services. "Reaching the heart of our communities is essential."   
POMP, which is affiliated with the Duke University Center for International and Global Studies, coordinated the Aug. 28 health forum to discuss policies affecting issues ranging from infectious disease to long-term care. The mental health panel discussion was the highlight of the meeting, as it focused on a topic recognized as the potential next global pandemic. 
Among experts, there was an emphasis on collective action, using digital tools to bridge gaps, and fostering an environment where every individual feels heard and supported. 
Mental health as public health priority 
A unifying message that emerged throughout the discussions was shifting mental health from the peripheries of health care to its core.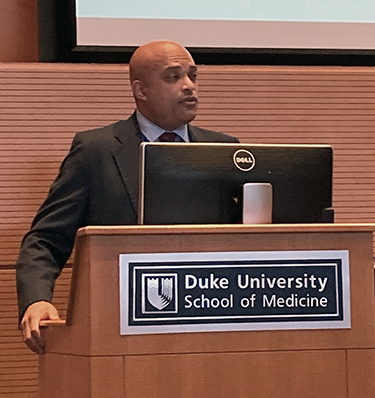 "Mental health has long been seen as a secondary issue," Kinsley said. "Addressing mental health concerns directly correlates with a decrease in costs associated with other chronic diseases."  
North Carolina's deeply underfunded mental health system is confronting an urgent need for reform.  
Kinsley shared ambitious plans for the state, focusing on crisis prevention and strengthening the mental health infrastructure within schools and the criminal justice system.  
The state also recently expanded its partnership with Duke Health to support a psychiatric access line that helps health care providers and educators respond to behavioral health issues.  
Still there is a pressing need to move mental health from a secluded tertiary issue to the forefront of public health agendas. "We really need a public health response to behavioral health," Kinsley said.  
Jones pivoted the conversation towards broader health concerns, emphasizing the interconnectedness of behavioral, economic, and physical health.  
He urged investment in robust community-driven support systems, revealing that North Dakota had significantly reduced its number of institutionalized children. "Out of sight, out of mind is never the solution," he said.  
Silent crisis unfolds 
While there are challenges in addressing mental health, another crisis unfolding is opioid use disorder (OUD), specifically fentanyl use, said Meneses, who advocated for a national campaign to discuss its profound impact on communities.  
One community particularly affected by OUD is the American Indian and Alaska Native community. Recent data reveals that among AIAN Medicaid beneficiaries aged 18-64, 15% were diagnosed with OUD – a rate more than double the overall substance use disorder prevalence among Medicaid beneficiaries. 
This disturbing trend also resonates with higher rates of homelessness and arrest rates.  
"However, every challenge presents an opportunity," she said. "Supporting resilience and recovery is paramount. It's all about collaboration and alignment."   
The focus, therefore, shifts to various agencies within Washington working in tandem from the Department of Social and Health Services to the Department of Children, Youth and Families. Together they provide a continuum of care, ensuring every individual, no matter their challenges, gets the support they deserve.  
A community-integrated approach to care is not just preferable but essential for mental health advancement, leaders concluded.  
Taiwan embraces technology 
In Taiwan, community mental health centers collaborate with schools. But the collaboration doesn't stop at current students. Recognizing the distinct challenges faced by those who have recently graduated or discontinued their education, Taiwan is also rolling out a unique support program for young adults.  
They are harnessing technology to amplify their reach: a simple scan of a QR code on posters signaling 'Let us listen to you,' instantly guides individuals to nearby mental health centers and clinics.  
"Every government globally shares a common responsibility – to empower its citizens to face life's challenges with increased confidence and resilience," said Lee, the senior counselor. "We're proud to be playing a part in this global endeavor."