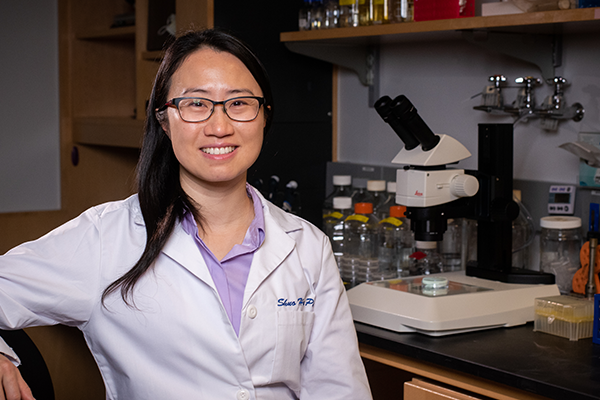 One of the latest targets in the study of healthy aging is the gut. Increasingly, research points to changes in the gut microbiome as a predictor of longevity and how well we age.  
Learning about the balance of the microbiome – the collection of microorganisms such as bacteria, viruses, and fungi in the intestinal tract – is an evolving field, and Duke Science and Technology scholar Shuo Han, PhD, is helping drive its progression.  
Her goal is to understand the interplay between the human gut microbiota and aging. Specifically, she has mapped the human gut microbial metabolism and identified molecular candidates for modulating health and aging. 
"My work has provided the microbiome field with candidate mediators of the microbiome-host interactions, a web resource with which to explore it, and example applications to functionally study the gut microbial metabolism," said Han, an assistant professor in the Department of Biochemistry at Duke University School of Medicine.  
There are signs that what happens in the gut can improve health. Studies have found gut microbiome pattern differences in older adults who are lean and physically active compared to their less-fit peers. Other research connected early frailty to reduced gut microbial diversity.  
In animal studies, microbiota transplantation from a young to an old host acts as a reset button for aging mice, increasing lifespan, and changing metabolism. 
To Han, such studies are a "promising indication that the gut microbiota communities do not merely coexist with the host but play a functional role in shaping a response to the aging process."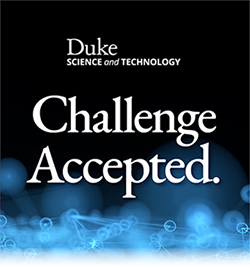 Prior to joining Duke in September 2022, Han was a postdoctoral research fellow at Stanford University. She developed a metabolomics tool to propel her research in microbiota-host interactions and identify the diverse universe of gut microbial metabolites, using mass spectrometry, bioinformatics, bacteriology, and germ-free mouse models.  
In her current research she hopes to identify novel mechanisms of gut-host interactions and help develop therapeutics to treat age-related declines in health.  
Han was recently selected as a Whitehead Scholar, which provides support to Duke's most promising assistant professors. She has a secondary appointment in the Department of Molecular Genetics and Microbiology and is on the team at the Duke Microbiome Center and the Duke Aging Center, where she is a senior fellow. 
"Duke has all the aspects I was looking for in my future home: a highly collegial and collaborative environment and a wealth of opportunities to work with exceptional graduate and undergraduate students as well as to continue my work on promoting diversity," Han said. 
She serves as co-chair of the Department of Biochemistry's Equity, Diversity, and Inclusion committee. She works with a team of graduate students, postdocs, and staff members in the department to promote diversity in hiring, community outreach, and mentoring initiatives.  
After moving from China to Los Angeles as a child, mentoring played a role in Han's development, and she has paid it forward by teaching at underserved public schools and led a summer program for underrepresented minority students at Stanford. 
Her interest in science, she said, has evolved over time, starting with a fascination with bugs in her childhood and then to yeast genetics as an undergraduate at the Massachusetts Institute of Technology.  
"In graduate school, it was aging, and as a postdoc my focus became microbiome research," Han said. "So, my interests have changed, but my love for science and wanting to be a scientist has always been the same."