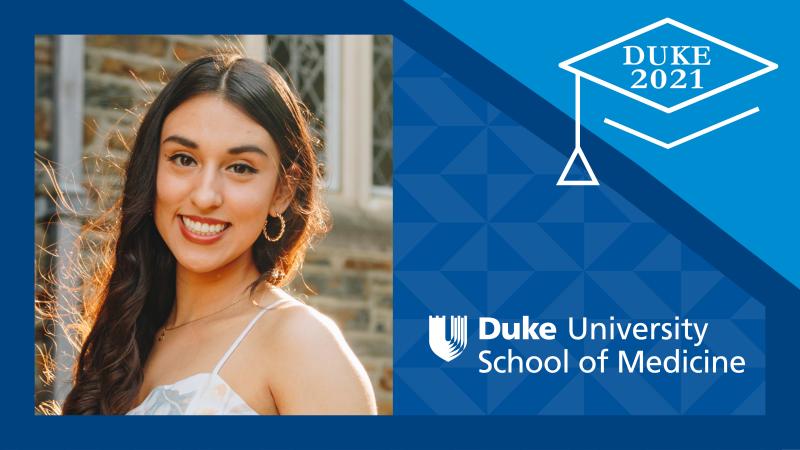 Name: Alondra DeSantiago
Hometown: Walterboro, SC
Degrees: Master of Biomedical Sciences
Why did you want to pursue a Master of Biomedical Sciences degree?
I decided to pursue a Master of Biomedical Sciences (MBS) degree to further prepare me for the rigors of a graduate-level curriculum and therefore improve my candidacy for medical school admission. I was encouraged to apply to Bridges to Excellence, a pilot program which offered a partial scholarship to Duke MBS and allowed an early acceptance pathway for admission to the University of South Carolina School of Medicine Greenville with good performance in MBS. Academically, the decision to enter this program was easy as I knew it would allow me to accomplish my initial goals but I also took into consideration the financial burden for my family and me. My family is incredibly supportive and together we decided that the benefits outweighed the challenges. I was admitted to the MBS Class of 2021 and was welcomed to the inaugural Bridges to Excellence Scholars Program.
Why did you choose Duke?
In 2014, I participated in the Duke Graduate School Summer Research Opportunity Program (SROP) as an undergraduate student who had recently completed my freshman year at Clemson University. This 10-week program served as my first exposure to graduate-level biomedical research and was formative in my desire to continue my training in biomedical sciences. At the conclusion of the program, I presented my first poster at the 2014 North Carolina Biosciences Collaborative Symposium. I was inspired by that unique research experience, Duke's beautiful campus, and by the people I met. Since then, I have always aspired to return to Durham to pursue a graduate degree at Duke.
What are some of your favorite memories from your time in the program?
Some of my first and most valuable memories in the program are from my Human Structure course that began immediately after orientation. Before this course, my first and only experience seeing a human cadaver was a brief encounter at a medical school tour. Throughout the course of Human Structure lab, I grew more and more comfortable around my donor and grateful for the selfless donation that taught me much about the form and function of the human body. This experience made me more appreciative of the body that carries me through life and made me more grateful for the time I get to share with my family and loved ones. Other favorite memories are walking out of Duke South with my classmates after our in-person exams sharing our feelings on how the exam went; for me, those were special moments of solidarity and connection. Our MBS graduation on Saturday, May 8th was a beautiful day of celebration. I am grateful to have been able to share that special moment with my classmates, MBS faculty, my parents and sisters virtually. Near the conclusion of the ceremony, it was announced I was the winner of the Dr. Linda S. Lee Professionalism Award for the MBS Class of 2021. It was an honor to have been recognized and a valuable memory to which I will hold on throughout my career.
What are your ultimate career goals?
In July, I will be moving to Greenville, SC, to matriculate at the University of South Carolina School of Medicine Greenville. My ultimate career goal is to match into an OB/GYN residency program and later practice medicine serving women and families in rural South Carolina.
What about your experience as a student during COVID-19 will you carry through to your career?
Being a student during the unprecedented global pandemic has taught me the vulnerability of life and the importance of living with the consideration of others in mind. All the precautions I took to protect myself during my experiences as an MBS student such as wearing PPE and showing up for Duke United surveillance testing, I also did with the consideration of others' health and safety in mind. As more data has become available, I have learned that Black, Latinx, and Native Americans are the minority groups most impacted by COVID-19 and are experiencing disproportionate numbers of infections, hospitalizations, and deaths. My goal is to have a role in addressing the disparities, that have only been made more apparent during the pandemic, by addressing nutrition, education, socioeconomic factors, and comorbidities, which are causing minority groups to experience more severe outcomes. As an aspiring physician, I acknowledge the reality is a need for attentive, compassionate, and culturally competent healthcare providers available and willing to care for the sick of all backgrounds. My clinical experiences in MBS shadowing providers at urgent care centers and the emergency department taught me that while there are challenges, the rewards are greater, most importantly if you have the opportunity to contribute to someone's healing.
---