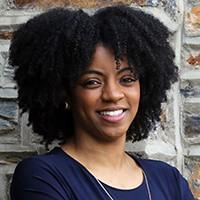 After a national search, Johnna Frierson, PhD, has been named Assistant Dean for Graduate and Postdoctoral Diversity and Inclusion for the Duke University School of Medicine. Dr. Frierson will begin her appointment on July 1, 2019.
Dr. Frierson will build and lead a new office that will expand and enhance the School of Medicine's diversity and inclusion initiatives for graduate students and postdoctoral appointees working in biomedical research. This new office unifies and integrates initiatives previously facilitated by the Biosciences Collaborative for Research Engagement (BioCoRE) and the School's Office of Biomedical Graduate Education (OBGE). Dr. Frierson and her team will partner with basic science departmental faculty and leaders to cultivate a strong and supportive community for underrepresented PhD students and postdoctoral appointees, developing and implementing pertinent professional development activities and academic and wellness programs in collaboration with the School's Office of Diversity and Inclusion.
Dr. Frierson is the founding director of the Office of Diversity and Inclusion at the Pratt School of Engineering, where she has served since 2015. She obtained her undergraduate degree in Biology at Furman University in Greenville, SC, and received a PhD in virology in the Department of Microbiology and Immunology at Vanderbilt University. She completed her postdoctoral training at UNC-Chapel Hill School of Medicine. In her role at Pratt, Dr. Frierson provided leadership in developing and implementing practices to enhance recruitment and retention of underrepresented groups at the student, faculty and staff levels, and to foster greater inclusion of diverse groups and viewpoints in the academic community.