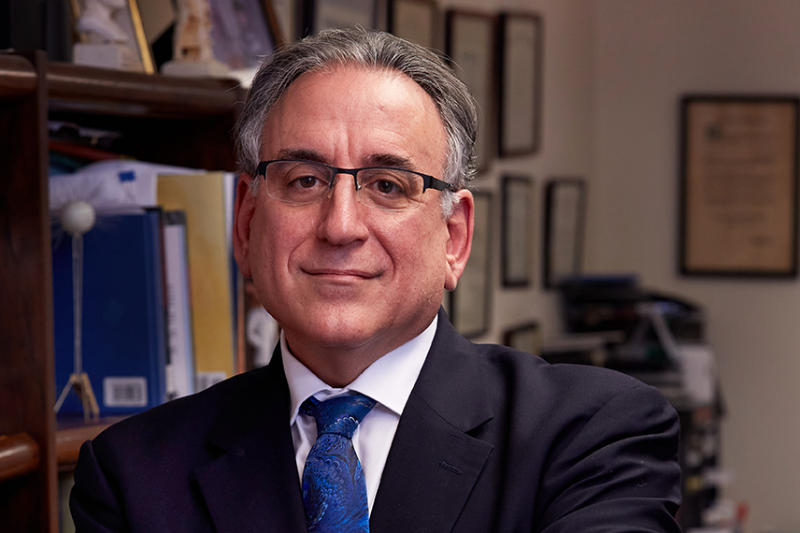 The Silence of the Lambs, the 1991 award-winning movie in which Sir Anthony Hopkins plays Hannibal Lecter, a sociopathic psychiatrist and cannibalistic serial killer, is considered one of the great films. But for Mark S. Komrad, MD'83, a clinical psychiatrist and medical ethicist, it was more than a horror movie. It was a reflection of how the public perceives psychiatry, and a reminder of why he hesitated to go into the field in the first place.
"I was concerned about the negative feelings and the stigma against psychiatrists that the movie portrayed," says Komrad.
He wanted to change that perception. He wrote a manifesto arguing that psychiatrists need to take better control of their image and push back against stereotypical media portrayals. He shared his piece with colleagues, and two weeks later Komrad was invited to Doctors on Call, a national radio talk show about psychiatry on the American Radio Network. After that first appearance, he was asked to host the show, and Komrad on Call was born. He led the weekly show for five years and talked to thousands of listeners. In the mid-90s, he became a regular psychiatrist guest on the National Public Radio show Sunday Rounds with John Stupak and a frequent guest on TV and radio talk shows discussing psychiatric issues. He consulted for Hollywood directors to help ensure accurate portrayals of psychiatrists in feature films, and even appeared in one.
One of the most common questions Komrad received from listeners was how to convince a friend or loved one to get psychiatric evaluation and treatment. That question, along with his travels around the country doing workshops and lectures on the topic and counseling many families, inspired him to write the book, You Need Help: A Step-by Step Plan to Convince a Loved One to Get Counseling (Hazelden Press).
Following His Father's Footsteps
Komrad's father, Eugene L. Komrad, MD'56, was a chief surgeon for the U.S. Air Force stationed in the Far East, and Mark Komrad spent his childhood in Japan, Vietnam, and Florida. As an undergraduate student at Yale University, he wrote a paper on bioethics that won an award at a conference that was held at Duke. That visit made an impression.
"I was already curious about Duke, and coming for a conference and winning the award made it even more familiar to me, and I decided to come to Duke to medical school," he says. Komrad followed his father's footsteps to medicine and came to Duke in 1979.
His interest in philosophy, ethics, and sciences attracted him to psychiatry. At Duke, he met Allen Dyer, MD'72, PhD'80, an expert in medical ethics, who was a faculty member in the Departments of Psychiatry and Behavioral Science. Dyer recommended Komrad for a fellowship at the Hastings Center, a bioethics research institute in Garrison, New York, where he wrote a paper on medical ethics that was published in textbooks around the world.
Komrad enjoyed the psychiatry rotations at Duke but found himself reluctant to pursue a career in a discipline he felt didn't get the same respect as other medical fields. After graduating from Duke, he applied for residency in internal medicine at Johns Hopkins. Halfway through his first year, he decided that wasn't the right path for him after all. "I was far more interested in sitting with my patients in the evenings after rounds and talking to them about their lives than checking their EKGs and their bloodwork," says Komrad.
He switched to a psychiatry residency.
"I met with the director of the residency and told him that, unlike my father, I'm not good with scalpels, he said, 'In psychiatry, words are our scalpel.'"
Komrad has worked in psychiatry ever since. He became an attending psychiatrist on the Treatment Resistant Psychotic Disorders Unit at Sheppard Pratt Hospital in Maryland. An expert on psychiatric ethics, he chaired the hospital's ethics committee for 25 years and has been a member of the Ethics Committee of the American Psychiatric Association. Currently he serves on the teaching faculty of Johns Hopkins School of Medicine, the University of Maryland, and Tulane University.
Moral Questions
Among the ethical issues Komrad has addressed over the years, one in particular has captured his attention. Physician-assisted suicide is legal in some countries in Europe, Canada, and in several U.S. states. In most places, physician-assisted suicide is allowed only in cases of terminal illness, but a few jurisdictions, notably Belgium and The Netherlands, allow patients with mental illness access to the procedure. Komrad is deeply opposed to the practice.
"I found it profoundly disturbing that in Belgium and the Netherlands, a significant number of psychiatric patients every year are voluntarily euthanized by their own treating psychiatrists," says Komrad.
"I feel that killing does not belong in the house of medicine, should not be a part of palliative care, and especially not for psychiatric patients. Psychiatrists prevent suicide, not provide it."
The issue has transformed his career from ethicist to activist, and he has become one of the leading figures in the country expressing ethical concerns about this issue. Komrad has addressed the parliaments of Sweden and Norway, met with policymakers in Brazil, and consulted to the government of Canada, and he lectures at conferences and psychiatry departments around the country.